Share this item with your network: BACKGROUND IMAGE: iSTOCK/GETTY IMAGES
New BPM process and strategy prioritize data-driven outcomes

iSTOCK/GETTY IMAGES
Get started
Bring yourself up to speed with our introductory content.
Tap your inner wolf to gain a CIO competitive advantage
In this SearchCIO New Books Q&A, author Tina Nunno explains why CIOs have a lot to learn from Machiavelli.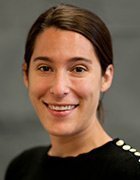 By
The modern workplace can be a pretty wild and treacherous place, according to Tina Nunno, especially for CIOs. An analyst at Gartner Inc., Nunno works with IT leaders who are under enormous pressure to use technology to gain competitive advantage. The problem is, so is everyone else at their companies. To navigate this dangerous terrain, Nunno argues that CIOs need to throw out the old for something even older -- the tenets of 15th-century Italian historian and politician Niccolo Machiavelli.
To learn more about Machiavellianism, CIO-style, SearchCIO interviewed Nunno on her recently published e-book The Wolf in CIO's Clothing: A Machiavellian Strategy for Successful IT Leadership. In this first installment of a two-part New Books interview, Nunno talks about why CIOs should embrace Machiavelli's principles and why today's IT leaders need to think like animals to gain a competitive advantage.
Why Machiavelli?
Tina Nunno: Whenever I encountered a particularly strong CIO, I would ask them what inspires them. And a surprising number said they were inspired by Machiavelli. They had read Machiavelli and were applying his principles! But as you might imagine, reading Machiavelli isn't necessarily standard education for most CIOs who get a ComSci or an engineering degree. So, I thought it would be interesting to do some research to help CIOs who didn't necessarily have an awareness of Machiavelli, apply his principles to difficult situations they encounter every day.
Why are his principles relevant for CIOs today?
Nunno: Machiavelli is particularly relevant today because the demand on IT is putting many CIOs under great pressure and tremendous threat. The basic premise of Machiavelli is to always be prepared to be under attack. The reality is many CIOs are feeling rather threatened today. There's more pressure for them to deliver innovative, agile, interesting IT, which helps the business be competitive and helps the business grow. These are not easy demands to meet. For CIOs today, they basically have to become a competitive animal in the organization and fight their way through difficult situations in order to be successful.
There's that Machiavellian theme, think like an animal. In your book, you suggest CIOs channel the gray wolf. What are the characteristics of the wolf that make for the ideal CIO?
Nunno: When you consider the types of initiatives that CIOs are currently executing, they oftentimes have to engage many diverse stakeholders across the business. To do this, you have to be quite social, you have to lead a large group, and you oftentimes have to be able to work with a large number of peers very effectively and be able to socialize ideas and get people to be enthusiastic.
By the same token, CIOs sometimes have to be in difficult situations where they have to be more aggressive: They need to be more of the predator in a particular situation in order to be successful. So, what I found very attractive about the wolf is that it embodies a lot of the best Machiavellian principles and traits. It's a social creature [that] can lead a pack and take care of those he is responsible for. But it's also a creature that can engage in a fight when he needs to in order to be successful.
Could you provide an example of a CIO who embodies those traits?
Nunno: The book includes quite a few different examples of CIOs who execute these types of behaviors, but all of them are anonymous. These characteristics or behaviors are less effective when others around you know you're using them.
One of the CIOs I describe in the book uses a technique that I call the mathematical steamroller. This particular technique looks something like this: The CIO needed different stakeholders from across the organization to agree to participate in a large, complex business process improvement. Getting engagement from people is a lot like math: Order matters. You have to engage stakeholders in a specific order in the organization. So, what this CIO would do is, he would look at the different stakeholders and choose one who was important to the initiative but not particularly influential in the organization. The CIO would pitch the potential change to that stakeholder and try to get them on board. … If the stakeholder got on board, that was great, the pitch worked.
If the CIO didn't get the stakeholder on board, he hadn't lost much ground. Even if he accidentally alienated the stakeholder, the CIO really hadn't lost much because the stakeholder couldn't work the initiative against him. Then he would move onto the next low-influence stakeholder and the next, to truly fine tune the change pitch in order to get people on board.
The predatory CIO also understands there are other stakeholders who don't want to be last into an initiative; they want to be first and look as though they're leading it. They're very high in status. So, then the CIO would pick the high-value stakeholder and bring that stakeholder on board. As you might imagine, there are other stakeholders who come on board only when enough high-value stakeholders are on board. It's a pack mentality. So, this strategy analyzes different members who needed to be involved and mathematically built the steamroller effect -- getting the right people on board in the right sequence in order to build an extraordinarily strong coalition.
Sounds manipulative.
Nunno: I would say it definitely is. But it's also quite effective and can help build a strong coalition because what it requires is a combination of "light and dark" approaches. The CIO has to have a strong pitch, a strong change agenda and a good reason for bringing people on board. By the same token, they also have to go to the "dark side": They have to be stealthy, secretive and selective in the order in which they bring the people on board. CIOs who use both light and dark techniques simultaneously, in essence, enter the gray space. They become what I would call the gray wolf. So, they balance their tactics in order to come up with the optimal solution. These are not necessarily easy decisions to make, and there's not always a clear good and bad in these situations, but oftentimes they do create very strong results.
In part two, Nunno elaborates on why CIOs should embrace the "dark side."
Let us know what you think of the story; email Nicole Laskowski, senior news writer, or follow her on Twitter at @TT_Nicole.
Dig Deeper on Leadership and strategic planning