itestro - Fotolia
Smart robots pave way for better human-machine collaboration
Robots will find a place in the enterprise, but can we trust them? Here's how they will impact the role of IT.
Part one of this SearchCIO feature on machine learning and artificial intelligence described how computer scientist and MD Steven Horng is using machine learning to capture unstructured data while enabling colleagues at the Beth Israel Deaconess Medical Center to do their jobs more efficiently. Here, we consider physical robots in the workplace -- where they're going and what they will mean for the CIO.
For IT organizations, the advent of smart machines -- systems that use machine learning to do tasks humans would otherwise perform -- will add complexity to their technology environments. But managing artificial intelligence will require more than technical smarts.
Tom Austin, an analyst for Gartner Inc., said one hurdle CIOs will have to overcome is trust between employer and employee. Take IBM Watson, he said. Watson as medical adviser is becoming a familiar persona for the technology, but what happens when the HR department introduces Watson as a career counselor? "How many people are going to trust the adviser their company gives them?" Austin said.
Trust, Austin said, will be a big issue -- not only when it comes to proprietary data, but even when considering humans and robots working side by side. That's where experts are hoping smart robots, one of 30-plus technologies Gartner classifies as a smart machine, can make the difference.
Overcoming the human-robot barrier
Julie Shah, assistant professor in the aeronautics and astronautics department at the Massachusetts Institute of Technology, is one expert trying to solve this problem. During a presentation at EmTech, an emerging technology conference hosted by the MIT Technology Review, Shah, who also leads the Interactive Robotics Group at MIT, said her research "lies at the intersection of artificial intelligence and cognitive psychology."
"We try to reverse engineer the human mind to make robots better teammates," she said. In most cases now, robots working on the factory line are kept in cages because they pose too many physical risks to humans. But that also means the human workflow is completely separate from the robot workflow.
"When we have a new task to do on the factory floor, we have choices to make," Shah said. "Either we figure out how the robot can do that task entirely on its own in the cage, or it becomes a manual process, meaning people do the work."
Shah is trying to change that dynamic. She's developing ways that will enable collaboration and "harness the strengths of humans and robots to accomplish what neither can do alone," she said. That means building robots that are not only safer but smarter, she said.
We try to reverse engineer the human mind to make robots better teammates.

Julie Shah
One of the techniques Shah and her team have experimented with enables the human and the robot to train together, switching roles to create a shared understanding of how to work together. By conducting large-scale human subject experiments, Shah and her team observed that when human/robot pairs used their cross-training mechanism to create a shared mental model, it significantly reduced human idle time and increased concurrent motion, she said.
The shared mental models fostered acceptance of the robot but not at the expense of its human teammate's ego. "People agreed more strongly that they trusted the robot and the robot performed according to their preference," she said.
Robots that can learn and evolve
"Smart robots" of the kind that Shah works on possess certain characteristics. "When we say 'smart,' that can mean different things to different people," Kenneth Brant, an analyst for Gartner, said. "But some common denominators are: It can learn from its environment; it can work alongside a human being and learn from those humans; and it can learn from its experiences and improve as it does its work."
An early example is the Baxter robot built by Rethink Robotics. Baxter, built in a human form, can work right next to line employees on the factory floor -- without a cage. Rodney Brooks, founder, chairman and CTO of Rethink Robotics, was at EmTech where he showed several examples of factories that have deployed Baxter to perform "dull jobs" -- highly repeated tasks such as precision packing.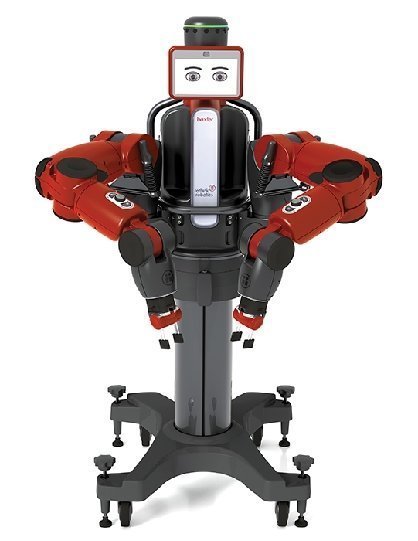 Baxter, which is programmed by moving the jointed arms to model a sequence, is equipped with sensors that enable the robot to "feel" and "see" so it can adapt to its environment. "We don't have to tell it how fast a conveyer belt is moving," Brooks said. "It sees it; it knows it; it has common sense to figure that out."
Future state IT
As the Baxters of the enterprise become smarter, the role of the CIO will change, Brant said.
Today, machines like these are traditionally paid for out of the CTO and COO budgets, so beyond the purview of the CIO, and Brant expects that to continue. "It's still an operational system," he said. And tapping into that data is going to require IT to do one of the things it does best: system integration.
But as robots become more integrated into the workflow -- as smart machines begin to share a business process with humans -- the data they absorb and generate becomes more important to the enterprise. The process of order fulfillment is an example. "If you want to know what the status of your order is, the robot might know the best answer," Brant said.
That may still be a ways off, but it's not so far in the future that CIOs shouldn't be preparing now.
"These smart machines are not the same things as APIs or operating systems or menu systems. This is a whole new way of people and technology working together like never before," Gartner's Austin said at the Gartner Business Intelligence & Analytics Summit last spring. "We think laggards are going to be losers."
Let us know what you think of the story; email Nicole Laskowski, senior news writer, or find her on Twitter @TT_Nicole.
Next Steps
Read a Q&A with Gartner's Tom Austin on how CIOs should prepare the enterprise for smart machines.
Dig Deeper on Enterprise business intelligence software and big data