Risk Management Strategies for CIOs
Risk management articles, podcasts and webcasts from SearchCIO.com and CIO Decisions.
CIOs face the constant pressure of balancing risk with cost, while maintaining a secure environment. This supercast features SearchCIO.com and CIO Decisions articles, columns and podcasts offering strategic advice to CIOs who are planning or implementing risk management initiatives.


Download this free guide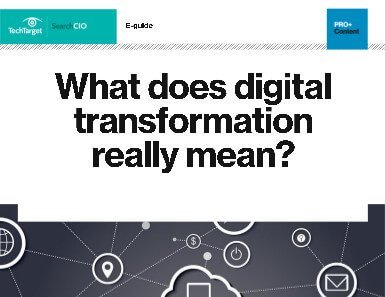 PDF: What does "digital transformation" really mean?
What exactly is digital transformation? You may hear the term often, but everyone seems to have a different definition. See how our experts define digitization, and how you can get started in this free guide.
By submitting your personal information, you agree that TechTarget and its partners may contact you regarding relevant content, products and special offers.
You also agree that your personal information may be transferred and processed in the United States, and that you have read and agree to the Terms of Use and the Privacy Policy.
Podcast: Tips for building a cost-effective risk management plan
How do you justify the costs of a risk management plan for an organization? In this podcast, our industry expert will discuss ways to balance the amount of expected risk with the costs involved in protecting your organization. The expert will offer tips for successfully presenting your CEO with a cost justification plan for risk management.
-- Speaker: Ross Armstrong is senior research analyst at Info-Tech Research Group Inc. He currently specializes in IT security, legislative and regulatory compliance, and the health care industry.
Column: Intellectual property: Six considerations to safeguard your assets
Protecting your intellectual properties is a timely and ongoing process. Security expert Gary Miliefsky offers advice on how to assess and safeguard your company's most valuable assets.
Article: Content monitoring tags questionable email activity
You've spent thousands to keep malware and hackers out, but what are you doing to keep your data inside? Encryption can lock things down, but you need visibility to make sure the data is truly safe.
CIO Decisions Feature: Look Who's Watching
Employee monitoring tools aren't just about increasing work productivity or banning pornography from the office. Midmarket CIOs now use them to secure their networks from malware and bandwidth hogs.
Dig Deeper on Risk and compliance strategies and best practices