Open source strategies for SMBs
Open source technologies are secure, affordable options for SMBs. Find out more with our top five open source tips for SMBs.
One way to make the most of a tight budget is to invest in open source technologies. Not only are they generally more secure than most off-the-shelf proprietary products, but they're also usually free! Here we present our top five open source tips for SMBs.

Download this free guide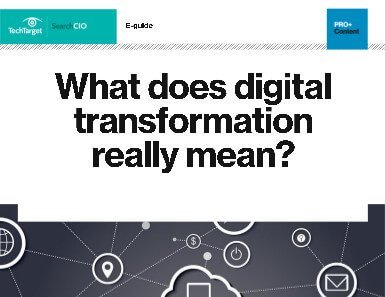 PDF: What does "digital transformation" really mean?
What exactly is digital transformation? You may hear the term often, but everyone seems to have a different definition. See how our experts define digitization, and how you can get started in this free guide.
By submitting your personal information, you agree that TechTarget and its partners may contact you regarding relevant content, products and special offers.
You also agree that your personal information may be transferred and processed in the United States, and that you have read and agree to the Terms of Use and the Privacy Policy.
1. Linux desktop: Simpler, more secure than Windows
Don't adopt Linux desktop just because you hate Microsoft, experts agree. Instead, make the switch to open source for the simplified maintenance and improved security.


Read the full tip here
2. Open source security: Five best practices
While open source software is often more secure than its proprietary counterparts, it still needs to be hardened, patched and locked down before deployment in the enterprise. Here are five best practices for securing open source software at SMBs.


Read the full tip here
3. Open source security OK, experts assure SMBs
Although the vendor field is still sparse, open source technology is a strong option for securing SMBs' networks.


Read the full tip here
4. Open source and Web site design: Caveat emptor
Using open source software to redesign or create a Web site can be beneficial to resource-strapped SMBs, but caveat emptor -- there are hidden costs.


Read the full tip here
5. Unix or Linux? Are you ready to make the move?
If you're considering migration away from your current Unix platform, make sure you choose Linux for the right reasons.


Read the full tip here
Dig Deeper on Small-business infrastructure and operations