Sergey Nivens - Fotolia
Evaluate
Weigh the pros and cons of technologies, products and projects you are considering.
Indoor navigation system transforms working conditions for the blind
An assistive technology program at Bosma Enterprises now includes an indoor navigation system that uses Bluetooth beacons and iOS' native VoiceOver feature.
When Bosma Enterprises, a nonprofit organization that employs blind and visually impaired people, opened a new headquarters earlier this year, it introduced assistive technologies to help employees find their way in the 170,000-square-foot facility.
Those technologies include an indoor navigation system called BlindSquare Event and a meeting room reservation tool from Teem, a Salt Lake City, Utah, company. The applications run on Apple iOS devices and use iOS features such as VoiceOver to read notifications and other information. The accommodations help the Indianapolis organization's employees accomplish a range of actions, from finding offices to getting a snack at a vending machine.
Jason Bailey, CTO at Bosma, works with his team of IT and assistive technology specialists to deploy the various systems. He said the application of technology to help employees navigate the new building actually began before move-in day. Arranging for every employee to tour the facility before its April 2017 opening would be impractical. Instead, Bosma used 3-D printing to render a model of the facility that employees could explore.
Employees "were able to walk about with their fingers through the offices and halls and get familiar with the lay of the land before coming over," Bailey explained.
Bosma's deployment of assistive technologies is nothing new for the organization. In 2014, for example, the organization rolled out VisionForce, a Salesforce-based system that automates key business functions from warehouse management to fundraising. That deployment includes technologies such as screen readers, which use text-to-speech software to make the information displayed on a computer screen audible.
Indoor navigation system: Beacons mark waypoints, hazards
The BlindSquare indoor navigation system -- ready for use when the headquarters opened -- represents a new level of commitment from the company to enable its 208-employee workforce, more than half of which are blind or visually impaired.
You have something to be thankful for at the end of every day.

Jason BaileyCTO, Bosma
The $6.6 million headquarters includes sales and administrative offices, a bistro, a warehouse and a production center where employees package healthcare products such as surgical gloves and disposable medical supplies. The organization also provides warehousing and contract packaging services.
The BlindSquare system uses 2-inch by 2-inch plastic Bluetooth beacons placed through the facility to communicate location information to employees' iPhones. The beacons tell employees where they are in the facility and guide them to offices, restrooms and the bistro, Bailey said. The BlindSquare app uses iPhone gestures as well as VoiceOver to assist blind or visually impaired employees. For example, employees in the bistro can shake their iPhones to have their devices read the specials of the day.
The beacons are also installed on fork trucks in the warehouse, so employees receive warnings when a vehicle is approaching. Beacons attached to wet-floor signs help employees move away from spills.
The BlindSquare indoor navigation system, which originated in Finland, is a fairly recent arrival in the U.S. Bailey said Bosma is only the third organization in the U.S. to deploy the technology.
But adoption of indoor navigation systems is growing, according to Technavio, a market research firm. The company forecasts a 59% compound annual growth rate for indoor guidance offerings, citing the "rapid adoption" of low-cost beacon technology.
Reserving a room
Additional technology addresses other realities of corporate life that sighted people take for granted. Bosma has installed iPads running Teem's EventBoard booking display software outside of meeting rooms and training rooms. The software, which also takes advantage of iOS VoiceOver, notifies employees if a room is in use, which avoids awkward interruptions.
"Someone would open the door and say, 'Is anyone in here?'" Bailey said. "We got away from that."
Employees can also use the iPad's touchscreen to reserve a conference room. Once the meeting room is booked, EventBoard's integrations with Google Apps and Microsoft Exchange add the meeting to employees' calendars. In addition, employees can reserve a meeting room from their calendars.
Bailey said the Teem product, although probably never intended to function as an assistive technology, worked out of the box and met Bosma users' requirements without modification. "We didn't have to call a programmer" he added.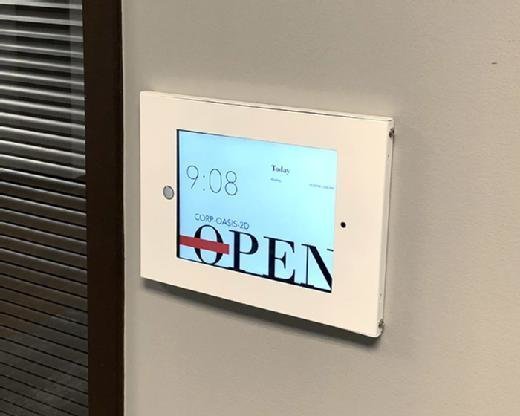 Bosma is now installing QR codes to further help its blind and visually impaired employees. Vending machines in the headquarters facility have codes that let employees know what snack food they are buying and how much it costs. Here's how it works: When an employee has the BlindSquare app open and approaches a beacon at a vending machine, the app will ask the employee to shake his or her iOS device for additional information. At that point, the app will tell the employee where the QR codes are located so they can be scanned.
"It's no longer like playing a lottery," Bailey said of the new approach. "It gives [employees] the flexibility of going up to the vending machine … and having them know what they are getting."
Photos of Bosma employees displayed in the new facility also have QR codes next to the frames to identify the subjects. QR codes will also be added to office signs, which users can scan to hear the name and title of the person working in a particular office. Codes to be deployed in restrooms will direct employees to sinks and toilets. Those QR code use cases also employ BlindSquare. Bailey said he hopes to have the office and restroom QR codes in place by the end of 2017.
Whether it's an indoor navigation system or a well-placed QR code, the ability to apply technology to help improve people's working lives makes for a satisfying IT role, said Bailey, who has worked at Bosma as a consultant and, eventually, as a full-time employee for 14 years.
"You have something to be thankful for at the end of every day," he said. "That is just rewarding to me."
Dig Deeper on Leadership and strategic planning