Fotolia
How to build a foundation for enterprise robotic technology
Integrating enterprise robotic technology into existing IT systems will be different for every industry -- and a new challenge for CIOs. Read about how to get the job done.
At Firstronic LLC, Josh Brubaker's responsibilities are in many ways the same as those held by other senior IT leaders in small and midsize companies.
But Brubaker, in addition to overseeing the IT operations at this Grand Rapids, Mich.-based electronics manufacturing services provider, also works on the infrastructure that supports the company's robots: the isolated networks needed to protect older machines against viruses, the databases required for the robots' programs, and the storage space holding all the data generated by them.
Brubaker said his background in process engineering helps, because it gives him insight into what the company's engineering team wants when it comes to the robots that work in their manufacturing operations.
"I know what they're looking for and what they need," he added.
Manufacturing companies were early adopters of robotic technology. Healthcare, agriculture and defense are other industries at the forefront of adopting robotics.
Now businesses in other industries are exploring how they, too, can use robotics to operate better, cheaper, more quickly, or all of the above.
And as more organizations seek to harness the power of enterprise robotic technology, IT leaders with a robotics responsibility will become more common, experts said. Their IT departments will be tasked with the onboarding and/or ongoing maintenance of robots. That puts a new level of skills and priorities onto those IT teams.
"Whenever you implement a new system of any kind, there's always integration. Robotics isn't unique in that there's an integration need, but the integration needs are different than other systems," said Howie Choset, a professor of robotics at Carnegie Mellon University.
"The power, data pathways, safety cages, the actual mechanism itself -- you have to combine multiple systems. There's a lot of IT that needs to exist to make robots go," he said.
Choset said there are no rules and requirements that fit each and every use of robotic technology; the technology and use cases are too varied to make universal declarations about what it takes for any one organization and its IT team to implement and support robotics in its own operations.
There are, however, some typical IT requirements, he and other experts said.
Organizations need to have more networking capacity.
They generally need sensors and robust data and analytics programs to both input the information the robots need to act as well as to handle the data being generated by the robotic technology itself.
They have to understand the programming languages that run the robotic technology.
They also have to be able to integrate the robotic technology into their other systems.
The power, data pathways, safety cages, the actual mechanism itself -- you have to combine multiple systems. There's a lot of IT that needs to exist to make robots go.

Howie Chosetprofessor of robotics, Carnegie Mellon University
"You can't buy a robot and drop it down and let it go," Choset said, adding that he advises organizations planning to adopt robotic technology to hire a robotics specialist.
"I've seen nonrobotics people make decisions about where they can be used, but they often make mistakes because they don't understand what robotics can and cannot do. So rule No. 1 is get a robotics guy," he said.
(Choset said few colleges have degrees in robotics, but more are adding programs, which puts a premium on those with robotics skills. He said robotics students graduating with bachelor's degrees from Carnegie Mellon see starting salaries top $100,000, while graduate and PhD students can land $200,000 or more a year.)
IT support in enterprise robotic technology
Firstronic, which has used robotic technology for two decades or so, starting when its operations were semi-automated, is now a highly automated shop with robots handling the entire assembly.
The skills and IT infrastructure required to manage and optimize the robotic technology have expanded over time, too, said engineering manager Steve Black, whose engineering team works collaboratively with Brubaker to keep the robots humming 24/7.
Brubaker can attest to the complexities of supporting enterprise robotic technology. He said some of the machines at Firstronic are older models, so they need a separate, isolated network to protect them against modern malware. He said the company also needs team members -- whether in IT or engineering -- who know different programming languages, as there tends to be a variety across different robots.
"Sometimes they're legacy robotics that run on DOS, or XP or old versions of Windows. You have to run them on a subnetwork with a completely separate firewall," Black said about his company's robotic landscape, adding that many use SQL databases.
Then there are the challenges around integrating any one particular robot with other systems, Brubaker said, noting that his company uses Plex to support its integration requirements, as well as to handle data flowing between the robots and other company systems.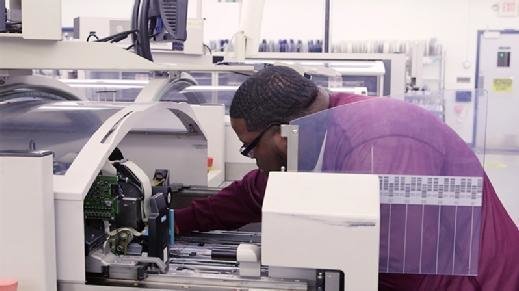 OT and IT will merge
Demos of impressive (if eerie) humanoid robots notwithstanding, very few robots in industrial use today resemble a human or any living creature, but some do act as arms or eyes. Many robots have movement, such as those that work in manufacturing plants assembling products that were once made by humans.
Other robotic technologies don't have a physical presence but act like humans -- that is, they're programmed to act in place of a real person to perform mental tasks, such as handling incoming calls in a corporate call center.
"Physical robots will generally remain focused on industrial use," said Ian Hughes, an analyst for the Internet of Things practice at 451 Research. "However, with the growth of Industrial IoT connectivity from the plant to the enterprise, the operational technology world and IT world start to merge. The data requirements will dramatically increase and hybrid architectural patterns will evolve."
White-collar workers will see an impact from increasingly powerful but task-focused applications of analytics, machine learning and AI software.
"How these systems operate and the auditability of their decisions will become the responsibility of the CIO with regulatory pressures being applied," Hughes said.
And IT needs to prepare for this inevitability.
"If not fully-fledged robots, there is a drive toward more physical hardware in the enterprise, broken down into very small units as part of the internet of things. This, as with robots, brings challenges not usually faced by IT departments with mechanical issues, widespread connectivity, large amounts of data and distributed processing -- and most importantly security," Hughes said.
Healthcare CIO manages enterprise robotics
Deanna Wise, executive vice president and CIO at Dignity Health, said her Calif.-based healthcare system has had robots for nearly a decade, starting with da Vinci Surgical System robots in the operating rooms. Dignity Health now also uses Dignity Health Telemedicine Network, a collection of video-conference-like robots that can move autonomously and be deployed at patient bedsides to connect attending physicians and their patients with remote specialists. In all, the organization has 82 robots in use.
Similar to Brubaker at Firstronic, Wise said her team has had to make sure the health system's connectivity, its wireless capabilities and its bandwidth could handle whatever volume providers would add by using robotics. Her team also had some responsibility for movement mechanisms, making sure the technology that moves the robots around the hospital remains reliable. She had to ensure, too, that the system's environmental sciences department would be tasked with cleaning the machines. Wise said Dignity Health has contracted with its vendor to provide many services, such as implementing the tracking technology and testing.
Wise said she doesn't see anything particularly unusual in how her department, and others elsewhere, have responded to robotic technology in their enterprise IT portfolio. She said it's a learning curve, with early adopters blazing new trails that others can benefit from.
"We're continuously looking at new solutions out there. We're used to change, and we're used to adapting and finding the solutions and grappling with them. So I'm not stressed out by it. I'm energized by the opportunities out there and how we're advancing," she said.
Quick wins demonstrate value
Mitch Siegel, head of strategy for financial services at consulting firm KPMG, said he has seen enterprise robotic technology deployed in financial services, especially in call centers where bots emulate a human set of processes to handle incoming calls. He said CIOs looking to move their organizations into robotics should start, as they do with other new technologies, by applying it to some low-hanging fruit.
Siegel also said that many organizations that are successful using robotic technology set up Centers of Excellence so they can better understand and address the complexities of robotics in the enterprise.
"People get wrapped up around the futuristic aspect that these are robots, but this is a technology that has a maturity curve and, like any other technology, you want to get some small wins and look for some tactical deployments where you can get quick wins and can demonstrate some value," he said.
Dig Deeper on Business automation, robotics and business process management