Manage
Learn to apply best practices and optimize your operations.
GE digital thread now runs through a 'hub' customer database
GE has rolled out the first phase of digital transformation for its sales function, creating a central customer database and devising governance standards for customer data.
Editor's note: This is the second part of a two-part series detailing a GE digital thread project targeting the...
Continue Reading This Article
Enjoy this article as well as all of our content, including E-Guides, news, tips and more.
company's sales force. Part one focused on the vision behind the effort.
General Electric enlisted its salespeople to scope out a digital transformation initiative targeting the company's vast sales function.
The 125-year-old company's crowdsourcing exercise helped the company create a vision for the transformation effort: The sales force sought to build trusted relationships with customers to achieve game-changing results. GE also turned to its sales personnel to identify the initiative's first project -- the creation of a single, master customer database spanning multiple GE business units.
With a strategic direction and a tactical objective in place, the GE team behind the sales transformation was ready to take on the customer database task. Told by industry experts that the job would take two years, the team aimed to complete the database project in half that time.
Unifying data silos
At GE, digital thread is the term used to describe projects that pursue new ways of connecting processes, along with the data and systems around them, to boost productivity. The GE digital thread for its sales function, considered the largest currently underway at the company, is led by Cate Gutowski, vice president of GE Commercial and digital thread. Gutowski works in partnership with Jim Fowler, CIO at GE.
GE uses Salesforce as its CRM system, but the deployment was far from centralized.
"We had over 50 different instances of Salesforce," Gutowski explained.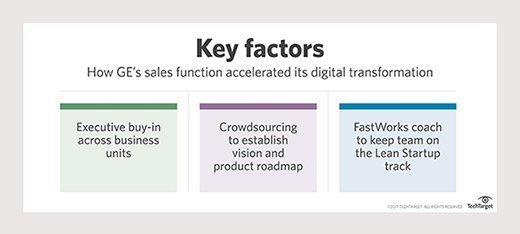 The proliferation of Salesforce instances across the sales team of some 125,000 people highlighted the need for a central customer database. The company forged a partnership with Tamr Inc., a Cambridge, Mass., startup that provides machine learning-based software for unifying data silos. With the Tamr software, data from the various Salesforce instances flow into a customer data store, what GE has termed "the hub."
Earlier, Tamr had helped GE create a supplier database to improve visibility among GE's buyers. Prior to the database, different business units didn't know when they were purchasing from the same suppliers, making it difficult to get the best pricing.
Similarly, GE's customer database and a CRM tool called GE Insights aim to give salespeople greater visibility into customer accounts. GE salespeople in one business unit didn't know about other salespeople's accounts, because customer data was fragmented. The centralization of customer data and GE Insights app helps salespeople exchange leads and make warm introductions to drive new business.
Once you have a solid data foundation, there is so much you can do.

Cate Gutowskivice president of GE Commercial and digital thread
In addition to creating the customer data hub, the GE digital thread project also put in place the first data governance standards for the company's sales function. Gutowski said GE has historically guarded its financial data very carefully, but has underestimated "the impact of our customer data," noting the oil and gas business unit alone generates more data each month than Airbnb Inc. generates in a year.
Against that backdrop, GE has devised a common set of standards for sales data. Individual business units implement the data governance standards and policies so that data is in a common format by the time it reaches the hub.
"Once you have a solid data foundation, there is so much you can do," Gutowski observed.
She suggested the improvement in customer data visibility can help the company generate cash. For example, GE Power may be doing business with an organization that owes $10 million on a contract. If GE's oil and gas business unit approaches the same organization on a different deal, it can tap into GE's customer data to learn about the entity's status with GE Power. The insight into payment history could help the business unit structure its contract with the customer to better ensure cash collection, Gutowski said. The key point, she said, is the ability to create "new horizontal visibility where it didn't exist before."
The customer database and data governance project -- the first phase of the sales transformation -- is now complete. Gutowski noted the project was finished within the one-year timeframe GE had set as its objective.
Beating the buzzer
A couple of elements came together to help the GE digital thread team beat the database project buzzer. Gutowski cited GE's top-down and bottom-up approach as one factor. From the top-down perspective, the GE team obtained buy-in from company executives and "created a community to help us execute," she said. The community included commercial CIOs from each of the company's business units and trusted advisors representing GE's chief commercial officers. Those officers are responsible for their respective business units' sales function.
Crowdsourcing, meanwhile, provided the bottom-up component, providing the GE team with a sense of purpose and a product roadmap.
Gutowski also pointed to the hiring of an external consultant to help her team "think, act and work like a startup." The team had already been trained on GE's FastWorks program, which immerses GE personnel in the principles of Eric Ries' Lean Startup movement.
Investing in the consultant, who served as a FastWorks coach, kept the team on track.
"Having that accountability every day was really important for us," Gutowski said.
With the customer database done and dusted, the GE digital thread sales team is looking to pursue a similar data unification and governance project to deal with order data to simplify the sales forecasting process. Another thrust: transforming sales technology to drive productivity. One project the team has been working on is GE Digital Assistant, which lets salespeople update Salesforce without having to open the application. A salesperson concluding a sales call can enter the new customer data into the CRM from his or her phone via text or voice, using Amazon's Alexa or Apple's Siri.
The latest work feeds into a key pillar of the sales transformation project.
Gutowski described that goal: "How can we make our sales teams significantly more productive and deliver on the idea of giving them time back and a 13-month selling year?"
Dig Deeper on Digital business management