Share this item with your network:
The great technology and industry disruptors

FotolEdhar - Fotolia
Get started
Bring yourself up to speed with our introductory content.
Five digital disruptors talk successes and strategies
Here is how five IT leaders are making digital disruption happen.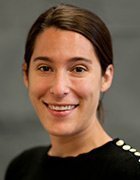 By
Continuing to do business as usual is riskier than investing in ways to transform the business with technology. If there's a single piece of advice from CIOs at businesses in the midst of a digital transformation, this idea is it: Aim to be a digital disruptor, because digital disruptors are aiming for you.
The hard part is the lack of a blueprint, a roadmap or best practices on where to invest, on what to build and on how to build it. Digitizing business processes as a way to become operationally excellent doesn't go far enough, according to Jeanne Ross, director and principle research scientist at the MIT Sloan School's Center for Information Systems and Research.
"This is exactly what financial services is running into," she said. "You can get better and better at the omnichannel experience … but sooner or later, how are you different from the next guy? Where's the margin on this? How do you become anything but one of the many competitors in a dog-eat-dog environment?"
Businesses, in other words, need to redefine their industries, but where does the CIO-as-digital-disruptor fit into the transformation? There's no pat answer to that question either. "The difficulty of defining the key attributes of the CIO is that it will depend a lot on the attributes of other senior leaders," Ross said.
The best-case scenario? CEOs will have a clear vision on where to take the business, leaving CIOs to build and manage the underlying core platform to deliver on the vision, Ross said. If CEOs don't have a clear vision and if business leaders, who have a pulse on customer demands and complaints, aren't involved in the reimagining, CIOs will need to help business leaders think about components. "It's easier to talk about where your company [has] to be and then start divvying up who is going to take responsibility for what," she said.
For digital disruptors, the race to digital resilience is a marathon and a sprint. Here's a look at how four CIOs and one chief digital officer are beating the competition.
Michael Nilles: Inventing a digital business
The Schindler Group, a global manufacturer of elevators and escalators based in Ebikon, Switzerland, is a 141-year-old business using the Internet of Things to perform critical business operations. "We have digitized our relationship with our customers," Michael Nilles, CIO, said at the recent MIT Sloan CIO Symposium.
Nilles, who joined Schindler in 2009 and was the winner of this year's MIT Sloan CIO Leadership Award, is referring to a real-time maintenance system that connects sensor technology with mobile applications, creating a "digital tool case" for the company's more than 20,000 field workers. If a machine goes offline, sensors send an alert to a central dispatch, where the next course of action is automatically decided, including assigning and even prioritizing the work to a technician in the area.
But the operational information isn't for internal employees only; Schindler has also created a B2B mobile app to keep customers in the loop on maintenance -- notifying them when an escalator or elevator encounters a problem and when a technician has been dispatched. A service like this isn't IT business as usual, and, to reflect that fact, the company stood up Schindler Digital Business AG, giving Nilles a second title as CEO of the new business.
"In traditional industries, you're not staying in business in the next 10 years [with] just your product," he said. "[You can] get a competitive advantage if you have related services, and they will be enabled by digitization."
In traditional industries, you're not staying in business in the next 10 years [with] just your product. [You can] get a competitive advantage if you have related services, and they will be enabled by digitization.

Michael NillesCIO, Schindler Group
Schindler's determination to monetize its maintenance services is backed at the highest levels of the organization, specifically, by a chairman and a CEO who have taken a long view of the venture, Nilles said. Top leaders believe the payoff will happen, eventually.
"When you think about our products, our elevators, we are equipping all of them for IoT." That's a huge investment for the company, which might not pay off in the next quarter or the next year, but this is a strategic investment," Nilles said.
Rather than defending IT metrics, as CIOs are often asked to do for more traditional business endeavors, ROI discussions between top leadership and IT have changed at Schindler. "It's really becoming more of a broader, entrepreneurial approach," Nilles said.
Brook Colangelo: Killing the CIO role
Brook Colangelo is a risk taker. In 2014, a year after he joined Houghton Mifflin Harcourt (HMH) in Boston, Colangelo recommended the company do away with his title as CIO. Today, this digital disruptor serves as the company's executive vice president and CTO.
Colangelo described the new title as a reflection of two aspects of his tenure at HMH: the agile, continuous improvement model he brought to HMH from his four-year stint as a White House CIO and his role in HMH's transformation from digital publisher to a "learning company." The technology evolution at HMH is most clearly visible in the company's efforts to build a platform where its products are delivered and its 15 million active users can develop and share additional functionality via the developer's portal and public-facing APIs.
"The killing of the IT title was a rebranding of who we are as an organization and how we're delivering," Colangelo said.
Like other platform companies -- Colangelo pointed to Twitter and Netflix as examples -- technology is the backbone of this new business model, not just an enabler of business as usual. "The CTO role at Twitter and other organizations is more public facing and technology is core to product delivery," he said. "That's the recognition at HMH -- that technology is fueling and unlocking so much in the company."
Colangelo retains his CIO responsibilities and continues to run HMH's enterprise services and back-office functionality; he's still shifting on-premises applications to the cloud and building an IT as a service model for the business. But his position no longer begins and ends in the back office.
My platform teams can't re-engineer new solutions if we can't accept an order through SAP and recognize that revenue.

Brook ColangeloCTO, Houghton Mifflin Harcourt
"I believe in 2015 and beyond, there is going to be a complete nexus between customer-facing technology and enterprise technology, and there needs to be leadership there," he said. "My platform teams can't re-engineer new solutions if we can't accept an order through SAP and recognize that revenue."
The title change also helps the IT organization. Colangelo said the CTO title hasmore cachet than the CIO title with prospective IT employees. "Engineering talent tends to not want to work for a CIO because it implies back office," he said.
Tom Conophy: Rebranding IT
Tom Conophy, executive vice president and CIO at Staples Inc., doesn't shy away from lofty goals: "We're going after Amazon in a big way," he said at the MIT symposium. In his efforts to make that happen at the Framingham, Mass. office retailer, Conophy is transforming IT into something broader than a pure technical function.
Since joining Staples in2013, Conophy has worked to demystify IT by translating in-the-weeds concepts such as technology debt into language the business understands. How? "Basically, I created a cost analysis on all of our products and services," he said. Now, he can point to an order management system and say -- in actual dollars -- how much it's costing his business colleagues to maintain.
Success in breaking down barriers doesn't come from just talking the talk. Conophy is strategic when pairing up a member of his team with a business colleague, selecting someone who understands business basics such as how the company makes money and is patient enough to sit in a room with the business and field question after question. "It's a different dynamic," Conophy said. "And that also means your people have to be articulate, understand the technology ecosystem and, at the same time, understand the business to be effective in that room."
He's also introduced a two-speed IT model by unshackling "those at the sharp end of the sharp end" -- potential digital disruptors -- from traditional IT functions so that they can experiment, innovate and "go after the likes of a different kind of competitor," he said.
Conophy was clear: Enabling IT innovators to move at a different pace and to perform a different function doesn't make them more valuable than "traditional-minded" IT employees; Staples benefits from having both. The key for CIOs is to correctly identify the builders and imaginers -- and figure out ways to empower them.
Read about the work of two more digital leaders -- Pablo Ciano, CIO at DHL Express Americas, and Brian Tilzer, chief digital officer at CVS Health -- in part two of this story: "Digital leaders at DHL, CVS plot the course forward."
Let us know what you think of the story; email Nicole Laskowski, senior news writer, or find her on Twitter @TT_Nicole.