Evaluate
Weigh the pros and cons of technologies, products and projects you are considering.
Enterprise augmented reality: AR applications are just around the bend
AR applications are poised to become an integral part of CIO mobile strategy. Start with tablets and smart phones and be on the lookout for headset breakthroughs.
Once relegated to the realm of games and entertainment, augmented reality (AR) is gaining a foothold in enterprises...
Continue Reading This Article
Enjoy this article as well as all of our content, including E-Guides, news, tips and more.
across many different industries. Costs for AR technologies are coming down while capabilities are increasing. The release of Pokémon GO over the summer spurred speculation as to how soon similar capabilities would appear in the enterprise. The industry consensus? With AR poised to enter the mainstream, the time has come for AR applications to take their place in enterprise mobile strategies.
Many CIOs have already gotten the picture. More than 50% of organizations are testing AR software or are planning to do so, said IDC analyst Tom Mainelli. "AR has a lot of interest and will be very successful. Like the PC, it will change the way process happens in business," Mainelli said. IDC's numbers are bullish: Worldwide revenues for the augmented reality and virtual reality market will grow to more than $162 billion in 2020, up from $5.2 billion in 2016.
"It's not new anymore, but it's also not mature yet. We're still at the early stages of this technology. What you can do today is very different from what you'll be able to do seven to 10 years from now," said Tuong Huy Nguyen, an analyst at Gartner.
AR applications associate real-world views with stored data, images and video. The user is typically presented with an overlay of the stored information on top of the real-life image, much in the way that Pokémon GO superimposes monsters on the images of real-world locations. Virtual reality involves the creation of a computer-generated image that completely replaces the real world, using a headset or mask that takes over the user's field of vision.
Productivity gains from AR applications
While Pokémon GO may have been a wake-up call for many, some organizations were already hard at work and gaining significant productivity benefits from AR applications.
"Pokemon makes AR seem easy, but it's not," said Dexter Lilley, executive vice president and COO at Index AR Solutions in Williamsburg, Va., a company that grew out of AR research that started in 2011 at Newport News Shipbuilding (NNS), a subsidiary of Huntington Ingalls Industries (HII). As director of corporate strategy and business development at HII, Lilley became involved in the work in 2012 and helped launch Index AR in 2015 to commercialize the technology with the blessing of NNS.
"We were industry and process experts who learned how to do AR," he said.
Developed with PTC's Vuforia AR platform, one shipbuilding application helps workers identify and remove temporary steel -- the steel that helps hold ship parts together during construction but is not needed when construction is complete. In the past, correctly identifying and removing temporary steel was time-consuming. Workers had to repeatedly refer to unwieldy printed diagrams and mistakes could be costly. On an Apple iPad, the Index AR application allows workers to view a portion of the ship with temporary steel colored in green, while permanent steel appears in purple on the screen. "With the AR app, the process took only 90 minutes, not a week," Lilley said.
Such inspection applications tend to require that workers' hands be free. By setting the iPad on a stand, ship construction workers gain hands-free operation, Lilley pointed out. Although headsets naturally confer hands-free capability, Lilley said they are not yet suitable for his applications. He has found they are too heavy, run too hot and are too delicate and costly for extended use. "But that could change in the next six to 18 months," he said.
Retail, training, education
AR applications are not confined to the unique needs of shipbuilding. Training and education are both fertile territory for AR technologies. Emerson Educational Services and Fisher Flow Controls have come up with an AR-based training system for engineers and technicians.
"One of the groundbreaking tools we are working on is augmented reality, allowing us to superimpose a 3D computer model onto a real world object in real time," said Richard Ritter, instructional designer at Emerson Process Management, in an email exchange. The goal, Ritter explained, is to show workers how to install or repair Fisher products. The application uses a platform developed by Scope AR. "This will impact how we train our employees and customers in a positive way," Ritter added.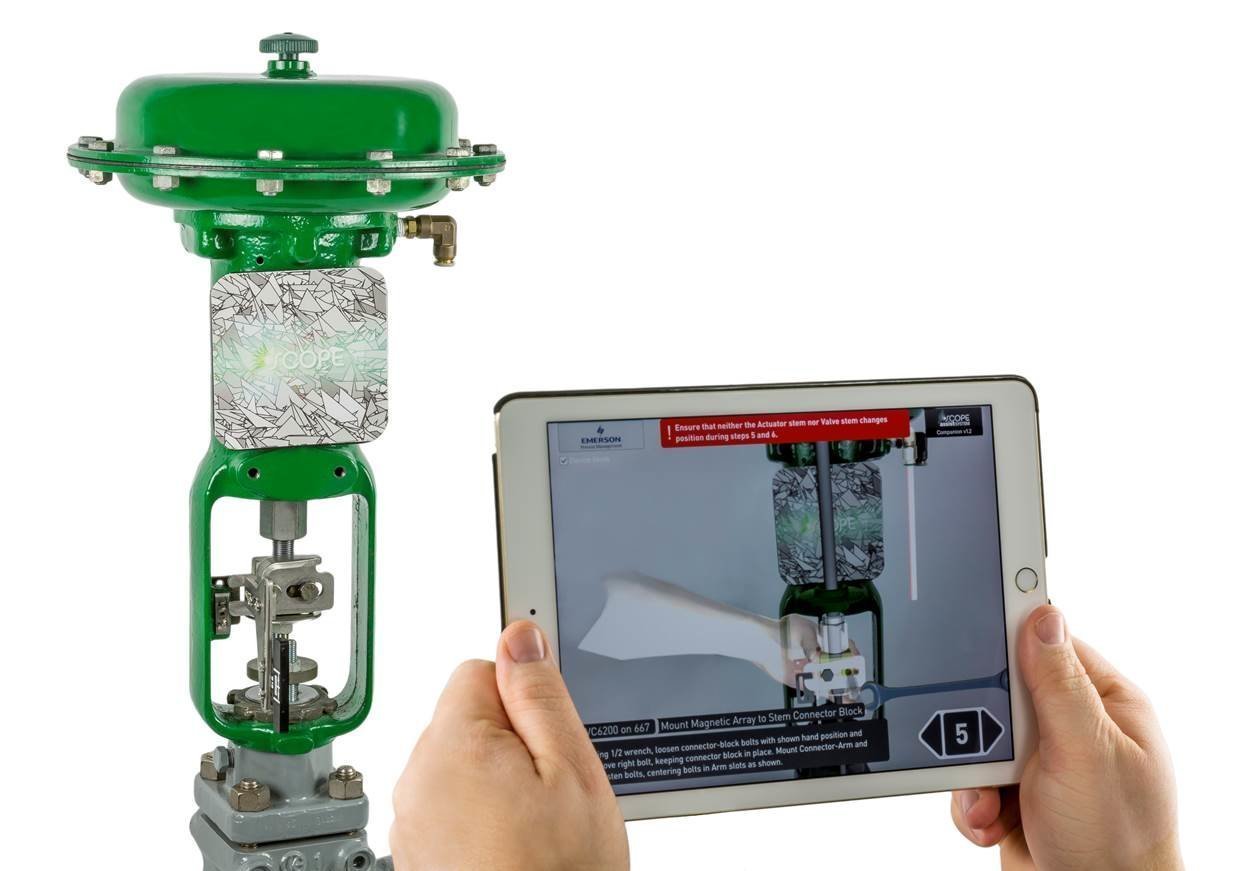 In the retail industry, merchants are giving their customers new perspectives on the wares they offer. For example:
Canadian Tire's WOW Guide is a 200-page printed shopping catalog that enables customers to gain additional information, including videos and reviews, by hovering a smartphone over a product image. Canadian Tire calls the technology "Phygital" a combination of physical and digital.
Wayfair, an online retailer of home furnishings and décor, offers WayfairView. The smartphone-based app is downloadable from Google Play and enables shoppers to superimpose furniture images on the spaces in their homes. It is intended to work with the Lenovo Phab 2 Pro smartphone running Google's Tango AR technology.
Lowe's Holoroom lets customers design projects, such as a kitchen or bathroom, and view the layout in a YouTube360 video. Holoroom VR technology runs on Facebook's Oculus Rift or Google Cardboard, and AR version for the Apple iPad is in the works.
Emerging best practices
As with any new technology, pitfalls loom. As excitement builds, CIOs will be faced with the temptation of deploying AR applications without a clear purpose.
"You don't want to have a solution in search of a problem," Gartner's Nguyen counseled.
Meanwhile, CIOs and their staffs will face a daunting task winnowing through a plethora of small, little-known vendors as they search for just the right technology for their needs.
Whatever the industry, a common theme is emerging for AR strategy: Start with widely-used smartphone and tablet devices and build from there, adding headset technology when it is ready for the mainstream. "Companies should start out with smart phones and graduate," IDC's Mainelli said.
As AR matures, other technologies, such as the internet of things (IoT) could add a powerful dimension. For example, an AR application might be able to display IoT data in a virtual gauge, enabling a worker to take action based on a broad new array of data inputs, suggested Scott Montgomerie, CEO and founder of Scope AR, a provider of AR technology.
Pokémon GO aside, a consensus is emerging that the time has come for CIOs to get serious about AR.
Dig Deeper on Enterprise application development, DevOps and software agility