Manage
Learn to apply best practices and optimize your operations.
Dropbox CIO Sylvie Veilleux on taking IT from 'good to great'
What's it like to be the first CIO at one of the world's most valuable startups? For Dropbox CIO Sylvie Veilleux it's about making IT 'easy to work with' -- and indispensable.
As Dropbox marked its 10th anniversary in 2017, the San Francisco-headquartered tech company decided it had reached...
Continue Reading This Article
Enjoy this article as well as all of our content, including E-Guides, news, tips and more.
a point where it needed stronger leadership for its own internal IT team. So, it added the CIO position to its org chart for the first time and then hired Sylvie Veilleux to fill the slot.
Veilleux had been vice president of enterprise IT and security at Mozilla for five years before joining Dropbox, the creator of a file-sharing service. Prior to that, Veilleux had worked at Salesforce, Apple, Oracle and Franklin Templeton Investments. Through much of her career, Veilleux also has focused on increasing diversity in IT; she currently serves on the California Regional Advisory Board for NPower, a nonprofit that provides free technical training, internships and placement for military veterans and young adults from underserved communities.
With two decades of experience working for elite Silicon Valley companies, Veilleux was no stranger to running IT for an expert constituency. But becoming the very first CIO at a brash technology startup is a delicate business -- the role can come across as "too corporate-y," she said. In this SearchCIO interview, she talks about how she set her course as Dropbox CIO, starting with a meticulous gap analysis of IT services.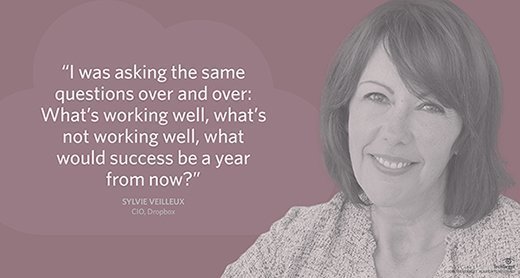 I'd like to explore what it's like to be the first Dropbox CIO. What did you find when you started?
Sylvie Veilleux: In many technology companies, before they hire a CIO, there's a very solid corporate infrastructure team. That team existed here and served the organization. And there were pockets of teams building applications and providing services; we had people on different teams who did that. So, it's not like there was no IT happening, but they were in different lines of business, so they weren't working as a whole. But now it's about how you take good to great.
There were groups -- our product engineering team, the finance team, the HR team -- and we brought them together to see what we had for capabilities then identified the gaps. So, as part of my first few weeks, I did some assessment, looking at capabilities and infrastructure and our weaknesses and thought about how we'd build our team and address the gaps. Where you notice areas that need attention but don't have a clear owner, that's where a CIO and an IT team is the best to solve for those needs.
What is the company's perception of the CIO role?
Veilleux: Coming here, there was not a feeling or a sense or a reality that this is an order-taking role. It's absolutely the opposite. There was a huge welcoming aspect for coming in and helping the organization move forward in areas where they didn't know how. The CIO role is about solving complex challenges. We want to create an excellent experience for our Dropboxers, and we want our IT organization to be remembered as the group that people go to because they want to and because they achieve results. That's one of the things I want to be known for -- how IT is easy to work with and creates great experiences.
Delivering fast
How do you create and sustain that legacy?
I think finding talent fast enough is something many executives struggle with.

Sylvie VeilleuxCIO, Dropbox
Veilleux: Delivering capabilities, and delivering fast. There are a lot of practices and lightweight processes or a combination of those to help you do that. I believe in delivering iteratively and having that continuous delivery model and scaling processes. And another aspect is how do you move away from and reduce operational activities so people on teams can elevate their work. So, you have to have a clear understanding of what the business needs. Then you iterate and release frequently.
How did you identify what was needed by the business?
Veilleux: It was listening and listening and listening and listening. I spent my first five weeks meeting over 100 different people across the organization. And I was asking the same questions over and over: What's working well, what's not working well, what would success be a year from now? I got a sense of how people felt, what they wanted help with; I got an understanding of the organization and the culture. And once I pulled that together, I was transparent about what I gathered and how I put a plan together.
Dropbox CIO role in governance, corporate culture
Was there anything you learned on your listening tour that surprised you?
Veilleux: I was pleasantly surprised at how strong our people organization, our people team, is. I don't know why I was surprised. I thought the culture was very strong and present [while I was interviewing], but I was still surprised in how strong we were in terms of diversity and inclusion, and even how our business teams work with [the company's] recruiting team.
The other surprise: We had over 400 software solutions in the environment, and, of that, about 200 [software as a service]. That was a lot of software to figure out in the first weeks. I think [that high number] was a result of the fact that as we grew, teams organized themselves to be successful. Had a CIO existed before, there might have been some more governance. But the company hired a CIO in a way that was thoughtful and purposeful on when the timing made sense. Now, people are hungry for governance and to think about how do we streamline and make ourselves more efficient.
What is the corporate culture at Dropbox and how does IT support it?
Veilleux: We have five values: Being worthy of trust, sweat the details, aiming higher, bringing cupcakes and 'we' not 'I.' Those values are lived. It's something we all interview for; it's something we value in our semiannual review and ratings. It's something we constantly have in front of us, and it's something important from senior executives to entry-level interns.
Does this culture translate into results for your IT team?
Veilleux: It does drive results, and you can see it in multiple ways. Employee engagement is strong, and when it's high, they're more likely to produce more, deliver more and aim higher. The other piece is the thoughtfulness of things; we spend time being clear about what we want to do so we can align [with business needs], rather than plowing through and getting buy-in later. The company strives to get the right people involved and the right sponsorship. The result is that we can move fast because we have that initial alignment on what we're trying to achieve.
IT's big project, future of work
What's your biggest IT project now?
Veilleux: We're really rethinking the whole space of marketing. We're looking at our ad technology stack and analytics. We just launched new branding and there's a lot of momentum around our marketing capabilities. Our customers are in the B2B and B2C space, so adapting our technology stack to further understand where our customers are coming from and to understand patterns of how our marketing campaigns work. There's definitely a huge opportunity for us there. We have lots of data, and because we have a lot, it's challenging for our organization to have easy access to information. We want to bring out more information and get more insights out of our data, make it more easily accessible and reachable. We're putting together a capability so that information is more easily accessible and understandable.
What's the biggest obstacle or pain point in your organization?
Veilleux: I don't know if I would call it an obstacle or pain point, but it's something I think about every day, and that's hiring the talent we need to execute on our strategic initiatives. I spend a significant amount of time interviewing and building the team we need for leadership. I think finding talent fast enough is something many executives struggle with. We really look for the capabilities and cultural match, so we spend a good amount of time interviewing.
What's the next-generation technology you're most excited about?
Veilleux: As companies grow and the workforce gets more and more distributed, forefront of mind for me is being able to feel connected, even if you're not in the same physical space. Video conferencing is one technology that you think about to stay connected, but how do you make that so you almost feel like you're there together? The technology isn't there yet, but in the next few years I expect to see more of that capability coming out. That's going to be key to helping us stay connected. That also goes to how we share information. We want to create that information and community around all those platforms so people can engage with it, that they recognize who you are, what's important to you. It's around the connectedness and having the technology make you feel like you're there.
Dig Deeper on Leadership and strategic planning