Disaster recovery and business continuity supercast
Disaster recovery and business continuity plans are vital for businesses of all sizes. Get resources, case studies and advice on how to create and manage plans for your organization.
How do you effectively develop and implement a disaster recovery plan? What are the key steps involved in planning and maintaining a plan? In this supercast, you'll find resources, case studies and advice on how to create and manage disaster recovery and business continuity plans within your organization.

Download this free guide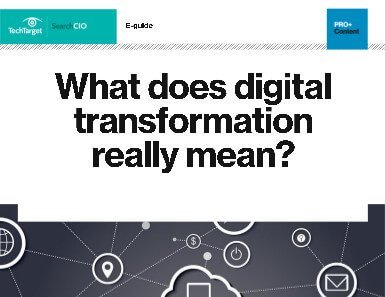 PDF: What does "digital transformation" really mean?
What exactly is digital transformation? You may hear the term often, but everyone seems to have a different definition. See how our experts define digitization, and how you can get started in this free guide.
By submitting your personal information, you agree that TechTarget and its partners may contact you regarding relevant content, products and special offers.
You also agree that your personal information may be transferred and processed in the United States, and that you have read and agree to the Terms of Use and the Privacy Policy.
Podcast:
You have DR plans, but will they work?
No one is ever fully prepared for a disaster, regardless of what type it is. Hurricane Katrina was one test of whether IT disaster recovery plans were sufficient. This expert podcast offers 10 essential steps CIOs need to include in a DR plan that will hold up through any disaster.
Articles:
Roadmap to Recovery
[Michael Ybarra, CIO Decisions]
Almost half of midmarket firms have poor disaster recovery plans, according to one estimate. Follow these steps to be sure you're not one of them.
Virtualization increasingly used to abet disaster recovery
[Linda Tucci, Senior News Writer]
Server consolidation is not virtualization software's only virtue. The midmarket is using the fairy dust to foolproof applications.
Disaster recovery plans bring peace of mind, ROI
[Herman Mehling, Contributor]
Like car insurance, the value of disaster recovery (DR) plans doesn't become apparent until the worst happens. But the ROI of DR can still be measured, even before disaster strikes.
Disaster recovery -- Plan or bust
[Herman Mehling, Contributor]
If you think your SMB can't afford or can't manage a comprehensive disaster recovery (DR) plan, think again. DR planning for companies of all sizes is achievable in just a few steps.
Disaster recovery planning for the midmarket
[SearchCIO-Midmarket.com]
The disaster recovery process must be continually managed -- especially at small and medium-sized businesses. Get all the latest news, tips and resources related to disaster recovery planning in this IT Management Guide.
Disaster recovery outsourcing: Simple and cheap
[Herman Mehling, Contributor]
Outsourcing your disaster recovery efforts can be a wise technology strategy for resource-strapped SMBs. Assess your needs and determine if outsourcing DR makes sense for you.
Disaster recovery still not a priority for most CIOs
[Matt Bolch, Contributor]
Disaster recovery planning still isn't a priority for many CIOs who are expected to spend more time fixing current problems than preparing the business for future ones.
Dig Deeper on Enterprise disaster recovery and business continuity planning