Fotolia
Digital transformation consulting offers CIOs tech, cultural change
An emerging crop of digital transformation consulting firms such as VertitechIT and Quisitive aims to help enterprises navigate the technical and cultural rigors of change.
An emerging category of IT service providers is stepping forward to assist enterprises with the task of digital transformation.
This subgroup of digital transformation consulting firms, sometimes referred to as digital solutions integrators, depart from traditional service providers in a number of ways. They often aim to combine elements of more familiar channel businesses such as digital agencies, systems integrators and management consultants. Some offer virtual CIO/CTO services, serving in an advisory capacity and staying away from the traditional IT channel function of product resale. Many are smaller, boutique firms as opposed to massive companies with worldwide brands.
Enterprises are tapping this crop of companies for projects that go well beyond a conventional IT infrastructure upgrade. Baystate Health, a healthcare system based in Springfield, Mass., hired a company in this digital consulting category, VertitechIT Inc., for help on a data center project. The engagement quickly took on an increasingly transformational aspect with respect to technology, culture and project management philosophies.
Patrick Streck, senior director of IT services at Baystate Health, said the health system planned to build out a new data center for redundancy. The health systems' director of infrastructure, however, left the company, leaving a knowledge gap at a critical time. Baystate then brought VertitechIT, based in Holyoke, Mass., on board to help find a way forward.
VertitechIT recommended a hyper-converged infrastructure for the new data center, a move that helped Baystate Health shrink its space requirements from 10,000 square feet to 2,000 square feet. The cost of the data center dropped from an estimated $10 million to $3 million.
The price tag reduction was "mostly tied to the reduced footprint in hardware," Streck explained. Baystate Health, he said, adopted VMware's NSX network virtualization technology and Cisco's Unified Computing System as the foundation for hyper-convergence.
Cultural shift
The transition to hyper-converged infrastructure, however, is only one dimension of Baystate Health's transformation.
"The technology is almost secondary," Streck said, noting the cultural change that VertitechIT helped initiate.
The fundamental aspect of this [transformation] really is the cultural change.

Patrick Strecksenior director of IT services, Baystate Health
Healthcare institutions, by their nature, emphasize doing things in a safe, conservative way, Streck said. That thinking extends to the IT department, which tends to focus on holding IT together as opposed to pursuing innovation. Indeed, much of VeritechIT's early work with the healthcare system involved addressing skepticism and building consensus.
"The fundamental aspect of this [transformation] really is the cultural change and the way in which VertitechIT catalyzed our own staff," Streck said. "They didn't come in and do it for us; they came in and it with us."
A case in point: With the top infrastructure post vacant, Michael Feld, CEO of VertitechIT, became the acting CTO. But rather than calling the shots on his own, Feld convened a panel of directors from Baystate Health to mull over the technology direction and cultural changes, according to Streck.
In addition, VertitechIT helped cultivate a pragmatic approach to change, based on incremental improvements rather than a single "grand design," Streck said, who likened the process to agile development and the Scrum framework. Baystate Health's IT team sells transformation to its in-house customers on a piece-by-piece basis.
"If we can prove these first steps, would you be willing to consider the second step?" Streck summarized.
Digital transformation consulting starts at home
As it turns out, IT services providers may need to pursue their own IT transformations in order to help customers through their digital journeys.
"The traditional IT consulting approach thinks from a technical standpoint: You've got a problem and we'll come in and fix it," Feld said. "We were that traditional technology fit-it provider. We have changed our model."
When VertitechIT launched a dozen years ago, the company's first hires were all networking specialists. Since then, the company has hired personnel with business acumen, experience in finance and expertise in the regulatory environment. The company now aims to provide strategic resolution to customers' issues, assessing both IT systems and business processes.
Will Clevenger, chief strategy officer at Quisitive, a digital transformation consulting firm with offices in Dallas and Denver, acknowledged the IT services industry has to transform alongside its customers.
"The customers you are selling to are trying to do the same thing," he said.
In turn, Quisitive, reorganized to address customers' digital transformation needs. "We had legacy services that fit in the IT services world [but] didn't make sense for us in the new world," he said.
For example, Quisitive had built a base of business creating internet portals for customers. But that service became commoditized. The company transitioned out of that business, redirecting its technical talent to build customer experience platforms using technologies from vendors such as Sitecore and Adobe.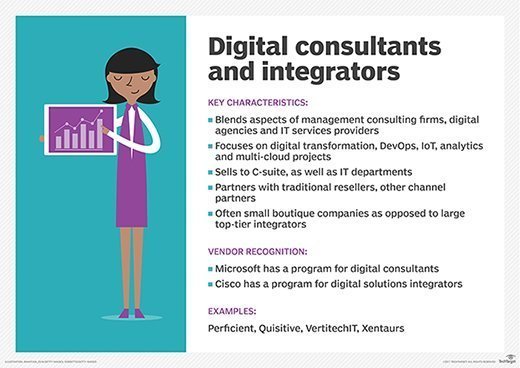 Some of the largest IT vendors, including Cisco, IBM and Microsoft, are now cultivating relationships with digital transformation consulting firms. Cisco, for example, is rolling out a worldwide program for companies it has termed digital solutions integrators. The company has about 20 such partners in the U.S., including VertitechIT, and plans to sign up partners in Asia and Latin America as well.
At Microsoft, a handful of digital consulting firms are now part of its Microsoft Customer Engagement Alliance. Those companies act as a sounding board for Microsoft's digital transformation initiatives. Quisitive is among the alliance's members.
The vendors view the ability to change people -- as well as deploy emerging technology -- as a hallmark of their digital transformation consulting allies. A Microsoft spokeswoman cited the capacity to drive people- and process-centric change management in a digital transformation project as a core characteristic of a digital consultant.
Baystate Health's experience reflects the human element of digital transformation. Streck cited "self-realization" as one upshot of Baystate Health's transformation process. "Once we recognized we weren't as risk-adverse as we thought … things began to accelerate," he said.
He cited the launch of Baystate Health's TechSpring innovation center, in which technology firms collaborate with healthcare professionals, as a sign of change.
But perhaps the biggest cultural development is philosophical.
IT personnel, Streck said, now "look forward to the next thing, as opposed to worrying about what is going to break next."
Dig Deeper on IT project management and portfolio management