Share this item with your network:
The marriage of mobile and data analytics

kantver - Fotolia
Curing the IT identity crisis starts with understanding corporate culture
Author Jill Dyché stresses it's time for CIOs to recreate their role, especially if they want to stay relevant to the business.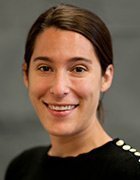 By
In the opening chapter of her book The New IT: How Technology Leaders are Enabling Business Strategy in the Digital Age, author Jill Dyché asks an IT leader a simple -- but provocative -- question: Who do you want to be?
As the lines of business are increasingly handed budget for information technology, CIOs have to reimagine their roles. For many, that will mean breaking IT preconceptions if they're going to become more instrumental to the business. And they can start by answering a couple of simple questions: Who do you want to be? Who can you be in your organization?
SearchCIO recently caught up with Dyché, vice president of best practices at SAS Institute Inc., to discuss the new IT. In the first part of this two-part interview, Dyché talks about what's causing the IT identity crisis and why IT leaders are struggling to redefine their role. In part two, she provides best practices on how to build an innovation practice, a strategic move for the modern IT organization.
In your book The New IT, you talk about an identity crisis IT leaders are currently experiencing. What's causing that crisis?
Jill Dyché: There are a few factors, but the major one for the past couple of years has been the emergence of shadow IT. Certainly IT leaders are looking at lines of business getting new IT budgets, and they're saying, 'What do I do?' Some IT leaders are aggressively fighting it. But this is, to use a well-worn term, like whack-a-mole. As soon as you hit one on the head and get it back down, another one pops up.
As an IT leader, the real identity crisis is, do you want to be that operations mode, relegated to managing the platforms at this company? Most IT leaders would say no. The problem is, they don't know what to do about it.
One of the book's highlights is your breakdown of six IT archetypes. What's the thinking that went into that chapter?
In a lot of ways, understanding the company's cultural behaviors and established and entrenched norms should inform how IT starts to operate.

Jill Dychéauthor of 'The New IT'
Dyché: A year and a half ago or more, somebody came out with this term two-speed IT, and I remember thinking to myself, 'What's an IT leader supposed to do with that? It's a conundrum.' On the one hand, IT leaders are operational; on the other hand, they're aspirational. Even back in my work [as a consultant], I found the conversation to be way more nuanced than that.
Nuanced how?
Dyché: Two-speed IT, or bimodal IT, is a great conversation starter for where you are and what you've got to juggle. But what's missing in that conversation is how different corporate cultures inform different behaviors. There's a tendency to pigeonhole the type of CIO you have when actually what informs IT's effectiveness is the organizational behaviors and habits. It's not necessarily the kind of person or the kind of personality traits the CIO herself has, but more the organizational behaviors around IT. These archetypes are about how the organization behaves, how the organization is rewarded and is that working.
In some of these bigger companies, tactical IT is the expectation. And if an IT leader is unhappy with that, maybe she needs to look elsewhere if she wants to transcend that model. The conversation about corporate cultures and reward systems has been missing when it comes to re-establishing IT's internal brand. Not just the CIO's reputation as an effective leader, but the entire IT organization's internal brand. And I think that's what CIOs are now realizing -- that it's not just about getting a seat at the table, it's about the whole organizational charter and how to recraft that to enable the business moving forward.
So to overcome the IT identity crisis, CIOs need to understand their corporate culture.
Dyché: Some place in the book I say to 'meet your company culture where it's at.' In a lot of ways, understanding the company's cultural behaviors and established and entrenched norms should inform how IT starts to operate. And then, depending on the growing reputation of IT, IT can either get out in front of that or at least keep up with that corporate culture. IT is very much in the position of leadership and missionary work when it comes to what the company can be doing next, what the company can be doing with digital, what the company can be doing that's new and potentially competitively differentiating. I'd argue, if more CIOs want to be there, they have to earn the right.
Let us know what you think of the story; email Nicole Laskowski, senior news writer, or find her on Twitter @TT_Nicole.
Next Steps
In part two of this two-part series, author Jill Dyché explains why IT innovation can be so powerful.
Dig Deeper on CIO career development and career paths