Share this item with your network: BACKGROUND IMAGE: iSTOCK/GETTY IMAGES
Architecting the agile enterprise

iSTOCK/GETTY IMAGES
Manage
Learn to apply best practices and optimize your operations.
CIO designs an iPad analytics app that mirrors work, speeds decisions
Guess? Inc. CIO Michael Relich delivered a mobile analytics app for the iPad that was so good, employees bought their own devices just to use it.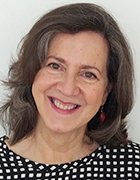 By
Michael Relich wasn't interested in building an ordinary business intelligence (BI) dashboard. These were "creative people" he was dealing with, explained the CIO of fashion apparel and accessories company Guess? Inc. "They're not really comfortable getting in front of a big monitor and accessing applications." Nor was he looking for a "bunch of static dashboards." Relich was aiming for something more tailor-made: an application that took rich media from the company's ecommerce system plus sales and inventory data and combined them with powerful analytics.
"Retail is detail. You need to provide data to the buyers and planners to make decisions," said Relich, who joined the Los Angeles-based company in 2004 as CIO and was named executive vice president in 2010.
The new analytics app would give the merchandising teams access to timely information on Guess? products -- without having to wade through "miles and miles of just noise," Relich said. Even better, they'd get the data in the visual format they preferred.
Oh, yes, he also wanted to make the app mobile-friendly. The iPad had just come out, and Relich, after some initial skepticism (he had viewed it "as a toy"), realized the Apple product was a great platform for consuming data. "And it's got that cool factor."
Relich, who has spent his 30-year career in IT in the fashion business, was one of the four finalists for the 2013 MIT Sloan CIO Leadership Award. The honor recognizes CIOs "who lead their organizations to deliver business value and innovative use of IT in exceptional ways." Relich's analytics app project, which he described to SearchCIO in a video interview at the conference, reflects many of the IT best practices and attributes extolled at the MIT Sloan event and other tech conferences these days: close collaboration with the business, an iterative software development process and the business smarts to apply technology -- in this case, BI and analytics -- to not just enable a business process, but actually change it for the better.
'Flies on the wall'
As a fashion veteran Relich understands the value of the "cool factor." But form without retail function wouldn't get users very far. The app needed to be custom-fitted to the work task. So he had IT start by closely observing how the buyers worked.
I've been doing retail IT since I've been out of college -- a long, long time. And this is the first project that I had people call on me and beg us to use the application.

Michael Relich,
CIO, Guess? Inc.
"I had my team shadow them," Relich said. IT went on store visits. They sat in on meetings. They attended the weekly "bestseller" powwows where executives and buyers -- heavy binders in tow -- dissected which items had sold where and why. "My guys were like flies on the wall."
In the process, the IT team learned how the merchandising team spent its time, where the bottlenecks were and what kinds of questions the buyers needed answered to figure out which products to allocate to which stores. For example, how did a particular store's bestsellers stack up against the company as a whole? What was the percentage of men's versus women's apparel sold, compared with corporate-wide results? Was there a mismatch between a store's bestsellers and its inventory? "We worked with them to see what key components and metrics they were looking at, and we modeled the application to actually help them do that," Relich said.
The first version, cranked out in a few months, evolved over time as IT kept working with store buyers. "That thing probably went through 100 different iterations," Relich said. "We're constantly taking their feedback and adding new functionality." The process also required close collaboration with BI provider MicroStrategy, resulting in roughly 60 modifications to the vendor's core mobile product in order to deliver the functionality Relich envisioned for Guess? buyers. "At first it was like, 'Let's show a dashboard on an iPad.' We said, 'No, it has to be an application that you actually go in and can drill down and get back to the current level or get back home,'" he said. And be able to do all that easily.
The result was an "amazingly rich, densely data-rich application" -- the equivalent of about 18 dashboards, according to Relich. The app is also integrated with Google maps and numerous charts to give it a "spatial dimension," he said. "Buyers are very, very visual people."
Real-time decision-making and a rush to BYOD
The mobile analytics app has literally lightened the load for buyers, eliminating the need for those cumbersome binders of store data. "People aren't printing the reams of paper they had before," Relich said. The bigger value of the new medium, however, is what he calls "speed to insight."
"It's basically taking all this data that exists in the enterprise and making it actionable information," for those "very visual" buyers, Relich said. Before the iPad app, the weekly best seller reports were roughly a week behind reality and required heavy intervention from analysts. "Somebody would go in and grab pictures [of the items] and cut and paste them into spreadsheets and create a report," he explained. "Then everybody would sit in a room going through it."
Recent SearchCIO Innovators
With the analytics app, buyers are able to see the bestsellers every day. "And they don't just see them at a high level; they can drill down into any category," Relich said. They can see how an item is selling, by color and feature, compare best sellers across different categories and track product throughout its sales lifecycle. The result is that the all-group best seller gatherings are now biweekly. "I even heard our CEO say, 'Well, they don't need to have these meeting. Everyone knows what the best sellers are now.'"
In a recent meeting with the company's president on another matter, Relich witnessed the analytics app in action when an employee came in with an observation about a particular style item. The president pulled up her iPad app, zeroed in on the item, clicked on the image and dubbed it "beautiful," Relich said. "Mind you, this isn't the most computer literate person." She then clicked through the app, saw the store didn't have much inventory of the product, ascertained the warehouse had plenty of it, summoned the allocator and demanded to know why the items were sitting in the warehouse and not in the store. "I thought, 'Wow, that's real time decision-making," Relich said.
The app has also proved a boon for IT, he said. His team continues to reap benefits from the rapport established with the business during the making of the app.
The kicker? "I've been doing retail IT since I've been out of college -- a long, long time. And this is the first project that I had people call on me and beg us to use the application," he said. In an interesting twist, the new analytics app prompted a change in Guess? mobile policy. The company was not prepared to go out and buy everybody iPads, but the buyer's app proved so popular that employees, including store managers, lobbied to buy their own devices in order to run the application. Said Relich: "This actually forced us to BYOD."
Let us know what you think about the story; email Linda Tucci, Executive Editor.
Dig Deeper on Enterprise mobile strategy