alphaspirit - Fotolia
Evaluate
Weigh the pros and cons of technologies, products and projects you are considering.
Bus stop app for visually impaired got start on the street
When Perkins School for the Blind asked its constituents what innovations would matter to them, it got the message -- and then got to work.
In 2014, when Luiza Aguiar started at Perkins Solutions, which makes assistive technology that helps people who are blind or visually impaired, she did what anyone in her field would do in a new environment: She asked questions.
"I was asking, 'Are there gaps? Are there challenges? What's not solved?'" said Aguiar, director of products at the technology division of Perkins School for the Blind, in Watertown, Mass., a suburb west of Boston.
The queries reached Joann Becker, a Perkins employee who trains people in the use of Braille and other technologies. Becker, who is blind and relies on buses to get around, had a straightforward challenge for Aguiar: Help me find the bus stop.
In September, Perkins will help Becker and other people who are blind or visually impaired negotiate the last 30 to 50 feet left out of directions on mobile devices equipped with Global Positioning System (GPS) technology. A mobile bus stop app will give them clues -- a bench to the left, a mailbox straight ahead -- that will get them close enough to a bus stop so a driver sees they're there and doesn't pass them by. The first of its kind, the app will give people who would have relied on friends or paid for ride-sharing services such as Uber a newfound independence.
There is no general instruction book on how to make products or processes that weren't around before, but Perkins has written one that dovetails with the institution's longstanding mission to help people with vision loss improve their lives -- and produces results. The first chapter: Start with the challenges constituents struggle with daily.
"It really is all about what that user needs," said Bill Oates, vice president and general manager at Perkins Solutions. "These are folks that are looking to be able to get to their workplace or to perform in a position that they've been given in a company -- or to just experience life better and to be able to travel and to be able to be more independent."
Genesis of innovation
Aligning with the needs of users is something of a motto for Oates, who was CIO at Massachusetts' state government before joining Perkins a year ago. Before his role with the state, he led the IT team at the Boston city government, where he launched Citizens Connect, a mobile app that lets Bostonians report issues on the street, like potholes or graffiti, to City Hall.
Oates and Aguiar, who has done tenures at network-security company RSA and Sun Microsystems, are a part of a new front at Perkins, which has been teaching people who are blind or visually impaired for 187 years. The school's president, Dave Power, a former tech executive and venture capitalist, brought the pair on board to bring Perkins Solutions, which ships Braille writers and other devices to 170 countries, into the 21st century, aiming to incorporate a range of new technologies that will help people improve their lives.
To get started on her first major project at Perkins, Aguiar validated Becker's bus woes with others on campus and then started looking into a bus-stop-finding technology. She researched GPS, its potential and limitations and what technologies could be used to increase its micro-navigation accuracy -- pinpointing things like bike racks and newspaper boxes that people who are blind or visually impaired could use to help them locate something as specific as a bus stop sign. Beacon technology, which broadcasts location-based signals, was a consideration, as were camera recognition and machine-learning algorithms. But those would require lots of piloting -- and lots of cash.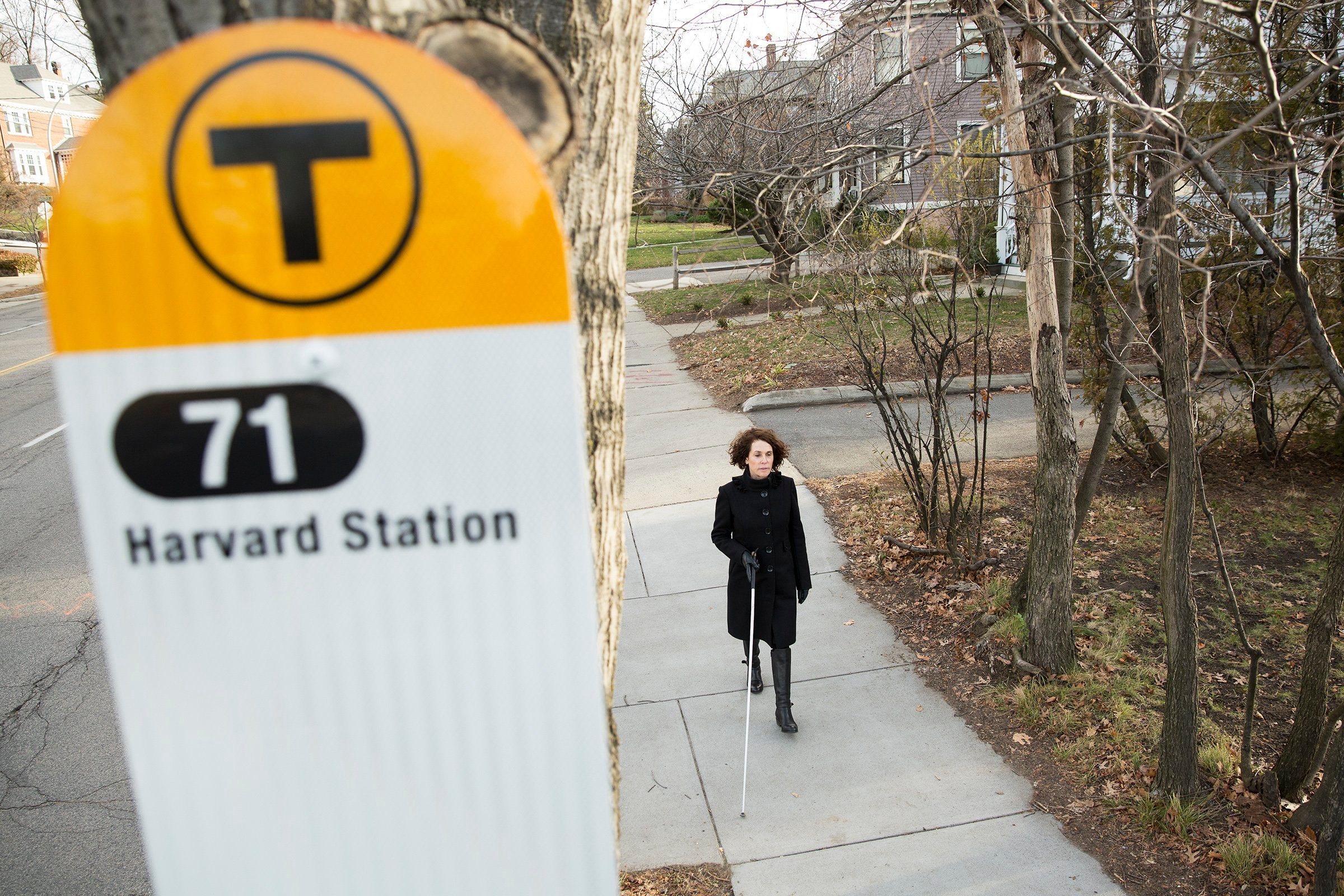 At around the same time, Aguiar learned about an initiative from Google.org, the search engine giant's philanthropic arm, that gave grant money to projects that aimed to improve life for people with disabilities. In 2013, Google had bought Waze, an Israeli company with a mapping system based on user-submitted details. Crowdsourcing -- in Perkins' case, getting people to help flesh out bus stop navigation routes -- would be relatively cheap, since it wouldn't require equipping physical infrastructure with devices. And, important when considering a transportation system with 8,000 bus stops, it could scale.
"[I] thought, 'Wow, what if we put in for that and got some funding to actually try an approach around crowdsourcing?'" Aguiar said.
Wheels of a bus stop app
Google.org picked Perkins out from a crowd of 1,000 applicants and granted it $750,000 for its micro-navigation project. It was one of 29 recipient organizations. After talks with Google, a clear goal was taking form: launching a mobile app that not only helped people with visual loss find bus stops but also let others, many who are sighted, contribute clues to define routes to the stops.
Perkins chose Boston's Raizlabs to build the bus stop app. The firm developed mobile apps for customers such as amusement park chain Six Flags and B&H Photo Video, the mammoth New York photo and video equipment store. What won over Perkins was a developer on staff who is legally blind and a West Coast engineer who worked for years on accessibility software, which is designed for all people, regardless of disabilities.
For Aguiar, this was "walking the talk." So was the approach the company used to develop its apps: design thinking, which seeks out perspectives from different people as part of the problem-solving process. That was important because both sighted and nonsighted people would be using the app.
Nick Bonatsakis, the Raizlabs developer with visual impairment, has used accessibility applications -- and he knows the frustrations of trying to locate things like bus stops using GPS. But the Perkins app, which he describes as "a dream project for me," is the first one he's built for a visually impaired target audience, and the amount of testing was what distinguished the building process from that of other mobile apps he's worked on.
"We typically try to do a lot of user testing for everything, just because it's the best way to figure out if you're on the right track or not," Bonatsakis said. "But for this app particularly, it's been very much iterate -- go out into the field and test with actual users and come back."
The tests involved lots of volunteering. The Massachusetts Bay Transportation Authority contributed data on where stops are, and Boston's government, already collecting data on signage to determine where on city streets people can park, is lending a hand as well.
And then there are the folks walking the routes, picking out landmarks that will help people who are blind or visually impaired locate a bus stop. Recently, a team of volunteers from Tufts Health Plan fanned out and pounded the pavement.
Work in progress
Testing has been ongoing with users as well. Becker, the Perkins Solutions trainer whose challenges sparked the project, is one of the pioneers. After using a GPS program on her iPhone that gets her within approximately 50 feet of a bus stop, Becker opens up the Perkins bus stop app, and a route lined with clues is displayed. She turns on the screen-reading program built into Apple devices called VoiceOver, which gives verbal directions to the stop. If a direction or even a word isn't clear, she tells developers at Raizlabs, who work on tweaks.
"It was hard to hear the word opposite when I was listening to information about a particular bus stop," Becker said. "So they needed to change the language so that opposite would be more clearly discernible."
Improvements to the bus stop app will likely continue past the September launch -- "I don't think an app is ever done," Bonatsakis said -- and Perkins is working on ways to commercialize it without charging visually impaired users or people who contribute clues. (It will be available on Apple's App Store.) But with the planning phase complete, the Perkins team sees the consultative, start-from-the-ground approach it took to develop the app as one that can be applied to solve future challenges experienced by people with disabilities. And it can work at different organizations with different users, Oates said.
"I think it's a great model for so many types of entities that are trying to think differently and be creative and innovative and invent things like that," he said. "But this is a nice laboratory to do it in right here."
Read about how Perkins School for the Blind's bus stop app could improve GPS accuracy for everyone.
Next Steps
Oates, while Boston CIO, on launching an open data project
SearchCIO's Koeppel plumbs the app economy
'People-first'? It means respect at Perkins