Share this item with your network: BACKGROUND IMAGE: iSTOCK/GETTY IMAGES
Prescriptive analytics: Conquer the next business frontier

iSTOCK/GETTY IMAGES
Manage
Learn to apply best practices and optimize your operations.
Allstate's tech leader on communicating vision, honing leadership skills
Leadership skills: Allstate's Pat Coffey climbed the ranks from programmer to SVP. We asked her what it takes to get ahead.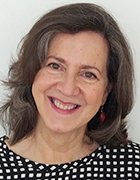 By
How does a technology expert become a leader at a company as diverse and as large as Allstate Insurance Co.? Patricia Coffey, senior vice president, technology and operations, began as a programmer and worked her way up the ranks. Over a 30-year career at the Northbrook, Ill.-based insurance company, she has led major technology initiatives in policy administration, sales force automation, CRM, ERP and data warehousing. In the process, she participated in the many facets of Allstate's business, from the life insurance and annuities business to financial services to car insurance. She now works across all business units to help Allstate manage technology risk, in particular information security.
SearchCIO recently asked Coffey to talk about what it takes to get ahead at a large company and the leadership skills she's learned along the way. For starters, it helps to be able to read the writing on the wall.
In a big institution, to what degree do you rise by your own merits and to what degree do you need to have political skills? Getting ahead usually means that someone above you has to get out of the way.
Patricia Coffey: I think it's a good question for people to think about. There is absolutely a merit component to it. If you love what you do, you've got to have the drive to be the best at what you do. You have got to be focused, and you have got to bring your energy to what you're doing every day.
That alone doesn't necessarily doesn't mean you're going to rise. Sometimes it's timing, sometimes it's luck -- being at the right place at the right time because someone left. Two points on that. First, if it doesn't happen the way you wanted it to, and you think it maybe shoulda, coulda -- that this was a role you would be better suited for than the person who got it, or it's a role you didn't get because somebody didn't leave -- then you have to decide if you're going to be all-in where you are at the moment. You have to say, 'OK, I didn't get that job, but I have to put all my energy and focus on the job that I have.' Or you have to go somewhere else, because otherwise you're not going to bring your best.
The other thing you have to do is prepare yourself. You always want to look ahead for what the next opportunity could be and prepare yourself in advance. I'll give you a very simple example from years ago when I was a programmer on a team here. The systems we worked in were in the language PL/11 The rest of the department that I worked for at the time -- every other team -- was on COBOL. I went to school on my own on Saturdays to the local community college to learn COBOL. I said, 'Hmmm, I can't go anywhere unless I know COBOL.' I didn't wait for somebody to tell me. I didn't ask somebody to give me training. I didn't say woe is me. You have to prepare yourself in advance so when that timing happens you can take advantage of it.
If everything is in your head, you could be the best strategist in the world, you could have the best ideas in the world, but if you can't communicate it you're not going to get it done.

Patricia Coffey
Obviously, it doesn't hurt to tell people what you want. I've drawn org charts before and said, 'This is how it really ought to be organized and this is the box I want.' You have to know the audience to do that with and who not to do that with. You do have to take some charge of your career. But I think being prepared for the opportunity that you didn't know might show up on your doorstep is really important too.
Let's talk leadership skills. How important is being a good speaker -- a good verbal communicator -- to a CIO career?
Coffey: It's probably the most important thing. Most of this job is really just about influence, and the only way you influence is through communication. As a leader, 70% or more of your job is about communication -- helping people understand the vision and getting them excited, communicating what needs to get done and coaching them to help it get it done, getting them energized. It's all communication.
If everything is in your head, you could be the best strategist in the world, you could have the best ideas in the world, but if you can't communicate it, you're not going to get it done.
Any pointers? Is there anything you've learned or noticed about your communication skills that make them effective?
Coffey: One is to be authentic. I can't get up in front of a group personally or even one-on-one and communicate something that I don't believe in. Honestly, sometimes there is a company action that has to happen that you wish didn't have to happen. You have to get your head around it. You have to really understand it and support it and understand why it is happening, so you can get yourself into a spot to communicate it effectively. So, being authentic is a first point, because that is how you connect with people.
The second pointer is you really do have to understand the audience. When we're talking with senior executives, they don't have time to get into gobs and gobs of information. One of the bigger errors I see is that people come in with large presentations and want to read them page by page. I think really understanding what you're trying to accomplish is important: Are you trying to get a decision made? Are you trying to inform? Know your goal and then tailor your message to that outcome and that audience.
I'll end with a big question on leadership skills. One style of leadership is to lead from the front, where you have a vision, communicate that vision to other people and make it happen. Another is to lead from behind, facilitating the dreams of other people. Any thoughts on what kind of leader you are, and the plusses and minuses of each approach?
Coffey: I'll tell you what I believe -- I think you'll have to ask my folks about what I do. I don't like black and white, either/or; I am much more of an 'and' person. If you really want a good outcome, people have to own it -- that's the leading from behind. I completely believe in letting people go, in being their coach and mentor, supporting them, giving them a jump-off signal but letting them know I have the net.
Your key role as leader is to bring up people behind you that actually pass you. That's really the goal. Get the really good people and let them fly. But they need to have some direction. That doesn't mean they don't have their own vision. But people don't want to be floundering around and trying to figure out where we're trying to go.
When I think about really great leaders, they get you excited about some vision of the future they have and then they let you go and give you the freedom to own your own role in making that vision happen.
If you're doing only one -- 'It's my way or the highway' -- you're not letting people grow. But if you just throw them out there and they don't know where to go, you're not helping them either.
Great leaders that I've worked for challenge their people further than they may think they can go, but they also have an exciting vision for where they want to take the company or the organization.
Let us know what you think about the story; email Linda Tucci, Executive Editor.
Dig Deeper on Enterprise systems management