Evaluate
Weigh the pros and cons of technologies, products and projects you are considering.
The history of cloud computing and what's coming next: A CIO guide
In this CIO Essential Guide, learn about the evolution of cloud computing and how to utilize and implement cloud technologies in your organization.
Introduction
The fundamental concept of cloud computing originated in the 1950s, when corporations and learning institutes prioritized the efficiency of their large-scale mainframe computers, allowing multiple users both physical access to the computer from multiple terminals as well as shared central processing unit time. But it really wasn't until the past decade or so that cloud computing really started to develop into the behemoth we know today.
After the dot-com bubble burst in the early 2000s, companies such as e-tail giant Amazon.com Inc. played a key role in the development of cloud computing. The present availability of high-capacity networks and low-cost computers, together with the widespread adoption of virtualization and service-oriented architecture, have led to the version of cloud computing we know today -- and a model that is constantly evolving.
This CIO guide on cloud computing explores the journey from early cloud implementations to where we find ourselves today, putting everything and anything into the cloud and offering many, many applications as a service.
This CIO Essential Guide on the history and evolution of cloud computing is part of SearchCIO's CIO Briefings series, which is designed to give IT leaders strategic management and decision-making advice on timely topics.
1

Early considerations

-
Putting applications in the cloud
In the early days of cloud computing, CIOs struggled to understand what this new technology had in store for their organization and how they could maximize their cloud ROI. In these stories and tips, learn about the potential benefits of enterprise cloud computing and find answers to some of your burning cloud questions.
2

Videos

-
Embracing cloud computing: Advice from those who've succeeded
Watch as experts and practitioners from across industries, including education, consulting and pharmaceuticals, share their cloud computing success stories.
Video
In this video interview, Anant Agarwal, professor and edX president, introduces us to an online digital learning platform that leverages cloud applications and stands to redefine the educational system.
Video
As organizations grow, storage and capacity considerations become increasingly important. Nathan McBride, vice president of IT at AMAG Pharmaceuticals Inc., discusses why his company turned to Infrastructure as a Service providers to house and protect confidential patient data.

Download this free guide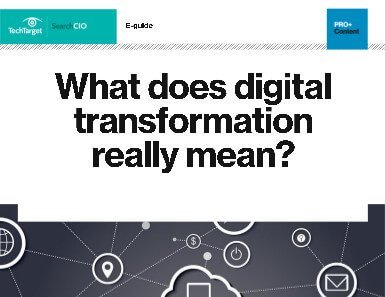 PDF: What does "digital transformation" really mean?
What exactly is digital transformation? You may hear the term often, but everyone seems to have a different definition. See how our experts define digitization, and how you can get started in this free guide.
3

Breaking down barriers

-
Cloud one, cloud all: Welcoming new ideas
Cloud computing can offer a cost-efficient solution to running everyday IT functions in the enterprise. As a result, CIOs began reevaluating their cloud concerns and asking, "Do the pros outweigh the cons?" In the following pieces, CIOs tell us how they assessed their IT needs and tackled common cloud-related challenges.
4

Glossary

-
'Cloud this' and 'cloud that': Terms to know
Cloud computing is sometimes so complicated as to be indescribable. Make sure you're hip to all of the latest cloud jargon before pursuing cloud technologies at your organization.
5

Cloud technologies

-
Private, public, SaaS, oh my!
With cloud computing becoming a widely accepted pursuit in the realm of enterprise IT, CIOs and IT leaders are spending more time weighing the pros and cons of different technologies by asking: Is private better than public? Is it OK to invest in multiple cloud providers? What security measures are absolutely necessary when it comes to the cloud? In these pieces, learn how CIOs have used specific technologies in the cloud to propel their business forward -- or up, up and away.
6

Quiz

-
Test your IQ of all things cloud
Cloud computing seems to be on everybody's minds, but IT departments worldwide are still weighing the pros and cons of making the transition. Do you know all about the cloud and what it's got in store? Test your knowledge of the history of cloud computing and its future and form a more complete cloud vision for your organization.
Test your cloud IQ