Manage
Learn to apply best practices and optimize your operations.
The CIO cloud blueprint: A strategic planning guide
In this CIO Essential Guide, learn how to craft an enterprise cloud blueprint that supports your organization's software and infrastructure needs.
Introduction
Implementing cloud computing technologies is no longer a question of "if" for enterprise CIOs, but of "when" and "how." Employees, customers and clients want immediate access to business applications, platforms and corporate infrastructure from their office computers, laptops and mobile devices to make working in the 21st century seamless and efficient, and the cloud can provide that and more.
But making best use of the cloud can be complicated. IT leaders crafting a cloud blueprint must decide between public, private or hybrid cloud models and then ask whether software as a service, infrastructure as a service, platform as a service and other such offerings would best align with their company's strategic direction. In this CIO Essential Guide, get integration advice from cloud-first CIOs and expert cloud advocates in order to set your cloud blueprint in motion.
This strategic planning guide on tailoring a cloud blueprint to your organization is part of the CIO Briefings series, which is designed to give IT leaders strategic management and decision-making advice on timely topics.
1

Create a plan

-
Unlock a strategic direction for cloud
Enterprise cloud management isn't as simple as choosing the first vendor to pitch you, selecting an offering and then letting the technology do all the work. Before reaching the "choose a vendor" stage, IT organizations must establish a strategic direction for their cloud implementation by asking, "What business value should cloud computing offer our company?" These pieces from SearchCIO answer that all-important question.
2

Video

-
Cloud computing advice straight from the pros
Is your organization hoping to weave cloud computing services seamlessly into business operations? In these videos from SearchCIO sister sites SearchCloudComputing.com and SearchCloudApplications.com, glean some CIO-relevant pointers for public, private and hybrid cloud integration on the enterprise scale.
Video
In this webcast from SearchCloudComputing.com, learn what questions to ask before selecting a provider. The webcast covers cloud pricing, interoperability, data security policies, service-level agreements and more.
Video
If you've ever played FarmVille, CityVille, Words With Friends, Draw Something -- really any game on Facebook or mobile that allows you to play along with others -- you're likely familiar with Zynga, a provider of social game services. A former Zynga CTO of infrastructure engineering offers cloud lessons in this sit-down interview.
Video
Does your company have a cloud computing platform initiative? Jeffrey M. Kaplan, managing director at cloud consulting firm THINKstrategies, explains the latest trends in cloud and offers advice on cloud data integration in this SearchCloudApplications.com webcast.

Download this free guide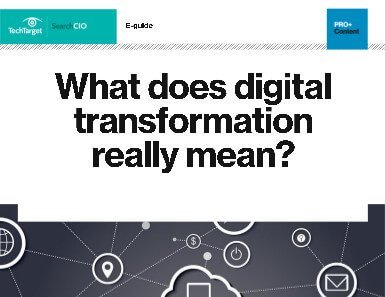 PDF: What does "digital transformation" really mean?
What exactly is digital transformation? You may hear the term often, but everyone seems to have a different definition. See how our experts define digitization, and how you can get started in this free guide.
By submitting your personal information, you agree that TechTarget and its partners may contact you regarding relevant content, products and special offers.
You also agree that your personal information may be transferred and processed in the United States, and that you have read and agree to the Terms of Use and the Privacy Policy.
3

Pick a model, any model

-
Find the ideal cloud infrastructure for your organization
When it comes to implementing cloud technologies, is your IT organization comfortable hosting certain enterprise infrastructure in the cloud, prepared for a loss of full control over certain business applications, collaboration tools, client personally identifiable information and databases, and willing to pay for these hosted or hybrid services? Finding the right cloud computing model -- one that both fits your organization's needs and leaves you feeling secure -- is no easy task. The advice in these SearchCIO stories can ease your attendant cloud concerns.
4

Glossary

-
Need-to-know terms for crafting a cloud blueprint
Prior to finalizing your enterprise's cloud blueprint and strategy, familiarize yourself with these oft-misinterpreted cloud-related terms.
5

Integrate with ease

-
Implement cloud technologies, but pay mind to risk
Once you've established a blueprint for your enterprise's cloud strategy and selected the appropriate services to suit your organization's needs, it's finally time to integrate. Whether IT decides to host cloud services publicly or privately, there's a sky-high number of considerations to assess. In this section, our recent news stories and expert columns provide pointers on getting cloud implementation right the first time, and keeping them running smoothly thereafter.
6

Quiz

-
Cloud computing examples, advantages and challenges for CIOs
Many CIOs remain leery about making the cloud computing leap, given the challenges inherent in moving business applications and infrastructure to an off-site provider, or building one's own cloud infrastructure. There's also a fear among some in IT that a cloud-centric world might be their professional undoing.
Take this quiz, based on SearchCIO's recent cloud computing coverage, to help inform your decision as you consider moving none, some or perhaps even all of your IT infrastructure and applications to the cloud.
Check your cloud IQ