Manage
Learn to apply best practices and optimize your operations.
Protect information like a pro: A guide for enterprise CIOs
Providing adequate protection for corporate data is a top-of-mind concern across IT. In this CIO essential guide, learn how to protect information assets in your organization.
Introduction
CIOs charged with protecting information in their organizations must not only implement reliable backup processes but also combat unexpected failures and threats such as application and user error, cyberattacks and facility outages or disruptions. Many CIOs also find that data protection management calls for establishing a system for valuing and cataloging data to determine the importance of various assets.
Suffice it to say, protecting information in the corporate sphere from corruption, leakage and other threats remains a top priority. In this guide, learn how to safeguard data on mobile devices, enact appropriate information protection governance standards and stay on top of the latest data threats.
This CIO essential guide on how to protect information is part of the CIO Briefings series, which is designed to give IT leaders strategic management and decision-making advice on timely topics.
1

Mobile and cloud data

-
Data protection in a mad, mobile world
What should be on your 2014 IT trend watch when it comes to protecting information? Many CIOs and IT leaders are zeroing in on cloud and mobile, which necessitate a focus on securing data wherever it lives. In these pieces, CIOs and IT experts explain the best methods for protecting information on corporate devices or in the cloud.
2

Videos

-
Information protection and security
To protect information properly, CIOs must stay on their toes when it comes to developments in the data sphere. The videos in this section examine current trends in protecting information, addressing frequent data privacy and security problems faced by enterprise IT departments.
Video
Robert Bigman, president of 2BSecure LLC and former chief information security officer at the Central Intelligence Agency, addresses the question on everyone's mind: With computer privacy so highly valued, how do we secure the unsecurable? In this interview, Bigman speaks about computer privacy and security as one of today's most challenging technology trends.
Video
Information management is getting increasingly complicated, especially as tools and processes such as e-discovery are becoming more expensive. In the last segment of this four-part webcast, information governance expert Jeffrey Ritter discusses steps companies can take to alleviate high e-discovery costs and properly maintain data.
Video
HMS Holding Corp. CIO Cynthia Nustad says that one of the things that scares her most is the amount of data her organization has in movement at any given time. The security of that data is of the utmost importance in the healthcare world, and Nustad says that she'd like to see more focus on information protection processes.

Download this free guide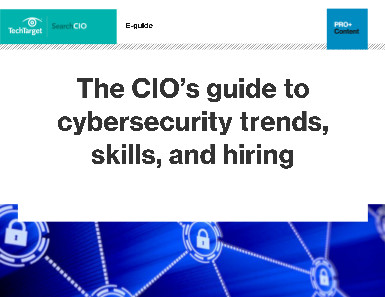 CIO's guide to cybersecurity trends, skills, and hiring
Our data is being spread across more systems, devices, and applications than ever before, and security needs are changing quickly. Download this guide to keep your data secure.
3

Data governance

-
Information strategy with a data protection slant
A large component of data protection is information governance. Equally important is building a holistic approach to data management that enlists certain processes, controls and metrics in order to treat information as the valuable business asset it is. In the following tips and feature stories, learn how IT leaders are managing, storing, processing and protecting their information while relying on different governance strategies.
4

Glossary

-
Data protection terms to know
Before investing in data protection tools and services, make sure you understand some of the terminology.
5

Information protection trends

-
Top data threats in the enterprise
Are you managing information protection on a broad scale? This section showcases some of the latest stories on information protection produced on SearchCIO and our sister sites. Click on the links below and find out what information IT leaders are looking to protect and how they're assigning organizational resources accordingly.
6

Quiz

-
Information protection quiz for data-minded CIOs
It's been said time and time again: Security measures are more vital than ever as sensitive data is increasingly targeted by nefarious sources. Protecting information will remain a top concern for the CIO, but many solutions continue to carry a hefty price tag. With so much sensitive data at risk and so many IT security bases to cover, it can't hurt to see where your organization stands. Take this quiz on information protection to gauge your organization's level of preparedness.
TEST YOUR DATA DEFENSE IQ