Get started
Bring yourself up to speed with our introductory content.
Managing information security amid new threats: A guide for CIOs
Managing information security is no picnic when data breaches abound. In this Essential Guide, we prepare CIOs for the challenge.
Introduction
The management of information security is at something of a crossroads. On the one hand, CIOs and their security generals have perhaps never had as many targeted tools at their disposal, nor access to as much good advice from their peers and experts on how to avoid being the next victim of a data breach. But on the other hand, the aptitude of hackers seems to be increasing as well, with threats seemingly coming from both foreign and domestic criminals looking to attack via a multitude of channels, whether it's the latest tablet or smartphone, your newest Internet of Things-connected device, or a good old-fashioned, easily crackable password.
Is your organization managing information security in such a way that mitigates these new threats? In this CIO Essential Guide, we provide updates on the latest high-profile hacks and what lessons CIOs can draw, break down the importance of preemptive information security, and offer advice on how to secure the latest breed of technological advancements in the workplace.
This Essential Guide on managing information security is part of the CIO Briefings series, which is designed to give IT leaders strategic management and decision-making advice on timely topics.
1

Hacks ahoy!

-
When information security goes haywire
We've all heard the horror stories: Big-name brands including Apple, Target, Home Depot and Neiman Marcus have fallen prey to hackers, who have sniffed out vulnerabilities in their IT systems in order to exploit private customer information. But it's not all bad news: In these high-profile hacks lie useful lessons for CIOs looking to build a better culture around information security in their organizations, as the following pieces explore.
2

Videos

-
Hold off hackers and know your legal limitations
The following videos explain how an enterprise mind-set predicated on strong security and compliance policies helps fend off hackers.

Download this free guide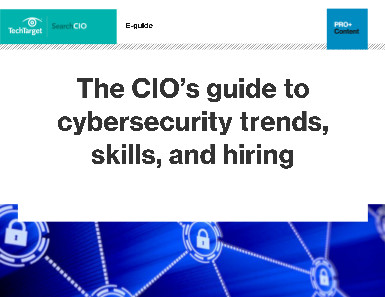 CIO's guide to cybersecurity trends, skills, and hiring
Our data is being spread across more systems, devices, and applications than ever before, and security needs are changing quickly. Download this guide to keep your data secure.
3

Pre-emptive security

-
Managing information security proactively
When facing a threat-filled landscape, often the best way to fight back is to properly protect your organization in the first place. How can a CIO go on the offensive? In this section, we review proactive security strategies, including the key players and where CIOs should focus their planning prowess.
4

Glossary

-
Emerging security considerations
Protecting your organization's information now assumes the management of various endpoints. Here are a few areas of note:
5

Expert advice

-
Tackle today's most pressing security challenges
Mobile security, Internet of Things security, application security, biometric security -- suffice it to say, today's enterprise security landscape and offerings are advancing at a rapid pace. In this section, experts and practitioners offer their take on keeping your organization on the cutting edge of new security products and strategies.
6

Quiz

-
Does your information security strategy hack it in the digital age?
CISOs are among the group of IT executives earning the heftiest paychecks right now, and security managers saw a marked increase in compensation this year as well, according to the results of TechTarget's 2014 IT Salary and Careers Survey. And perhaps rightly so, as respondents once again pointed to information security as a top-three project area of focus.
As the demand for security expertise increases, never has it been more pressing for IT leaders to make sure their enterprise's security strategy is ready to face today's fierce breed of security challenges. Review some of our recent stories and take this quiz to see if your information security strategy is strong enough to handle today's digital curveballs.
Test your security IQ