Evaluate
Weigh the pros and cons of technologies, products and projects you are considering.
Information technology priorities: A guide to TechTarget's annual survey
In this guide, explore TechTarget's 2016 Information Technology Priorities Survey findings and take a look back at findings from previous years.
Introduction
In IT no goals or strategies are set in stone -- they change with each new innovation and enterprise market shift. In TechTarget's 2016 Information Technology Priorities Survey, professionals in the IT field shared their top projects, prospects and concerns for this year -- broaching the topics of tech spending; projected budgets; and shifting analytics, security and software priorities.
The survey was conducted in late 2015, with 385 IT professionals in a wide range of industries surveyed in North America. The majority of respondents list their titles as directors/senior IT managers, IT staff, midlevel managers, and engineers/programmers/designers. Respondents are employed at organizations with an average size of about 17,600 employees.
In this Essential Guide, explore the results of TechTarget's 2016 technology priorities survey, learn what projects and initiatives top IT professionals' to-do lists this year, and follow the latest IT budget and spending expectations. Then get a snapshot of the IT priorities and expectations of yesteryear by exploring previous years' findings, going all the way back to 2010. See how they compare to this year's results.
1

2016 findings

-
A focus on security, consolidation amid modest spending increases
Things are looking up when it comes to 2016 IT expenditures, according to this year's survey, with a large percentage of organizations modestly upping their overall IT spending. How do other areas of IT fare in our survey? This section gives an extensive overview of the 2016 survey findings, delving into software priorities, Windows 10 adoption and health IT buying intentions.
2

2015 findings

-
Increased cloud focus, budgets
One of the fastest-growing technology priorities has been cloud computing, so it's not surprising that budgets for cloud services continued to grow in 2015. But cloud services were not the only IT areas that were expected to expand in 2015 -- software and hardware also saw some increased attention in our survey. Find out more in this article.
News
The 2015 IT outlook includes higher budgets and an even greater emphasis on cloud computing, according to TechTarget's annual survey of IT priorities. Continue Reading

Download this free guide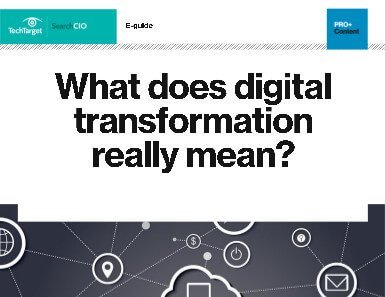 PDF: What does "digital transformation" really mean?
What exactly is digital transformation? You may hear the term often, but everyone seems to have a different definition. See how our experts define digitization, and how you can get started in this free guide.
3

2014 findings

-
All about BI, mobility and Windows 8
What were the biggest technology priorities in the 2014 survey of 1,368 IT professionals in the U.S. and Canada? Business intelligence, mobile, virtualization and Windows 8, to name a few. Read more in this two-part report.
News
TechTarget's annual IT priorities survey finds that 2014 strategies were expected to include heavy doses of business intelligence, mobility and Windows 8. Continue Reading
News
The IT blueprint for enterprise technology in 2014 was expected to focus on mobility, virtualization and the cloud, according to TechTarget's annual IT Priorities survey. Continue Reading
4

2013 findings

-
Infrastructure, security and software at top of priorities list
As cloud started to gain traction and mobile continued to change the IT landscape, data protection, server virtualization and security were on the top of IT executives' priorities lists in 2013.
News
TechTarget's 2013 IT forecast found organizations were still spending heavily on infrastructure, security and software, while cloud and consumer technologies were gaining ground. Continue Reading
5

2012 findings

-
Strong Windows 7 migration, weak overall IT growth
Remember Windows 7? In 2012, IT executives ranked Windows 7 migration as their top technology priority, followed by virtualization and security. Cloud adoption, on the other hand, was lower than expected, as was IT spending.
News
Our survey found the top IT priority in 2012 to be Windows 7 migration. Cloud adoption didn't fare quite as well as predicted, however. Continue Reading
News
Although spending was expected to increase in U.S. IT departments, our IT forecast for 2012, based on the annual IT priorities survey, showed a smaller increase than expected. Continue Reading
6

2011 findings

-
A BI push, with stabilizing budgets and highlight on virtualization
Following a less-than-stellar year, IT bounced back slightly in 2012. Business intelligence was on IT executives' minds that year, as was virtualization, software and -- less prominently -- cloud computing.
News
Virtualization and software spending topped IT budgets in 2011, while staffing levels were shortchanged and organizations started shifting toward the cloud, according to TechTarget's 2011 IT Priorities Survey. Continue Reading
7

2010 findings

-
Bad year for budgets
The mantra of 2010 was "doing more for less," as IT budgets were expected to drop 2.7% in North America that year, according to our survey. Security, however, remained an important IT spending point.
News
2010 was the year that most IT budgets declined, according to our annual IT priorities survey, which revealed significant differences in both budgets and priorities between haves and have-nots. Continue Reading
News
Information security budgets in enterprise IT organizations were expected to remain healthy in 2010 compared with other IT spending areas. Continue Reading
8

Glossary

-
Get familiar with these IT terms