 BACKGROUND IMAGE: iSTOCK/GETTY IMAGES
ITIL and ITSM best practices for process improvement
Editor's note
Companies employ ITIL and ITSM best practices to achieve business process improvement, cut costs and improve efficiencies within the organization. ITIL is a set of processes and standards to help enterprise organizations practice effective IT service management.
As businesses change their business models and business processes to compete in a digital economy, IT service management and ITSM and frameworks like ITIL are changing along with them. CIOs are adapting ITIL and ITSM best practices to work in cloud computing -- the platform of choice for many users. IT organizations are also experimenting with AI technologies such as machine learning and virtual agents to improve and automate many aspects of ITSM that were previously done manually. In addition, departments from legal and finance to HR are asking IT how they can use ITSM and ITIL processes to improve their workflows.
Learn about the latest ITSM and ITIL best practices and review the fundamentals in our comprehensive coverage for CIOs.
1

What is the ITIL framework? How will ITIL 4 be different?

Developed in the early 1980s, ITIL is a series of core books that provides guidance for improving the quality and effectiveness of IT services. Companies that use the ITIL processes and best practices typically see an improvement in customer satisfaction and productivity, but the framework can seem abstract and the application of ITIL processes has proven extremely challenging for many IT organizations.

ITIL 4, due to be released in January 2019, promises to be highly practical. This section offers a look at the adaptations the new version will need to make to accommodate today's IT organizations and includes an FAQ on the fundamentals of ITIL processes.
2

How AI is changing ITSM, the service desk

Artificial intelligence technologies such as machine learning and natural language processing are being incorporated into ITSM processes. It's still early days for ITSM vendors in this field, so CIOs must be prepared to do hands-on testing of AI-infused ITSM. But, as our lineup of trend stories, expert tips and uses cases in this section makes clear, AI is opening up new and exciting ways to automate IT services, boost service levels and improve customer service.

Download this free guide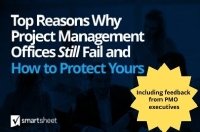 Top 8 Reasons Why Project Management Teams Fail
Some project management practices yield game-changing results and some don't. Do you know why? Get your hands on the top challenges facing project management teams and insights on how you can avoid them.
3

Service desk, service catalog -- 21st century style

Perhaps more than any other aspect of ITSM, the traditional service desk is undergoing rapid change. Intelligent automation technologies such as chatbots are handling tasks previously done by IT staff, and service desk processes are being adopted by business departments. In this section, read about the evolution of the service desk and service catalog best practices.
4

Modernizing ITSM: The experts sound off

In this section, experts from Pink Elephant, Gartner, Pace Harmon and Information Services Group offer targeted advice on ITSM best practices.
5

Tried-and-true tips from an ITIL expert

Here are three tips from ITIL expert Peter Doherty that explain how to get the most out of an ITIL implementation. Communicating why IT is taking on this rigorous approach to delivering IT services is as important as mastering the processes and picking the right tools.