Get started
Bring yourself up to speed with our introductory content.
IT sourcing strategy guide for enterprise CIOs
In this CIO Essential Guide, learn how to craft a successful IT sourcing strategy in the enterprise and consider the advantages and disadvantages of outsourcing.
Introduction
Outsourcing is an arrangement in which one company provides services for another company that could be, or previously have been, provided in-house. In the age of cloud, big data and mobile technology, outsourcing is a viable option for any organization lacking the resources or budget to manage software and services within its own IT department.
There are several queries CIOs must consider in crafting an appropriate IT sourcing strategy for the enterprise. What are your primary objectives for outsourcing? Do you wish to contract with foreign and/or domestic providers? What services do you require to relieve stretched-thin IT departments? In this CIO Briefing, learn how to create an IT sourcing strategy that fits your organization, and get advice from CIOs who have been there, done that.
This Essential Guide on IT sourcing strategy in the enterprise is part of the CIO Briefings series, which is designed to give IT leaders strategic management and decision-making advice on timely topics.
1

Outsourcing business processes

-
The business of IT sourcing
The perceived advantages of outsourcing are well-known at this point: lower operational costs, reduced labor expenses and the freedom to focus on core business processes rather than on mundane, time-consuming tasks. But some organizations have gone beyond outsourcing discrete functions and are sending broad swaths of their business processes -- and the resultant management responsibilities -- to outside providers.
In outsourcing the information management segment of their organization -- including planning and business analysis, as well as the installation, management and servicing of IT assets -- enterprises hope to benefit from the collective intelligence of their outsourcing partners. In this section, learn about business process outsourcing (BPO) as part of a larger IT sourcing strategy.
2

Videos

-
Let's talk IT sourcing strategy
In these videos, IT experts share valuable IT sourcing strategies and advice. Find out how outsourcing IT processes and tasks opens up business opportunities for both enterprise and SMB organizations.
Video
Nathan McBride, vice president of IT at AMAG Pharmaceuticals, explains how CIOs can work closely with cloud service brokers to develop outsourced cloud infrastructures.
Video
Shvetank Shah, executive director at consultancy CEB, sat down with SearchCIO at the MIT Sloan CIO Symposium to offer insights on how outsourcing and other IT trends are transforming technology priorities.
Video
Raymond Laracuenta, managing vice president at Gartner Inc., explains how outsourcing infrastructure, desktop, operating systems, servers, and applications such as email and calendaring allows smaller operations teams to thrive.

Download this free guide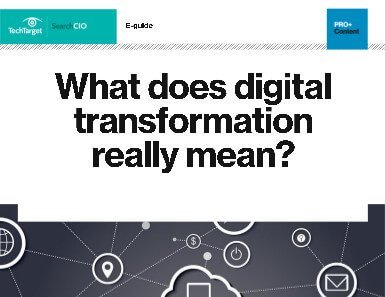 PDF: What does "digital transformation" really mean?
What exactly is digital transformation? You may hear the term often, but everyone seems to have a different definition. See how our experts define digitization, and how you can get started in this free guide.
3

Spotlight: The cloud

-
Cloud services sought by outsourcing-oriented CIOs
Cloud computing is one of the more prevalent building blocks of an IT sourcing strategy. The sheer volume of cloud service providers has increased exponentially in the past decade, making sorting through their various offerings a formidable task. In this section, learn about the history of cloud computing and read real-life examples of how enterprises have soared thanks to cloud arrangements.
4

Glossary

-
IT sourcing must-know terms
Before discussing outsourcing plans in the boardroom, make sure you and the rest of your organization's C-suite are well-versed in these IT sourcing terms.
5

Outsourcing case studies

-
The ins and outs of IT sourcing
How are your peers managing their IT sourcing arrangements? Are you getting the most out of your outsourcing strategy? Get all the fine-print details necessary for implementing an effective IT sourcing strategy, starting with fostering healthy partnerships; plus, read about where sourcing strategies might be heading next.
6

Quiz

-
Quiz: IT outsourcing management considerations for CIOs
For IT departments, balancing the need to keep day-to-day IT operations chugging along while pursuing new projects and maintaining a reasonable budget can be a tightrope walk. CIOs must stay on top of not only recent developments in outsourcing, but also which vendors work best for particular IT functions, which areas are best managed in-house and more.
Are you up to date on these IT sourcing strategy considerations? Make sure you're well-versed in the ins and outs by reviewing our recent coverage and taking our quiz.
Take This Quiz