IT services management and best practices: An enterprise CIO guide
In this enterprise guide for CIOs, leaders share their IT services management triumphs -- and failures. Browse the briefing for our latest and greatest news, tips and ITSM best practices.
Introduction
IT services management (ITSM) aims to align the delivery of IT services with the needs of the organization, employees and customers. At the enterprise level, ITSM often incorporates the Information Technology Infrastructure Library (ITIL), a globally recognized collection of best practices for IT services management, as well as lean or Agile best practices aimed at optimizing efficiency and minimizing waste.
Proper service management has become increasingly important as big data, self-service provisioning and bring-your-own-everything enter the business sphere. As a result, having a working knowledge of how ITSM can benefit business and IT processes isn't enough. CIOs must also focus their attention on providing comprehensive ITSM training and implementing Agile change management processes to keep users happy.
But don't take it from us -- take it from the pros. In this Essential Guide, get advice and tips from CIOs in the field looking to increase business value by developing cream-of-the-crop IT services management programs. These IT leaders share their dos, don'ts and personal experiences with ITSM implementation.
This Essential Guide on ITSM best practices is part of SearchCIO's CIO Briefings series, which is designed to give IT leaders strategic management and decision-making advice on timely topics.
1

OVERVIEW

-
ITSM, ITIL and Lean: So happy together
Ask CIOs what ITSM framework they follow, and the answer is likely to be a fairly mixed bag ... and for good reason. One size and one framework don't fit all. CIOs must assess their organization's most pressing needs surrounding IT service delivery and create programs that meet these needs without breaking the bank -- or their users' patience. In these stories, learn about the benefits of combining various service and process management frameworks and best practices.
2

VIDEOS

-
IT services management advice, straight from the pros
Are you capitalizing on IT services management and delivery best practices? Watch and learn from these experts, who deliver advice on managing IT services at your organization.

Download this free guide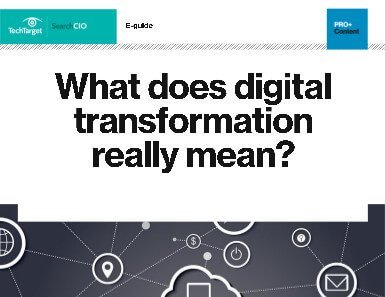 PDF: What does "digital transformation" really mean?
What exactly is digital transformation? You may hear the term often, but everyone seems to have a different definition. See how our experts define digitization, and how you can get started in this free guide.
By submitting your personal information, you agree that TechTarget and its partners may contact you regarding relevant content, products and special offers.
You also agree that your personal information may be transferred and processed in the United States, and that you have read and agree to the Terms of Use and the Privacy Policy.
3

CHALLENGES

-
ITSM: Addressing the chokeholds
ITSM and ITIL frameworks clearly lead to improved service delivery, but CIOs often run into challenges with one of the core ITSM disciplines: change management.
Change management is not just a service transition, but a transition for every employee, partner and customer. Does your organization have what it takes to make the change management changeover as seamless and painless as possible? In the following pieces, our experts and CIO share their best advice for overcoming change management challenges.
4

GLOSSARY

-
ITSM and ITIL: Terms to know
Improve your chances of properly implementing frameworks for IT services management and ITIL by brushing up on these related terms.
5

SERVICE MANAGEMENT'S FUTURE

-
The consumerization of ITSM: A brave new world
CIO conversations have shifted from IT service catalogues to self-service provisioning. Forget just bring your own device -- IT service delivery is being reshaped by bring-your-own-everything. Nowhere is this more evident than with cloud services, which users feel empowered to peruse and purchase outside the purview of the IT organization.
The columns, tips and stories in this section offer a forward-looking overview of how ITSM best practices are changing in light of this BYOE era, and why self-service provisioning and other cloud trends make it more important than ever that IT operate like a business.
6

Quiz

-
IT service management and delivery: A quiz for CIOs
IT service management (ITSM) is a process-based practice focused on aligning IT systems and services with the needs of the company and its end users. IT service management and delivery moves organizations away from treating IT services as distinct silos and moves toward an environment where IT services blend seamlessly, improving the user experience. ITSM is often guided by the IT Infrastructure Library (ITIL), a globally recognized collection of best practices.
Think you know it all when it comes to IT service management and delivery? Test your knowledge with our ITSM and ITIL quiz and discover how your company can improve in the areas of service, change and incident management.
Take This Quiz