 BACKGROUND IMAGE: iSTOCK/GETTY IMAGES
IT project evaluation and portfolio management guide for CIOs
Editor's note
The aim of IT project and portfolio management (PPM) is to align the most pressing initiatives with the proper resources in order to meet organizational goals. But IT project evaluation and portfolio management can be more tricky than it appears, due to competing corporate interests, a dearth of staffing and budget to accomplish project goals, and failings on the part of project managers to sort initiatives into the correct portfolios.
In this guide to IT project evaluation and portfolio management, learn how CIOs can employ project and portfolio management strategies to ongoing IT projects, guiding them seamlessly from concept to completion.
This IT project evaluation guide is part of SearchCIO's CIO Briefings series, which is designed to give IT leaders strategic management and decision-making advice on timely topics.
1

Showcase talent through IT project evaluation and management

As the application division manager for the city of Miami Beach, Fla., Bob Biles knows all about oversight. Every move that his 14 developers make for the 30 departments they serve is documented down to the minute, and while some may cringe when they hear the word transparency, he embraces it.

Not that Biles had a choice in the matter: Several officials have been collared for taking bribes for city projects dating back to 2006, with public outcry leading to new project oversight procedures. Still, Biles saw the accountability mandate as an opportunity to introduce project management best practices that would prove just as beneficial to IT as they would to the project steering committees asking questions about how taxpayer dollars were being spent.

Biles' first move was to the cloud, via a project and portfolio management (PPM) tool by Métier Ltd. that he uses to input his developers' billable project hours and correlate those hours to project buckets based on ITIL v3 project lifecycle phases: service strategy, service design, service transition, service operations and continual service improvement.

Read about how Biles took his talents to South Beach and strategized for PPM success.
2

Keeping your projects on course

Every team can improve project delivery by adapting Lean and Agile methodologies to "lessons learned," even to projects that do not use an Agile approach.

Traditional project management lessons-learned sessions are useless for three key reasons:
The items or problems identified are specific to the team, the project and the technology.
The lessons-learned sessions are held at the end of the project.
If items are not team-, project- or technology-specific, they are so vague as to be useless.
Learn about the problems with each of these approaches in the full tip by expert Joseph Flahiff.

Download this free guide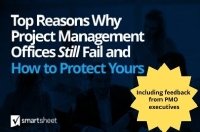 Top 8 Reasons Why Project Management Teams Fail
Some project management practices yield game-changing results and some don't. Do you know why? Get your hands on the top challenges facing project management teams and insights on how you can avoid them.
3

Common setbacks in IT project evaluation and management

"Don't you just hate it when something is so obvious you completely overlook it?" asks SearchCIO features writer Karen Goulart. "It happens to everyone. And it happens to happen a lot when it comes to project and portfolio management (PPM), even among those with sound IT project management skills.

"Just ask Gartner analyst Audrey Apfel. She specializes in all the P's -- project management, program management and portfolio management -- and she has some nitty-gritty understanding of the ins and outs of project management skills."

What struck Goulart while watching a live Web chat by Apfel was the not-so-nitty-gritty stuff folks about to embark on projects fail to see and do. If this sounds like you or your organization, Goulart says, "Don't feel judged," but recognize an opportunity for growth.
4

Project and portfolio evaluation, management quiz for CIOs

The aim of portfolio and project management (PPM) and evaluation is to determine the best timeline for acting upon initiatives in order to boost the bottom line and achieve business goals. As an IT leader, many a CIOs must analyze and nurture technology projects, ensuring that the most profitable and pressing projects get top billing and ample resources.

Do you know enough about effective project and portfolio evaluation in the IT space to keep your organization moving forward? Test your knowledge by reviewing some of our recent news and tips and taking our quiz.