Evaluate
Weigh the pros and cons of technologies, products and projects you are considering.
IT Priorities survey predicts 2018 IT strategy for tech pros
In this essential guide, get detailed results and analysis of TechTarget's IT Priorities survey to discover what tech pros worldwide have planned to move their companies' IT strategy forward in 2018 and beyond.
Introduction
As technology rapidly advances, IT professionals are forced to frequently reprioritize spending and pet projects. In TechTarget's 2018 IT Priorities survey, IT pros shared their top projects, expectations and concerns for this year. Their responses ran the gamut and provide a snapshot of how businesses continue to navigate industry's digital transformation.
The survey was conducted in late 2017 among more than 1,000 North America-based IT professionals. The majority of respondents list their titles as midlevel IT managers, directors/senior IT managers, engineers/programmers/designers and IT staff. The survey found that 2018 IT strategy demands tend to broadly span most data center disciplines, but respondents indicated a variety of specific areas where they expect to concentrate their spending.
In this essential guide, get detailed results and analysis of the survey findings to discover what IT professionals worldwide have on their agendas as part of their 2018 IT strategy.
1

IT budget management

-
2018 IT strategy priorities shift as tech budgets rise
When it comes to budgeting for an organization's technology projects, IT professionals and executives have to consider one fundamental question from the start: Where exactly will the IT funding go? Deciding what technology investments are worth the money and choosing which legacy projects are still relevant is a challenging, but necessary, process for the entire IT department. In these articles, get survey respondents' takes on their projected 2018 budget allocations and find out what initiatives they predict will produce the biggest ROI bang for their IT investment buck.
News
Nearly half of IT professionals who responded to the survey indicated that they expected bigger budgets for the coming year. But respondents from across data disciplines have very specific areas where they want to concentrate their IT budget management and spending. Continue Reading
Feature
Networking professionals responding to the survey confirmed they're not just interested in basic networking technologies like virtual private networks. They're also considering automation and intent-based networking that could dramatically reshape the networking industry. Continue Reading
News
More than 45% of organizations plan to deploy or migrate to Windows 10 in 2018, according to the TechTarget IT Priorities survey. Changes to Microsoft Office support guidelines gives IT departments more reason than ever to make the move. Continue Reading
2

Foundational improvement

-
Network upgrades on the 2018 tech horizon
The right technology infrastructure is an essential element for the IT department, and continual upgrades and redesigns keep the business running and allow for proper IT service delivery. The tech options to consider when making these changes are certainly not at a minimum, however, and companies must carefully decide what technology should be integrated to best meet their business needs. In this section, learn about survey respondents' 2018 plans for network and server upgrades, and how integrating new tech in these upgrades could go a long way toward determining their success.
News
More IT shops have gained the confidence to upgrade to Windows Server 2016, according to the TechTarget 2018 IT Priorities survey: Some 32% of respondents said they plan to roll out Windows Server 2016 over the course of 2018, compared to only 15% who plan to implement Windows Server 2012. Continue Reading
Survey
Networking, cloud and automation initiatives are top of mind for IT pros in 2018, according to the survey. The internet of things and AI are lagging, but experts suggest their low priority rankings might not reflect their actual migration into the enterprise. Continue Reading
Opinion
Machine learning and other AI technologies are poised to offer businesses big benefits. Research shows companies are heeding that advice: In TechTarget's 2018 IT Priorities survey, 12% of 940 respondents within North America said AI is a broad initiative this year. But businesses will have to walk before they run when integrating AI with their 2018 IT strategy. Continue Reading

Download this free guide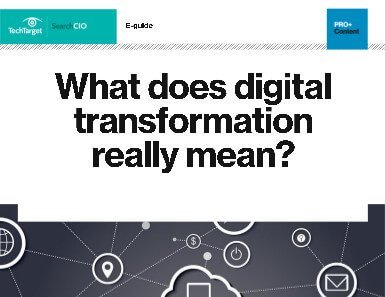 PDF: What does "digital transformation" really mean?
What exactly is digital transformation? You may hear the term often, but everyone seems to have a different definition. See how our experts define digitization, and how you can get started in this free guide.
3

GRC management

-
Wide-ranging regulatory and security risk remains a concern
One glance at the tech news page shows how important solid information security and compliance processes have become for modern companies. Whether it is the latest large-scale data breach or the potential implications of new data privacy rules like the EU's General Data Protection Regulation, constantly evolving threats and regulations force companies to pay close attention to their investments in governance, risk management and compliance (GRC) processes. In this section, learn how professionals in these fields are coping with these seemingly endless challenges and how some newly developed tools could help them.
News
Forty percent of a slice of IT Priorities survey takers who reported working in compliance or corporate governance plan to implement a compliance or legal discovery initiative this year. Despite a big drop from the 2017 survey, compliance and corporate governance initiatives were still the No. 1 priority cited by these survey takers, followed by big data and business analytics projects as well as network technology upgrades. Continue Reading
News
Data protection has become a top priority for companies, and one key feature is encryption: Thirty-eight percent of IT admins are planning an encryption security initiative in 2018, according to the 2018 IT Priorities survey. With vSphere 6.5 and vSAN 6.6, VMware includes encryption capabilities that can help meet that demand. Continue Reading
4

Cloud management

-
Cloud investments remain a priority
The cloud remains a popular investment for IT: The biggest projected spend for companies is for investments in cloud services, according to the 2018 IT Priorities survey. This goes for companies of all sizes as well: Sixty-one percent of large companies expect to open their wallets for cloud services, with midsize companies (55%) and smaller shops (49%) intending to follow suit. Of course, cloud services is a very broad term that could include several IT technologies or processes. In these articles, learn details and analyses about where cloud investments fit in 2018 IT strategy plans.
News
Deploying software as a service (SaaS) and hybrid cloud models are top goals for organizations this year, according to data from TechTarget's 2018 IT Priorities survey. As IT departments shift their cloud priorities, VMware will pivot its offerings accordingly. Continue Reading
News
A mix of hybrid cloud and on-premises IT is expected to be the norm for the foreseeable future. But more respondents to TechTarget's survey indicate more investment in cloud CRM and social media monitoring. Continue Reading