News
Stay informed about the latest enterprise technology news and product updates.
IT Priorities Survey: Pros' 2015 tech plans, projects and concerns
TechTarget's 2015 Information Technology Priorities Survey asked 2,212 IT professionals their top projects, expectations and concerns for this year.
Introduction
A new year, a new list of IT initiatives to tackle. In TechTarget's 2015 IT Priorities Survey, professionals in the IT field shared their top projects, expectations and concerns for this year -- touching upon new technology integration, projected budgets, consolidation plans and future big data analytics strategies.
The survey was conducted in late 2014, with 2,212 IT professionals surveyed worldwide. Of the survey respondents, 27% work in North America, 26% work in Europe and 25% work in Asia-Pacific. The majority of respondents list their titles as mid-level IT managers, directors/senior IT managers, engineers/programmers and IT staff. Respondents are employed at companies with an average size of about 17,000 employees.
In this Essential Guide, examine the results of TechTarget's 2015 IT Priorities Survey, discover what projects top IT professionals' to-do lists this year, and follow the latest IT budget expectations.
1

Make way for cloud

-
Growing budget for cloud, mobility
One of the fastest-growing technology trends is cloud computing, so it's not surprising that budgets for cloud services are also growing. After tracking the impact of cloud services in recent years, TechTarget found that 43% of those companies increasing their budget are also increasing cloud services. Even in budget-challenged areas like Europe, cloud services are seeing a steady and notable increase in allocated IT funding. With all budgets on the rise, cloud services are not the only IT areas set to expand this year -- software and hardware are also getting some increased attention. Find out more in this article.
News
Higher budgets and an emphasis on cloud computing are in store for IT this year, according to TechTarget's 2015 IT Priorities Survey. Continue Reading
2

Foundational improvements

-
Data center infrastructure upgrades planned for 2015
Just as construction workers can't build without a solid foundation, businesses can't function without the right infrastructure and technological basis. As IT professionals know, technology infrastructures are far from "set it and forget it" undertakings -- continual upgrades and redesigns are what keep the entire business working successfully and allow for proper IT service delivery. That may be one of the reasons almost half of IT leaders surveyed reported an increased hardware budget in 2015. This article explores what infrastructure projects IT professionals are set to tackle this year.
Tip
Infrastructure upgrades and remodels are vital for effective and efficient IT service delivery. Data center pros share five enterprise IT infrastructure projects they're planning for 2015. Continue Reading

Download this free guide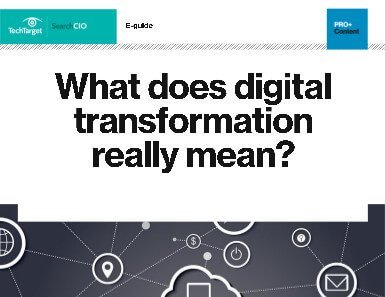 PDF: What does "digital transformation" really mean?
What exactly is digital transformation? You may hear the term often, but everyone seems to have a different definition. See how our experts define digitization, and how you can get started in this free guide.
3

IT budgets on the rise

-
Where is IT money going in 2015?
Where is your IT funding going this year? That's the big question that IT professionals grapple with annually. Determining whether a technology is worth the extra backing or whether a project is still relevant is a challenging, but necessary process. In this article, get survey respondents' takes on projected 2015 budget allocations and find out which initiatives they think are worth the money.
Feature
The TechTarget IT Priorities Survey asked IT professionals how their companies plan to spend their funds in 2015, and whether they expected to allocate more money to technology this year. Continue Reading
4

A fresh look at networking

-
IT network management a top 2015 initiative
Networking doesn't necessarily involve big investments, according to analyst Amy DeCarlo, but it does involve some strategic thinking and the right set of tools. While network management and monitoring has been steadily improving for some time, it's far from perfect. The push for greater flexibility and visibility of the network is perhaps why network management tied as the top IT initiative for 2015. In this article, find out how IT professionals plan to fill the networking gaps this year and make networks better, faster and stronger.
Feature
The results of this year's IT Priorities Survey show that 44% of enterprises are planning network management projects in 2015, making it one of this year's top information technology initiatives. Continue Reading
5

Moving forward with big data

-
Big data projects set to expand this year
The enterprise buzz around big data is … well, big. So, it's not surprising that big data projects are toward the top of the IT priority list. The main concern for businesses is figuring out what to do with all the data and what tools are needed to do it. This article outlines how businesses -- as well as respondents to our 2015 IT Priorities Survey -- are rethinking data analytics with the surge of big data and explores what IT initiatives are on the docket this year to help take advantage of big data and move the enterprise forward.
News
TechTarget's annual IT Priorities Survey indicates that while companies are still investing in basic BI and data warehousing capabilities, big data initiatives are becoming almost as prevalent. Continue Reading