 BACKGROUND IMAGE: iSTOCK/GETTY IMAGES
The changing role of the CIO
Editor's note
Waist-deep in the testy waters of a digital economy, CIOs find themselves in transition. They're no longer just operators of traditional IT infrastructure maintenance duties; they're multifaceted digital frontiersmen trying to find their place in an evolving enterprise. As technological advancements increase in pace, CIOs, too, must evolve with the changes and adapt to new roles and responsibilities.
Modern CIOs are tasked with the challenges of having to create business value, develop innovative business processes, deal with IT consumerization, take on the big-data challenge, drive the implementation of emerging technology, manage shadow IT and facilitate an increasingly mobile workforce.
How are they dealing with these challenges and, as a result, the changing role of the CIO? In this SearchCIO Essential Guide, we'll explore the top hurdles facing modern CIOs, how digital transformation is changing their roles, C-level business relationships that are essential to company success, the latest technologies that are reshaping the role of the CIO and strategic best practices to help them stay relevant in a digital enterprise.
This Essential Guide on the changing role of the CIO is designed to give IT leaders strategic management and decision-making advice on timely topics.
1

Digitalization spurs new CIO priorities

CIOs are relied upon to lead their companies' digital advancements by creating an IT strategy that sets the course of innovation while accommodating digital initiatives. Does your digital strategy fit the industry standards? In this section, learn how digitalization is changing the role of the CIO, with tips on crafting an effective digital strategy and how to adapt to the changing enterprise landscape.
2

C-level partnerships benefit CIO role

The relationship between CIOs and the rest of the C-suite has never been more critical to business success than it is today. In this section, discover why C-level engagement is vital to CIOs and how these relationships impact the CIO position. Read on to understand what C-level relationships are most effective for business success and learn the best approaches for nurturing those relationships.

Download this free guide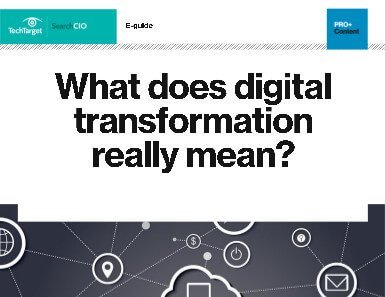 PDF: What does "digital transformation" really mean?
What exactly is digital transformation? You may hear the term often, but everyone seems to have a different definition. See how our experts define digitization, and how you can get started in this free guide.
3

Technologies influencing the changing role of the CIO

New, enterprise-rocking technologies are introduced all the time. What impact do these technologies have on IT and on CIOs? It is up to the CIO to identify and implement technologies that benefit the company's IT department -- and the bottom line. In this section, explore how machine learning, blockchain technology, augmented and virtual reality, the internet of things (IoT), and the cloud are transforming the CIO role.