Get started
Bring yourself up to speed with our introductory content.
Enterprise risk management strategy: A planning guide for CIOs
Identify, monitor and vanquish threats to the business with this Essential Guide, which offers CIOs advice on perfecting their enterprise risk management strategy.
Introduction
Enterprise risk management strategy is the process of recognizing, observing and banishing threats to an organization, which can range from careless human error to natural disasters, strategic management errors, financial uncertainties and many other IT bumps in the night. Fueled in part by recent government monitoring and retail-giant slip-ups -- as well as the traditional risks that have long plagued IT departments -- corporate executive boards are developing a heightened interest in mitigating threats in an effort to avoid massive financial injury and the loss of investor and customer trust.
In this CIO Briefing, learn why enterprise risk management strategy is important and how to influence your executive board to prioritize the protection of information assets. Read about today's organizations that are practicing good risk management, and get advice from CIOs who have taken on -- and warded off -- large-scale threats.
This Essential Guide on enterprise risk management strategy is part of the CIO Briefings series, which is designed to give IT leaders strategic management and decision-making advice on timely topics.
1

MAKING THE CASE

-
Enterprise risk management is not to be overlooked
Does your organization's executive board need a little nudge in order to understand the importance of a broad enterprise risk management strategy as a necessary component of corporate operations? In this section, we provide some real-world examples of how companies are confronting a world of intensifying threats.
2

VIDEO

-
Risk advice from Baroness Pauline Neville-Jones
Baroness Pauline Neville-Jones, the United Kingdom's special representative to business on cybersecurity, sat down with SearchCIO's Christina Torode at the Information Systems Security Association, or ISSA, conference in Nashville, Tenn., to discuss cybersecurity and risk management for the enterprise. Watch our video coverage below.
Video
Learn the difficulties the U.S. government system faces in raising cybersecurity awareness and why starting at the state level might be the best remedy.
Video
Many enterprise organizations don't realize their true vulnerability to cyberattacks until it's too late. Make sure your CIO and CISO are keeping their efforts properly focused.
Video
Neville-Jones discusses the security impact of managed cloud services and the importance of mapping IT enterprise infrastructure.

Download this free guide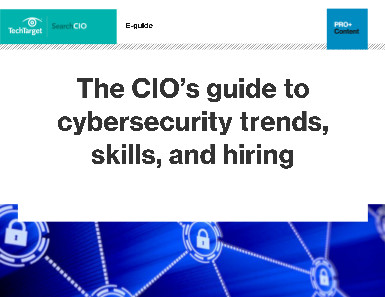 CIO's guide to cybersecurity trends, skills, and hiring
Our data is being spread across more systems, devices, and applications than ever before, and security needs are changing quickly. Download this guide to keep your data secure.
3

NEW TOOLS, NEW RISKS

-
Innovative enterprise risk management strategy for new technologies
Executing an enterprise risk management strategy is no easy task, especially as new technologies change the threat landscape. While cloud, mobility, bring your own device and big data have CIOs reconsidering their approach to risk management, we share stories of CIOs who are reevaluating and implementing new risk management strategies.
4

GLOSSARY

-
Risk management terms for CIOs
Before you start asking your company's risk management experts a long list of questions, brush up on your risk-related lingo.
5

PROTECTING INFORMATION ASSETS

-
Advice on managing risk, from CIOs for CIOs
In this section of our enterprise risk management strategy guide, practitioners and experts share what they've learned about risk management, offering tips for conducting a risk assessment, detecting common spreadsheet errors, protecting personal information and more.
6

QUIZ

-
Risk management planning: New threats, new paradigms
CIOs involved with risk management planning and privacy controls must be prepared to confront internal and external threats, ranging from human error and BYOD to data leakage and nefarious hackers. Do these risks have you panicky about your strategies for protecting data and other valuable IT assets? Do you know enough to put your CEO at ease? Take our quiz, reviewing some of our most recent stories on risk management planning, to find out.
Take This Quiz