Get started
Bring yourself up to speed with our introductory content.
Enterprise data analytics strategy: A guide for CIOs
Before IT leaders can capitalize on big data, strategic decisions must be made regarding infrastructure, management approaches, new technologies and more. Use the resources here to master enterprise data analytics.
Introduction
As enterprises seek to take advantage of ever-larger stores and sources of information, data analytics continues to take on greater importance. Modern CIOs are tasked with determining how best to capitalize on an organization's data to improve decision-making, fine-tune marketing programs, respond to changes in customer demand and seize new business opportunities.
But before technology managers can put big data to strategic use, they must first make some tactical decisions around IT infrastructure. One decision involves how big data is stored: Hadoop clusters versus traditional network-attached storage and storage-area network installations, for instance. The process of collecting, processing and analyzing large data sets also calls for a lot of processing power. Enter framework offerings like Hadoop's Apache Spark. NoSQL databases, in-memory analytics tools, distributed computing systems and converged infrastructure appliances rank among the other considerations when building a technical architecture to support a data analytics strategy.
In this CIO Essential Guide, we'll explore the potential benefits of enterprise data analytics and the technologies that enable this capability. Read on to learn big data basics and strategic guidelines, get tips on architecting the right data infrastructure, understand the advantages and complexities of Hadoop, discover real-world analytics success stories, and peer into the future of data analytics strategy.
1

Big data basics

-
Understanding big data opportunities
How can your business reap the benefits of big data? It starts with a strong understanding of the analytics tools and management approaches available to you. In this section, learn what makes a balanced big data project, why more executives are paying attention to data asset management, and how one data processing engine is making waves.
Feature
In big data analytics projects, analytics managers must find the right balance between giving data scientists room to innovate and ensuring that their work has practical business value. Continue Reading
Tip

As companies use big data to drive business value and decisions, CIOs aren't the only executives paying attention to information asset management. Continue Reading
News
With its in-memory feature, Apache Spark has the potential to improve data processing speed by an order of magnitude over MapReduce. Continue Reading
2

The scoop on Hadoop

-
Get acquainted with the processing powerhouse
You can't talk about data analytics without also talking about Hadoop; it's a crucial processing technology that has changed the analytics game and become an integral part of IT ecosystems. In this section, get acquainted with the evolution of Hadoop and ponder next steps.

Download this free guide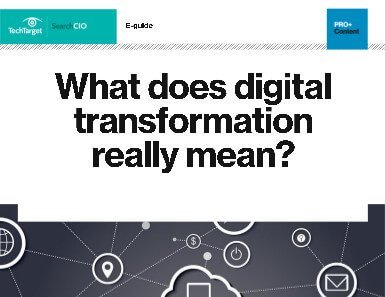 PDF: What does "digital transformation" really mean?
What exactly is digital transformation? You may hear the term often, but everyone seems to have a different definition. See how our experts define digitization, and how you can get started in this free guide.
3

Videos

-
Data: The new king of business strategy
In these videos, watch how IT experts are using technologies like data lakes to get the most out of big data and hear from a rising big data startup that's using analytics to change the travel business.
4

Strategic considerations

-
Make note of these data analytics approaches
As with any area of IT, the strategic considerations involved in enterprise data analytics are abundant and, often, complicated to address. What technology or approach is best for your organization? What are some of the common data science mistakes to avoid? Should IT leaders build or buy big data architecture? This section includes tactical considerations and advice to help you navigate the testy waters of data analytics.
5

Building a data foundation

-
How the right infrastructure can make or break your big data projects
Of course, any good data analytics strategy needs a solid foundation to build upon. IT professionals are consistently challenged with new choices on hardware, storage and other aspects of data center infrastructure. In this section, explore these choices and get tips on how to overcome infrastructure hurdles.
6

Data analytics in action

-
Learn how organizations are using analytics to their advantage
How are other IT leaders harnessing the power of data analytics? In this section, see enterprise data analytics strategies in action and find the approach that best fits your organization's IT and business goals.
7

Glossary

-
Data analytics terminology
8

On the horizon

-
Pondering the future of data analytics
How will enterprise data analytics technologies impact your organization's big-picture business models going forward? Stay attuned to the up-and-coming analytics trends and practices in this section.
News
IT consultants and vendors offer predictions about business trends related to business intelligence, cloud analytics, data management and big data. Continue Reading
News
From Enterprise Data World 2015: As NoSQL databases continue to flourish, designing data models for the flexible-schema systems is a looming challenge for data architects and developers. Continue Reading
Feature
Hadoop and NoSQL haven't eliminated the need for database schemas, according to one expert. Instead, consider them flexible schemas waiting to be integrated. Continue Reading