 BACKGROUND IMAGE: iSTOCK/GETTY IMAGES
CIO Innovator profiles: Industry groundbreakers, great IT leaders
Editor's note
SearchCIO's award-winning CIO Innovator series debuted in 2011. Looking back, we're still blown away by our inaugural class of innovators. These CIOs were exploring the cost-saving potential of the public cloud, building private clouds, figuring out how to accommodate Apple's iOS devices, and architecting platforms for social collaboration.
Amid all the experimentation, CIO core responsibilities remained: Did employees have the tools required to do their jobs? Were IT systems helping the company cut costs, boost efficiencies and make money? Was the company investing in IT that would beat out the competition and delight customers? And if something did happen to the ever-increasing volume of data generated by the business, CIOs were prepared to fall on their swords, correct?
Fast-forward to today, and the pace of change has, if anything, accelerated. The promise of IT systems is even more mind-blowing. And the job of CIO innovator remains a high-wire act of enabling the business without jeopardizing IT security.
In this CIO Innovator Essential Guide, see what your peers are doing in mobile, cloud, big data, business agility and social collaboration. Read about their leadership philosophies. Feel free to dip back into our archives -- and enjoy!
--Linda Tucci, executive editor, SearchCIO
Editor's note: Want more? Make sure to check out our past coverage of innovative CIOs and IT leaders. If you know a CIO we should feature here, let us know.
1

The big data enterprise has arrived

Big data's bigness is enough to give any IT leader pause. Add data velocity and variety to the mix, and the task of deriving business value from big data becomes daunting indeed. These CIO Innovators are taking on the petabytes bit by bit, from figuring out the right infrastructure to applying the right analytics to aggressively recruiting data scientists. Their work hasn't been easy, but the results are starting to change how business gets done, from healthcare to farming to the NFL.
2

Turn mobile into a competitive advantage

Mobile computing and digitization can help drive efficiencies, boost productivity, improve customer service and foster new products, but CIOs need to bring their A-game to make it happen. That means employing suitable tactics for managing their employees' penchant for bring your own everything. It also means a great IT architecture strategy for integrating mobile devices and apps with legacy systems. And that's just for starters. Throw in the Internet of Things, and the job of protecting and leveraging the digital enterprise becomes enormous. Read how these intrepid CIOs are taking it on.

Download this free guide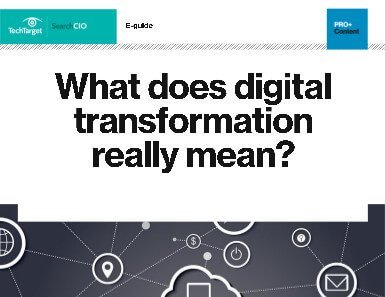 PDF: What does "digital transformation" really mean?
What exactly is digital transformation? You may hear the term often, but everyone seems to have a different definition. See how our experts define digitization, and how you can get started in this free guide.
3

Social networking, collaboration and the power of the collective IQ

From your teenager's personal pastime to a marketing tool for the Fortune 1,000 to a rich source of business intelligence, social media has come a long way since Mark Zuckerberg invented Facebook. How exactly CIOs incorporate the ease and nimbleness of these social communication tools into the established business processes of today's highly regulated companies, however, is not so cut-and-dried. Here are the IT and business leaders who have figured out how to think outside the box.
4

CIOs rise to the challenge of cloud

The scalability, flexibility and cost structure of cloud computing has changed how enterprises operate, how employees work and the role of corporate IT. A paradigm shift as big as this one, however, doesn't happen overnight, at least not at companies in which legacy systems represent millions of dollars of investment and decades of use. Cloud benefits must be carefully weighed against a long list of risks -- from the loss of valuable data to privacy issues to the prospect of irate customers if the cloud service goes down. Here are the blueprints-in-progress, from some of IT's best CIOs, for employing all manners of cloud.
5

How to meet customer demands with alacrity

IT demands will exceed IT resources -- that's axiomatic. The business' increasing need for speedy technology solutions, however, means that the tried-and-true coping mechanisms CIOs have used to manage that demand -- from project management offices to outsourcing -- no longer hold. Enter the agile transformers: CIOs who are using formal Agile methodology and new agile methods to deliver timely and innovative IT to their internal customers and to the customers of their businesses.
6

Innovative CIOs tell their stories

In these videos, IT leaders talk about how they have harnessed technology in innovative ways to transform their business and open up new money-making opportunities.