 BACKGROUND IMAGE: iSTOCK/GETTY IMAGES
Big data exploration and analytics for CIOs: Oh, the places you'll go
Editor's note
Oh, the places you'll go! If Dr. Seuss were still writing today, he might have penned that hallowed phrase about business intelligence (BI) analytics. In relatively short order during the past several years, data collection and analysis have exploded as areas of focus in enterprise IT. "Data is the new oil," "Data is gold" -- the analogies could go on and on (and we bet Dr. Seuss could rustle up a few more).
And that's the thing about big data exploration and analytics -- the applications seemingly go on and on. Enterprises are turning to BI and analysis to solve business problems they didn't even know existed prior to the big data boom. There are challenges, sure, but there is also a promise of more targeted enterprise spending as a result of insights gleaned from data.
Is your organization on board with everything big data analytics has to offer? In this CIO Essential Guide, we explore the promise of analytics, examine how companies are making big data actionable and look at the trend toward mobile analytics for a roving field of employees. Plus, get our latest big data reports from the field in a collection of our Data Mill columns.
This Essential Guide on big data exploration and analytics is part of the CIO Briefings series, which is designed to give IT leaders strategic management and decision-making advice on timely topics.
1

Big data and analytics: Let's go to the videotape

In these videos, experts and practitioners alike sound off on the road to big data exploration and analytics success.
2

Getting down to business: Analytics in action

After settling on the right big data analytics program for their enterprise, it's time for CIOs to find out if the proof is in the pudding. How have enterprises made the most of their data gathering and exploration efforts? In these case studies and analysis pieces, SearchCIO provides the tricks and tools to get it done.

Download this free guide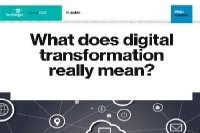 PDF: What does "digital transformation" really mean?
What exactly is digital transformation? You may hear the term often, but everyone seems to have a different definition. See how our experts define digitization, and how you can get started in this free guide.
3

All the analytics terms fit to print
4

Road trip: Going where no analytics have gone before

You seemingly can't walk down the street nowadays without contemplating the spread of big data analytics into our everyday lives -- and we're not just talking about those sporting wearable tech that records exercise activity to be analyzed later. Enterprises are hopping on the mobile analytics bandwagon as they endeavor to provide their smart device-happy workforce with the tools they need to provide fast, effective analysis wherever they may be. Learn more in these SearchCIO stories.
5

Sharpen your data analytics agenda

As big data multiplies by the hour, some organizations find it difficult to integrate and interpret that information in ways that lead to actionable business insight. Take this quiz and learn how to develop your data analytics exploration and analytics strategy.
6

Up-to-the-minute reports on data analytics strategy

Have you checked out the Data Mill, SearchCIO Senior News Writer Nicole Laskowski's weekly digest on all things big data and analytics? Read several of her columns below, covering the latest conferences, research and trends in BI, and search "#DataMill" on Twitter to find more.