Get started
Bring yourself up to speed with our introductory content.
A CIO's guide to enterprise cloud migration
In this Essential Guide, explore the complexities of enterprise cloud migration, including planning and implementing best practices, and advice on crafting cloud agreements.
Introduction
It's understandable why so many companies want to migrate to the cloud. With the prospect of avoiding hardware costs, eliminating software maintenance, increasing the scalability and performance of applications, and enjoying the cloud's economies of scale, making the change seems like a no-brainer.
A poorly planned and implemented migration, however, can put a serious dent in the cloud business case. With that in mind, CIOs need to address a number of questions to ensure a smooth migration:
Which enterprise cloud migration strategy is right for your organization, if any?

Which applications are suitable for the cloud and which aren't?

Do you have the appropriate tools to aid in migration efforts and cut back on expensive manual tasks?

What types of computing workloads will work best in which specific types of clouds?
In this CIO Essential Guide, we'll address these questions by exploring the intricacies of cloud migration and suggesting best practices for getting the job done.
This Essential Guide on enterprise cloud migration is designed to give IT leaders strategic management and decision-making advice on timely topics.
1

Cloud migration strategy

-
Picking the proper cloud approach
The first step in enterprise cloud migration is deciding what strategy is right for your organization. Whether you choose the lift-and-shift model, rearchitecting model and/or a hybrid cloud design, knowing your options and business needs is critical to cloud success. This section highlights top cloud migration approaches and helps you determine what should and shouldn't run on the cloud.
2

Cloud migration considerations

-
Getting familiar with the cloud environment
In order to reap the rewards of the cloud, CIOs need to have a deep understanding of the complexities of cloud migration and integration. This section runs down need-to-know elements of enterprise cloud migration, including best practices and common pitfalls to avoid.

Download this free guide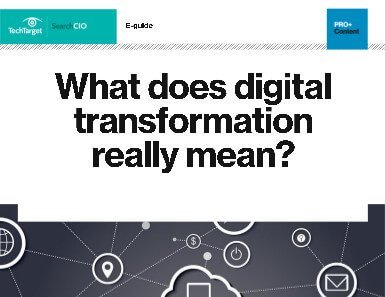 PDF: What does "digital transformation" really mean?
What exactly is digital transformation? You may hear the term often, but everyone seems to have a different definition. See how our experts define digitization, and how you can get started in this free guide.
3

Cloud migration agreements

-
Crafting the perfect cloud contract
Equally important to the success of your cloud migration is constructing a sound cloud contract from the onset. There are a lot of things to consider before signing on the dotted line, so use the articles in this section to help you avoid contractual hiccups and ensure your cloud agreement is up to snuff.
Tip
Benefits of enterprise cloud computing include lower costs and increased agility, but even sophisticated IT departments are sometimes blindsided by the intricacies of striking a deal with cloud providers. Daniel Masur, a lawyer specializing in IT, provides six issues companies must consider when developing cloud contracts. Continue Reading
Feature
The business benefits of cloud services are closely tied to an organization's unique, data-specific demands and constraints. This feature offers expert advice on how to analyze business value drivers, use cloud monitoring tools and even garner advice from peers to maximize cloud service investment. Continue Reading
Video
The cloud has become a common solution for organizations seeking to improve information governance efficiency, but there are several data management aspects to consider before entering a cloud service agreement. In this webcast, governance expert Jeffrey Ritter explains why companies must carefully consider their specific data management and e-discovery needs before entering into a cloud service agreement. Continue Reading
4

Glossary

-
Expand your enterprise cloud migration vocabulary
Get familiar with these terms related to enterprise cloud migration.