Manage
Learn to apply best practices and optimize your operations.
A CIO's guide to cloud computing investments
More enterprises are reaching for the cloud to spur innovation and growth. In this SearchCIO Essential Guide, learn how to maximize the business benefits of your cloud computing investments.
Introduction
With cloud computing being used by businesses across all industries and acting as a digital transformation enabler, CIOs must constantly review their cloud computing investments. They will indeed be spending more money on it: Our annual IT priorities survey of 971 North American IT professionals found that cloud services will continue to attract substantial attention in 2017, with 64% planning to increase cloud spending. And according to market analyst firm IDC, worldwide spending on public cloud services and infrastructure is estimated to grow at a 21.5% compound annual growth rate -- nearly seven times the rate of the total IT spending growth -- to reach $203.4 billion in 2020.
This Essential Guide is designed to help delve into the many facets of cloud computing investments, including cloud innovation, security, storage, application development and service provider management.
1

Cloud and innovation

-
Driving innovation via the cloud
Cloud computing investments are no longer just about lowering costs and improving efficiency. Cloud-based technology fosters greater collaboration across the company and cloud-based IT services also call for fewer resources, providing organizations with the opportunity to invest in other business processes and innovations within their organization. This section highlights the best practices to gain cloud visibility, the role that crowdsourcing could play in the cloud and why cloud robotics could be game-changers for artificial intelligence (AI).
News

Pharmaceutical manufacturer AstraZeneca is working with cloud access security broker vendor Skyhigh Networks to reduce security risks by increasing visibility into its cloud services. Continue Reading
Opinion
At the MIT Disruption Timeline Conference, the CEO of the Toyota Research Institute explained why robots should have their "heads in the cloud" and not include computing intelligence onboard. Continue Reading
News

Are you ready to experience the world's first cloud-enabled quantum computing platform? IBM is seeking researchers, students and science enthusiasts to explore the world of quantum computing via IBM Quantum Experience. Continue Reading
2

Securing cloud data

-
Assessing key risks of cloud computing investments
Moving data to the cloud comes with its fair share of risks. How safe is your data in the cloud? Are you equipped to handle a cloud failure or breach? In this section, learn about the latest tools and strategies to counteract cloud threats and protect cloud data. Also, learn about new cloud security roles, risk management best practices and steps to cultivate a cloud-security culture.

Download this free guide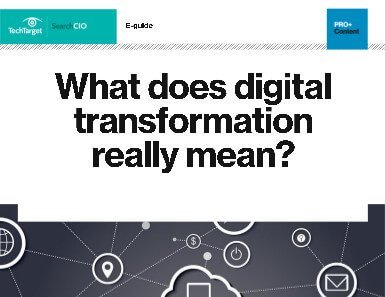 PDF: What does "digital transformation" really mean?
What exactly is digital transformation? You may hear the term often, but everyone seems to have a different definition. See how our experts define digitization, and how you can get started in this free guide.
By submitting your personal information, you agree that TechTarget and its partners may contact you regarding relevant content, products and special offers.
You also agree that your personal information may be transferred and processed in the United States, and that you have read and agree to the Terms of Use and the Privacy Policy.
3

Cloud storage

-
Tips to maximize your cloud-based storage
Will your business benefit from the use of object storage systems rather than file storage systems when storing data in the cloud? Read the articles in this section to know about cloud storage tools and applications that are best for your organization, why hybrid cloud could be the future of cloud storage and why the OpenStack platform could be gaining ground.
4

Cloud data management

-
Cloud-based analytics: Understanding benefits and risks
Cloud data management provides benefits like accelerated technology deployments and reduced costs associated with both system maintenance and capital expenditure. Read the articles in this section to understand the benefits as well as the risks associated with cloud-based business analytics and how data center best practices translate to the cloud.
5

Deployment models

-
Public vs. private vs. hybrid cloud: What's best for your company?
Are you cloud-ready? Which cloud model is best for you? Whether you choose public, private or hybrid cloud, knowing your options and business needs are vital to cloud success. This section highlights the good and the bad aspects of a multicloud strategy, some basic cloud considerations and a cloud comparison to help you decide which model best suits your organization's needs.
6

Strategic cloud decisions

-
How to maximize your cloud benefits
Of the several cloud benefits, cloud inventory management helps in reducing costs and security risks. Negotiating a sound cloud contract also helps mitigate risks associated with the cloud. With more organizations making cloud computing investments, this section highlights the best practices for cloud inventory management and determining metrics that reap maximum benefits from cloud computing investments, and provides tips on the factors that need to be considered before negotiating terms and conditions of a cloud contract.
7

Glossary

-
Expand your cloud vocabulary
Before you start making cloud computing investments, get a handle on basic service-related cloud computing terms. Let this glossary be your guide.