Definition
threat hunter (cybersecurity threat analyst)
A threat hunter, also called a cybersecurity threat analyst, is a security professional or managed service provider (MSP) that proactively uses manual or machine-assisted techniques to detect security incidents that may elude the grasp of automated systems. Threat hunters aim to uncover incidents that an enterprise would otherwise not find out about, providing chief information security officers (CISOs) and chief information officers (CIOs) with an additional line of defense against advanced persistent threats (APTs).
In order to detect a security incident an automated system might miss, a threat hunter uses critical-thinking skills and creativity to look at patterns of normal behavior and be able to identify network behavior anomalies. A threat hunter must have considerable business knowledge and an understanding of normal enterprise operations in order to avoid false positives and have good communication skills to share the results of the hunt. It is especially important for the threat hunter to keep current on the latest security research.
The threat hunter in the enterprise
A 2017 SANS Institute report found more organizations are pursuing threat hunting initiatives, but notes the bulk of the growth is confined to vertical markets such as financial services, high tech, military and government and telecommunications. As of 2017, the field of threat hunting was still new for the majority of IT security organizations. The SANS Institute report noted 45% of the respondents to its threat hunting survey do their hunting on an ad hoc basis.The job of the threat hunter is to both supplement and reinforce automated systems. As the review process uncovers patterns for initiating attacks, the security organization can use that information to improve its automated threat detection software.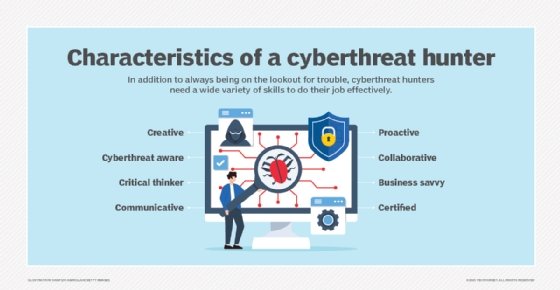 Threat hunters typically work within a security operations center (SOC) and take the lead role in an enterprise's threat detection and incident response activities. Threat hunting may be assigned as an additional duty to one or more security engineers within a SOC, or a SOC may dedicate security engineers to full-time threat hunting duties.
Additional options for creating a threat hunting team include rotating security engineers into the threat hunting role on a temporary basis and then having them return to their usual jobs within the SOC. Internally, threat hunters hunters are often managed by the an organization's CISO, who works with the CIO to coordinate enterprise security.
This was last updated in
August 2017
Continue Reading About threat hunter (cybersecurity threat analyst)
Dig Deeper on IT staff development and retention