Definition
thought leader
A thought leader is an individual or an organization whose expertise in a certain area is highly respected and in demand. Thought leaders generally pioneer new ideas rather than follow conventional wisdom. They use their authority to influence their areas of expertise, to generate revenue for themselves and/or for their organizations, and to create value for entities that seek them out. As their reputations grow, thought leaders may see their sphere of influence broaden beyond their initial areas of expertise, similar to pop culture celebrities whose opinions are sought on all manner of topics.

Download this free guide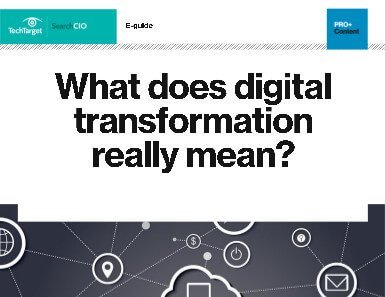 PDF: What does "digital transformation" really mean?
What exactly is digital transformation? You may hear the term often, but everyone seems to have a different definition. See how our experts define digitization, and how you can get started in this free guide.
In the field of computers and information technology, thought leaders abound. Examples include two American pioneers of the personal computer revolution of the 1970s, Bill Gates, co-founder of Microsoft, and the late Steve Jobs, co-founder of Apple. Futurist, prolific author and inventor Ray Kurzweil, who received the National Medal of Technology and Innovation, the United States' highest honor in technology, in recent years has promoted the idea of a hybrid human brain whose biological thinking is enhanced by artificial intelligence and other information technology tools. Clayton Christensen, the Kim B. Clark Professor of Business Administration at Harvard Business School and widely recognized as the foremost authority on disruptive innovation, is a thought leader for companies being disrupted by digital technologies.
History of the term
According to The Oxford English Dictionary, the first use of thought leader was in 1887 by authors Lyman Abbott and S.B. Halliday, who in their biography of Henry Ward Beecher described the abolitionist as "one of the great thought leaders in America." The term was revived in the 1980s by the business press. Wikipedia cites a 1990 story by Patrick Reilly in The Wall Street Journal marketing section that used the term "thought leader publications" to refer to such magazines as Harper's. Business guru Joel Kurtzman, a managing senior fellow at think tank Milken Institute and himself considered a thought leader, is often credited with coining thought leader in the 1990s when he was editor in chief of Strategy+Business magazine.
How to become a thought leader
Since its revival in the 1980s, the term has remained very much in vogue; indeed, becoming a thought leader in one's field is now considered an important component of a successful career. For the McKinseys and Deloittes of the marketplace -- firms that survive by giving advice -- being recognized as a thought leader is essential to making money.
Not surprisingly, the business press is filled with advice on how to become a thought leader. In her Nov. 9, 2010, article in Harvard Business Review, "How to Become a Thought Leader in Six Steps," marketing consultant Dorie Clark emphasized that in a globalized economy employees and executives alike need to build their reputation as a "singular expert" who not just participates in the workplace conversation but drives it. She recommends that people follow these six steps to launch their thought leadership:
Create a robust online presence.
Flaunt high-quality affiliations.
Give public speeches.
Appear on TV.
Win some awards.
Publish a book.
As some thought leadership promoters acknowledge, being a thought leader comes with risks. The spotlight thought leaders enjoy means they are also open targets for criticism or ridicule if their ideas are shown to be foolish.
Continue Reading About thought leader
PRO+
Content
Find more PRO+ content and other member only offers, here.