What is spoliation?
Spoliation, in a legal context, is any act that renders potential evidence invalid, either intentionally or through negligence. In the case of a document, for example, destroying, altering or hiding it would all be considered spoliation if the document were relevant to current litigation.
Spoliation is illegal in many countries, including the United States, and is punishable by fine and/or incarceration. Furthermore, the legal system has established through case law that when spoliation has occurred it may be inferred that the evidence was unfavorable to the responsible party. As a result, that inference may be factored into the decision of the case.
Content Continues Below

Download this free guide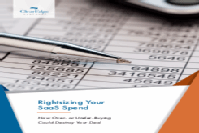 Limited-Time Download: Sizing Your SaaS Deal Correctly
Most customers fail to accurately forecast their licensing demand which leads to over-and under-buying whereby users squander their negotiating leverage or eat up the discount they earned by buying underutilized shelf-ware. Use this resource to learn how to dodge those potential traps and how to apply deal sizing best practices to optimize your IT spend.
Spoliation comes from the Latin spoliare, meaning to plunder. The use of the word in its current legal context dates back to a Roman rule of conduct, Omnia praesumuntur contra spoliatorem, which translates, roughly, as "Let everything be presumed against the spoiler of evidence."
Learn More About IT:
> Angela Scafuri suggests you 'Review e-discovery to reduce spoilation risk.'
> Chapter four of Ralph C. Losey's book 'E-Discovery' covers spoliation and sanctions.
This was last updated in
May 2009