Definition
managerial grid model (The Blake and Mouton Managerial Grid model)
The managerial grid model is a self-assessment tool by which individuals and organizations can help identify a manager's or leader's style. The grid was originally developed by Robert R. Blake and Jane S. Mouton in the 1960s and has evolved in subsequent decades.
Blake, a pioneer in organizational dynamics and an American management theoretician, and Mouton, also a management theoretician, focused on the human side of business leadership in the 1950s and 1960s. During their work to improve effective leadership at Exxon, they noted that management behavior worked on axes (i.e., concern for production, concern for people) and moved along a continuum. They went on to create the Managerial Grid theory of leadership styles. They formed Scientific Methods Inc. (now Grid International Inc.) in Austin, Texas, in 1961, and together published the first edition of "The Managerial Grid" in 1964. They consulted for numerous organizations in 40 countries and also developed a global network of consultants. They co-authored more than 40 books and seminars as well as hundreds of articles.
Content Continues Below

Download this free guide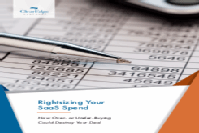 Limited-Time Download: Sizing Your SaaS Deal Correctly
Most customers fail to accurately forecast their licensing demand which leads to over-and under-buying whereby users squander their negotiating leverage or eat up the discount they earned by buying underutilized shelf-ware. Use this resource to learn how to dodge those potential traps and how to apply deal sizing best practices to optimize your IT spend.
The Blake and Mouton Managerial Grid model is created using a horizontal axis and vertical axis that meet at a right angle.
"Concern for Production" runs along the horizontal axis on a 9-point scale. A 1, or low concern for production, is placed to the far left of the horizontal line, close to the right angle; a 9, or high concern for production, is located on the far right of the horizontal line.
"Concern for People" runs along the vertical axis on a 9-point scale. A 1, or low concern, falls at the bottom of the vertical line, close to the base near the right angle, while a 9, or high concern for people, is placed at the top of this vertical axis.
Leadership styles
A manager rated 9,1 possesses a high concern for production but low concern for people and has an "authority-obedience" style.
A manager with a 1,9, in contrast, possesses a low concern for production but high concern for people and has a "country club management style."
A manager who rates 1,1 (on the grid's lower left quadrant) possesses a low concern for both production and people and has an "impoverished management" style.
A 9,9 rating designates a "team management" style and falls in the grid's upper right quadrant.
A 5,5 rating falls in the center of the grid and designates an "organization man management" style.
Alternative and updated labels are sometimes used in place of these original styles. For example, "indifferent" is sometimes used in place of "impoverished"; "accommodating" in place of "country club"; and "status quo" in place of "middle of the road."
Organizations use this tool to assess individual managers and identify their management styles with the aim of helping them build leadership excellence. Individuals can assess themselves using questionnaires asking, for example, how strongly they value accomplishing a task and how much they enjoy challenges and coaching employees. The Blake-Mouton Managerial Grid model is one of several assessment tools, such as the well-known Myers-Briggs Type Indicator personality inventory, that businesses can utilize to evaluate managers and leaders.
The managerial grid, which is also known as the leadership grid, can help managers understand their management strengths and shortcomings, an understanding that allows managers and their supervisors and HR partners to identify needed training and support to drive improvement.
This was last updated in
December 2015
Continue Reading About managerial grid model (The Blake and Mouton Managerial Grid model)
Dig Deeper on Leadership and strategic planning