Definition
lean Six Sigma
Lean Six Sigma is a data-driven approach to improving efficiency, customer satisfaction and profits.
Lean Six Sigma combines Toyota's lean manufacturing philosophy with the qualitative and quantitative techniques for driving process improvement that Motorola's Six Sigma management strategy provides. Lean Six Sigma recognizes the role that stakeholders play in every project's success and the importance of gathering and analyzing data to help those stakeholders understand the effectiveness (or ineffectiveness) of workflow. The approach is pragmatic; it allows an organization to pick which parts of each discipline will help the organization meet its goals.

Download this free guide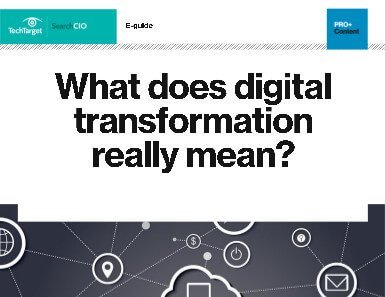 PDF: What does "digital transformation" really mean?
What exactly is digital transformation? You may hear the term often, but everyone seems to have a different definition. See how our experts define digitization, and how you can get started in this free guide.
In order to understand the flexibility that lean Six Sigma provides, it's important to understand a little about the similarities and differences between the two disciplines. Both lean management and Six Sigma seek to eliminate waste and improve business processes. An important difference, however, is that lean management relies on people to identify what problems are causing waste. The philosophy of lean management is "do more with less" and it is built around two important principles: Continuous Improvement (kaizen) and Respect for People. All employees are expected to help eliminate waste; they receive just-in-time (JIT) training on a regular basis and the tools they are given to identify and eliminate waste are designed to be easily understood and implemented. Lean management tools for process improvement include 5 Whys, kanban inventory control cues, Heijunka boxes for scheduling, Ishikawa fishbone diagrams, takt time calculations and value stream mapping,
Six Sigma, on the other hand, relies on data for identifying problems in a business process. The management philosophy was named after the Greek letter sigma, which is used in statistics to denote variation from a standard. In order for a company to achieve Six Sigma, it cannot produce more than 3.4 defects per million opportunities for nonconformance. Its tools are designed to be used by a select number of employees who have been chosen to receive formal training in progressive levels of study. Six Sigma project management tools include statistical analysis, stochastic optmization and engineering process control. Management strategies include DMAIC (define, measure, analyze, improve, control) and DMADV (define, measure, analyze, design, verify), both of which are based on Deming's Plan-Do-Check-Act cycle.
Lean Six Sigma is often associated with Xerox Corporation. In the early part of this century, the company implemented lean Six Siga to improve customer experience (CX) and become more cost competitive. Since then, Xerox has promoted how it has successfully combined the infrastructure from Six Sigma with the philosophy of continuous improvement from lean manufacturing to streamline the company's internal processes and provide customers with quality products and services at speeds and prices that customers value. One of those services happens to be helping Xerox customers use lean Six Sigma to improve their own business processes.
Continue Reading About lean Six Sigma
Dig Deeper on IT project management and portfolio management
PRO+
Content
Find more PRO+ content and other member only offers, here.