Definition
digital disruption
Digital disruption is the change that occurs when new digital technologies and business models affect the value proposition of existing goods and services.

Download this free guide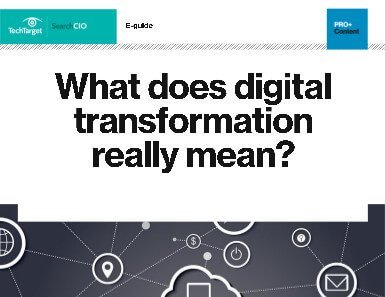 PDF: What does "digital transformation" really mean?
What exactly is digital transformation? You may hear the term often, but everyone seems to have a different definition. See how our experts define digitization, and how you can get started in this free guide.
The rapid increase in the use of mobile devices for personal use and work, a shift sometimes referred to as the consumerization of IT, has increased the potential for digital disruption across many industries. A powerful example is the way Amazon, Netflix and Hulu Plus have disrupted the media and entertainment industries by changing how content is accessed by customers and monetized by advertisers. For example, the CBS, NBC and ABC networks in the United States still receive income from broadcasting television shows, but they can't charge as much for advertising as they could when there were only three networks and all viewers used television sets to consume content. Today, television networks must employ a multichannel approach to monetize their entertainment products.
The term digital disruption has become something of a cliché in recent years and is often misused to describe any product involving digital technology or the use of digitization to better compete against marketplace peers. It is often confused with the term disruptive technology, a term coined by Harvard Business School professor Clayton M. Christensen to describe a new technology that displaces an established technology.
Continue Reading About digital disruption