Definition
change management
Change management is a systematic approach to dealing with the transition or transformation of an organization's goals, processes or technologies. The purpose of change management is to implement strategies for effecting change, controlling change and helping people to adapt to change. Such strategies include having a structured procedure for requesting a change, as well as mechanisms for responding to requests and following them up.
To be effective, the change management process must take into consideration how an adjustment or replacement will impact processes, systems and employees within the organization. There must be a process for planning and testing change, a process for communicating change, a process for scheduling and implementing change, a process for documenting change and a process for evaluating its effects. Documentation is a critical component of change management, not only to maintain an audit trail should a rollback become necessary but also to ensure compliance with internal and external controls, including regulatory compliance.
Companies developing a change management program from the ground up often face daunting challenges. In addition to a thorough understanding of company culture, the change management process requires an accurate accounting of the systems, applications and employees to be affected by a change. Best practice frameworks can provide guiding principles and help managers align the scope of proposed changes with available digital and nondigital tools.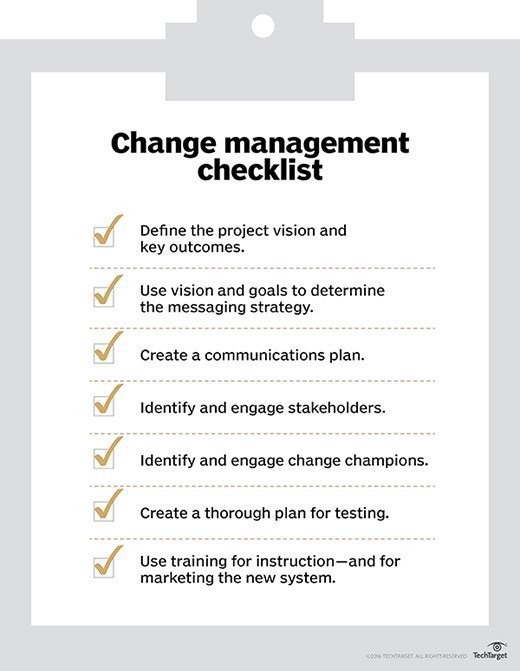 Popular models for managing change include:
ADKAR: The ADKAR model, created by Prosci founder Jeff Hiatt, consists of five sequential steps:

Awareness of the need for change;
Desire to participate in and support the change;
Knowledge about how to change;
Ability to implement change and behaviors; and
Reinforcement to sustain the change.

Bridges' Transition Model: Change consultant William Bridges' model focuses on how people adjust to change. The model features three stages: a stage for letting go, a stage of uncertainty and confusion and a stage for acceptance. Bridges' model is sometimes compared to the Kübler-Ross five stages of grief (denial, anger, bargaining, depression and acceptance).
IT Infrastructure Library (ITIL): The U.K. Cabinet Office and Capita plc oversee a framework that includes detailed guidance for managing change in IT operations and infrastructure.
Kotter's 8-Step Process for Leading Change: Harvard University professor John Kotter's model has eight steps:

increasing the urgency for change;
creating a powerful coalition for change;
creating a vision for change, communicating the vision;
removing obstacles;
creating short-term wins;
building on them; and
anchoring the change in corporate culture.

Lewin's Change Management Model: Psychologist Kurt Lewin created a three-step framework that is also referred to as the Unfreeze-Change-Freeze (or Refreeze) model.
McKinsey 7S: Business consultants Robert H. Waterman Jr. and Tom Peters designed this model to holistically look at seven factors that affect change:

shared values;
strategy;
structure;
systems;
style;
staff; and
skills.
Continue Reading About change management