Definition
Routers: Do you speak geek?
by Kara Gattine
Are you a real Know-IT-All? How many of these router-related terms can you guess without peeking?
1. This is network bridge and a router combined in a single product.
https://searchnetworking.techtarget.com/definition/brouter
2. Routing is a function associated with this layer in the standard model of network programming, the Open Systems Interconnection (OSI) model.
https://searchunifiedcommunications.techtarget.com/definition/layer-3

Download this free guide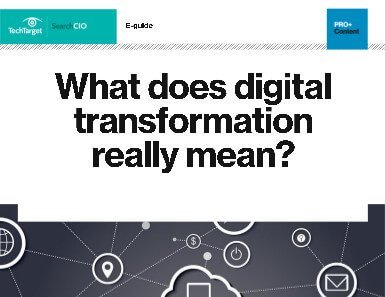 PDF: What does "digital transformation" really mean?
What exactly is digital transformation? You may hear the term often, but everyone seems to have a different definition. See how our experts define digitization, and how you can get started in this free guide.
3. This device routes data packets between one or more LANs and an ATM backbone network.
https://searchsdn.techtarget.com/definition/edge-router
4. Using an appropriate algorithm, this tells a switching device what to do with the multicast packet.
https://searchnetworking.techtarget.com/definition/mrouter
5. This forwards packets to computer hosts within a network (but not between networks).
https://searchnetworking.techtarget.com/definition/core-router
6. This protocol allows host computers on the Internet to use multiple routers that act as a single virtual router, maintaining connectivity even if the first hop router fails.
https://searchnetworking.techtarget.com/definition/Hot-Standby-Router-Protocol
7. If you're this kind of Cisco expert, you'll specialize in routing and switching, communications and services, security, or voice systems and technologies.
https://searchnetworking.techtarget.com/definition/Cisco-Certified-Internetwork-Expert
8. Sometimes this layer 2 device is confused with a router.
https://searchtelecom.techtarget.com/definition/switch
9. Routers use this table to control access to or from the router for a number of services.
https://searchsoftwarequality.techtarget.com/definition/access-control-list
10. This authentication protocol provides remote access authentication and related services, such as event logging.
https://searchsecurity.techtarget.com/definition/TACACS
How many could you guess correctly without peeking? Let us know!
Dig Deeper on Enterprise data storage management
PRO+
Content
Find more PRO+ content and other member only offers, here.