Definition
IT asset management (ITAM)
IT asset management (information technology asset management, or ITAM) is a set of business practices that combines financial, inventory and contractual functions to optimize spending and support lifecycle management and strategic decision-making within the IT environment. ITAM is often a subset of the IT service management (ITSM) process.
An IT asset is classified as any company-owned information, system or hardware that is used in the course of business activities. The IT asset management process typically involves gathering a detailed inventory of an organization's hardware, software and network assets and then using that information to make informed business decisions about IT-related purchases and redistribution.
ITAM applications are available to organizations to assist in the ITAM process. These applications can detect the hardware, software and network assets across an organization and then capture, record and make the data available as needed. Some of these applications integrate ITAM with the service desk, keeping all the user and access information together with the incidents and requests.
Why ITAM is important
ITAM is about more than creating an asset inventory. It's about continually using the captured asset data to maximize returns, minimize risk and drive increased business value. By avoiding unnecessary asset purchases and making the best use of current resources, IT asset managers can cut software licensing and support costs, eliminate waste and improve efficiency. ITAM also helps increase the companywide understanding of IT's business value, improves communications and understanding between IT and other departments, enforces compliance with cybersecurity policies and regulatory requirements, improves productivity through technology support, and limits overhead costs of managing the IT environment.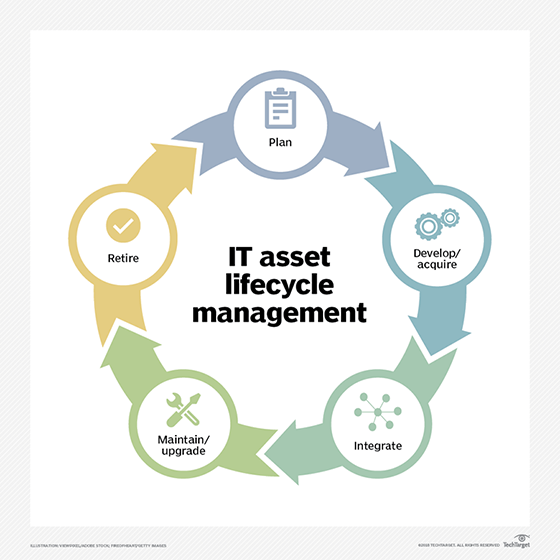 Effectively managing IT assets can also improve visibility and control of IT assets, and swiftly identify and replace stolen hardware and software components. ITAM can offer support to other ITIL processes by providing accurate information about the assets affected by an incident, problem or change. ITAM also makes organizations more agile by allowing for quicker and more accurate migrations, upgrades and companywide changes.
IT asset and configuration data can be critical in the aftermath of natural disasters and other unexpected events. Proper ITAM can help leaders quickly identify the impacts of such events and more confidently make decisions to restore services.
IT asset management processes
ITAM is a continual and systematic process, so the asset lifecycle concept is often used to structure activities and help support decision-making. The cycle starts with strategic planning across the organization to determine what assets are needed, how to procure them, the specific ways they'll be used and how they'll be funded. This often includes total cost of ownership (TCO) estimates and a cost-benefit analysis of alternatives.
Next is the procurement phase, in which organizations build, purchase, lease or license the assets they need. Following procurement is the integration phase, during which the assets are installed and introduced into the IT ecosystem. This includes properly integrating the assets with other components, establishing support and operations processes and specifying user access.
Maintaining and upgrading the assets is the next phase of the IT asset lifecycle. In order to maximize the value of the asset and extend its life -- as well as mitigate risks and reduce support costs -- maintenance, repair and extensive overhauls may be necessary.
Once the asset has reached the end of its useful life, the last phase is asset retirement and disposal. That often includes "transitioning users to other resources, updating asset records, cancelling support agreements, terminating license renewals and initiating the planning for replacement assets," according to Freshservice, a cloud-based service desk and ITSM system.
ISO standards for ITAM
The International Standards Organization (ISO) has established an official set of standards for ITAM. This family of standards, ISO 19770, consists of five major parts and was recently updated in 2017. Below are the five parts and what they entail, as encapsulated by Freshservice.
ISO/IEC 19770-1: A process framework that outlines best practices for ITAM in an organization. It provides organizations a way to prove that they're performing ITAM in accordance with the standards that satisfy corporate governance requirements and support IT service management activities.
ISO/IEC 19770-2: A data standard for software identification tags. This enables organizations to uniquely identify software that's deployed on a given device.
ISO/IEC 19770-3: A data standard for detailing the entitlements and rights associated with a piece of software, and the method for measuring license or entitlement consumption.
ISO/IEC 19770-4: A measurement standard that allows for standardized reporting of resource utilization. This standard is especially important when managing complex data center licenses and for managing cloud-based software and hardware.
ISO/IEC 19770-5: Provides an overview of the ISO-defined ITAM standards and associated vocabulary.
See also: enterprise asset management, digital asset management
This was last updated in
September 2018
Continue Reading About IT asset management (ITAM)
Dig Deeper on Digital transformation