Definition
CEO (Chief Executive Officer)
The chief executive officer (CEO) is the top position in an organization and is responsible for implementing existing plans and policies, ensuring the successful management of the business and setting future strategy.
The CEO is ultimately responsible for the success or failure of the organization. As such, the CEO oversees the organization's various functions, including compliance, finance, human resources, legal, marketing, operations, sales and technology. The CEO oversees these functions while considering the needs of different constituencies, or stakeholders, including employees, customers and investors.
Content Continues Below

Download this free guide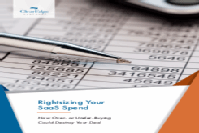 Limited-Time Download: Sizing Your SaaS Deal Correctly
Most customers fail to accurately forecast their licensing demand which leads to over-and under-buying whereby users squander their negotiating leverage or eat up the discount they earned by buying underutilized shelf-ware. Use this resource to learn how to dodge those potential traps and how to apply deal sizing best practices to optimize your IT spend.
The CEO title is most often used by for-profit businesses large enough in terms of employee numbers or revenue to justify this top position. Some nonprofit organizations also choose to have their most senior person hold the CEO title. Business laws also influence whether the term is used within an entity. Corporations, by law, must have CEOs, other chief officers and boards of directors. A limited liability company (LLC) can structure itself like a corporation and have a CEO, but it is not required by the laws governing LLCs.
Additionally, some business and nonprofit entities have their top leader function as a CEO, yet opt for other titles, such as president or executive director.
CEO responsibilities and roles
Although a CEO's key responsibilities are generally the same from one organization to the next, a CEO's exact duties can vary based on a number of factors, including the size of the company and whether it is a public company or privately held. The CEO at a startup or a small family business generally performs more day-to-day operations and management tasks than the CEO of a large company.
One of the CEO's key tasks is developing, communicating and implementing strategy. In this regard, the CEO determines the plan of action for the organization in terms of which budgets, investments, markets, partnerships and products, among others, to pursue and implement to best fulfil the organization's mission -- whether it's to maximize profits, in the case of most businesses, or to meet specific humanitarian or philanthropic goals, as is the case with nonprofits, but also some for-profit enterprises.
Other key tasks include organizing leadership and staff to meet strategic goals; ensuring that appropriate governance and controls are in place to limit risk and to comply with laws and regulations; identifying and then delivering value to the various stakeholders; and providing leadership at all times, including in the event of a crisis.
CEO role in staff hiring and retention
The CEO is also responsible for hiring the leaders who make up the executive team; the CEO is equally responsible for firing those who do not perform up to the standards set by the CEO. These other chief officers are tasked with advising the CEO on functional areas; the chief financial officer (CFO) advises on finances, the chief marketing officer (CMO) on marketing and so on. These executives help the CEO formulate strategy and implement the policies and directions that the CEO then sets. In turn, these executives are in charge of managing their functional areas on the CEO's behalf.
The CEO is also responsible for setting the organization's culture by helping to determine the attitudes, behaviors and values he or she wants the organization's employees to exhibit and then by modeling those stances and ensuring that other leaders, as well as the HR department, support those.
An organization's board of directors generally hires and evaluates the CEO; it also determines compensation and can fire the CEO if it is unhappy with the CEO's performance. The CEO, who can also hold the position of president or chairman of the board of directors, is expected to regularly inform the board.
Similar positions
As a C-suite position, the CEO is part of the executive staff that sets a company's strategy. While most of the lower ranking employees in a company require technical know-how, C-suite executives need leadership and team building skills. Additionally, C-suite executives often require better business acumen because their decisions have big influence on a company's overall direction and success. Other C-suite positions include the CFO, the COO, and the CIO.
The role of a CFO includes compiling budgets, tracking expenses and revenue, analyzing financial data, and reporting this information to the CEO. Another part of the role of a chief financial officer is being the liaison between a company and any banks, money lenders or financial institutions with which the company does business.
Another similar role is the COO (chief operating officer). The chief operating officer usually oversees operations and day-to-day functions within a company, particularly when a company is too large for a CEO to do so. The chief operating officer reports directly to and advises the CEO, while also working closely with the CIO and the CFO.
There are other C-suite positions with titles such as chief media officer and chief digital officer, but the exact titles and roles vary from company to company. For example, a healthcare company would require a chief medical officer, and cutting-edge technology companies often employ a chief innovation officer.
Examples of successful CEOs
The best CEOs are able to excel at improving the success of their companies financially while simultaneously improving the conditions and lives of their employees.
One example of a CEO who did this is Popeyes Louisiana Kitchen CEO Cheryl Bachelder, who took over in 2007 when Popeye's stock was plummeting and revenue was stagnant. To turn the company around, Bachelder adopted a philosophy of serving those who "had invested the most in Popeyes." Bachelder reached out to franchise owners and used their input to transform the Popeye's workplace into one that prioritized respect in the workplace, but one that also challenged employees to perform at the highest level.
By 2014 Popeye's sales were up 25% and profits were up 40%, and its stock price had more than tripled since Bachelder took over.
In the tech world, great CEOs often have a unique vision. For example, in 1994 Jeff Bezos walked away from a hedge fund job to found Amazon, which began as an online bookstore run out of Bezos' garage. Bezos later said the motivation for doing included the fast rate that internet usage was increasing at the time.
Eventually, Bezos' vision turned Amazon into an "everything store" where customers could buy a wide range of products. To bring this to fruition, Bezos focused on optimizing customer experience. First, Amazon offered more book titles than any brick and mortar bookstore could. Following this, Amazon aimed to further optimize customer experience by offering perks such one-click shopping, and by publishing both good and bad product reviews. While these ideas are commonplace now, the ideas were revolutionary in 1997 when Amazon went public. This customer-first culture has continued at Amazon and in 2015, Amazon surpassed Walmart as the most valuable retailer in the United States by market capitalization.
Another CEO in the tech industry who had a unique, but clear vision is Apple co-founder Steve Jobs. Jobs founded Apple with a mission "To make a contribution to the world by making tools for the mind that advance humankind."
While CEO of Apple, the company developed products such as the Macintosh computer, the iPhone and the iPad, and revolutionized digital music revolution through iTunes. Job's ambition and vision transformed Apple into one of the world's most successful and influential by the time of his death in 2011.
This was last updated in
June 2018
Continue Reading About CEO (Chief Executive Officer)
Dig Deeper on CIO career development and career paths