Definition
Business Process Management Initiative (BPMI)
Established in August 2000, the Business Process Management Initiative (BPMI) is a non-profit organization that exists to promote the standardization of common business processes, as a means of furthering e-business and B2B development. BPMI was founded by a group of 16 e-business industry leaders: Aventail, Black Pearl, Blaze Software, Bowstreet, Cap Gemini Ernst & Young, Computer Sciences Corporation, Cyclone Commerce, DataChannel, Entricom, Intalio, Ontology.Org, S1 Corporation, Versata, VerticalNet, Verve, and XMLFund. Since its inception, the group has grown to include more than 80 companies. BPMI's stated mission is "to promote and develop the use of Business Process Management (BPM) through the establishment of standards for process design, deployment, execution, maintenance, and optimization." By so doing, BPMI intends to make it much easier for enterprises to interact and to further develop the global marketplace. Currently, e-business reflects the idiosyncratic ways that business processes work within an organization. There are, for example, different names for the same item, and incompatible processes across organizations. The goal of BPMI is to overcome these problems and make it possible for organizations to communicate more effectively and share not only data, but applications.
The BPMI model of any two-way e-business process involves three main components, the public interface and two private implementations. The public interface, which is the area of interaction between two business partners, is supported by various protocols such as those associated with BizTalk, ebXML, and RosettaNet. The model further defines two private implementations, which are specific to the individual partners involved and can be described in any executable language. The Initiative has specified such a language, Business Process Modeling Language (BPML), which is an XML-based metalanguage that can be used to model components of business processes in the same way that XML can be used to model components of business data. An associated query language, Business Process Query Language (BPQL) has been developed by Initiative members as a standard management interface that can be used to deploy and execute defined business processes. Both BPML and BPQL are open specifications; BPML is available for download from the BPMI Web site. The organization intends to continue to develop and promote open standards specific to particular e-business needs.
Content Continues Below

Download this free guide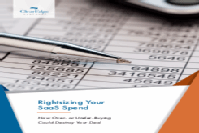 Limited-Time Download: Sizing Your SaaS Deal Correctly
Most customers fail to accurately forecast their licensing demand which leads to over-and under-buying whereby users squander their negotiating leverage or eat up the discount they earned by buying underutilized shelf-ware. Use this resource to learn how to dodge those potential traps and how to apply deal sizing best practices to optimize your IT spend.
This was last updated in
September 2005
Continue Reading About Business Process Management Initiative (BPMI)
Dig Deeper on Business automation, robotics and business process management