Quiz
Believe it or Not (Answers)
1. This one is false -- in fact, the Difference Engine was powered by steam. And the size of a locomotive.
Read more





































2. This one is true -- think twice before hitting that "Download now" button.
Read more
Return to quiz




































3. Nope! The Melissa virus was named in honor of a Miami stripper (not Melissa Gilbert).
Read more




































Return to quiz
4. Strange, but true. Apparently some makers of... potentially unwanted programs... don't want them called spyware.
Read more
Return to quiz




































5. True! According to some reports, he also managed to crash a cellphone.
Read more
Return to quiz




































6. Absolutely true, and well-named, we maintain.
Read more
Return to quiz




































7. False! Did we get you? A kludge is actually an inelegant -- if effective -- solution to a problem.
Read more
Return to quiz




































8. This is true. We don't know how much storage space Shakespeare's works would take if converted to audio, though.
Read more
Return to quiz




































9. False! The odds are precisely even, because each toss of the coin is an independent event. (This one's gotten a lot of gamblers in trouble)
Read more
Return to quiz




































Content Continues Below

Download this free guide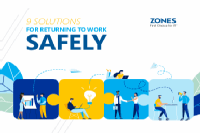 9 Ways to Return to the Office Safely
As organizations start to return to some normalcy, the actual return to the office is going to be far from normal. In this guide, uncover 9 core problems your organization may face when planning to return to the office, and 9 ways you can address them effectively.
10. False! A megaflop is a measure of processor speed.
Read more
Return to quiz
How many could you guess correctly without peeking? Let us know!
This was last updated in
May 2007
Dig Deeper on Enterprise data storage management