News
Stay informed about the latest enterprise technology news and product updates.
2018 MIT Sloan CIO Symposium: A SearchCIO guide
The 2018 MIT Sloan CIO Symposium was all about making good on an enterprise digital transformation strategy. Explore the strategic advice, emerging technologies and big ideas from this year's roster of CIOs, MIT faculty and experts.
Introduction
Today's enterprise can be divided into two groups: the departments that are acquiring advanced digital capabilities and those that are lagging behind. This bifurcation of digital prowess was evident at the 2018 MIT Sloan CIO Symposium, where we asked CIOs and digital experts to expound on the factors driving digitalization at enterprises and the barriers holding them back. Not surprisingly, the departments that are customer-facing, such as marketing, are leading the digital transformation charge.
While the transition to a digitalized enterprise is happening at varied speeds for most companies, the need to develop a viable digital business model is universally recognized. Indeed, this year's event was all about taking action -- it is no longer enough just to have a vision for digital transformation, and the conference underscored that: sessions featured leading CIOs, IT practitioners, consultants and academics from across the globe dispensing hard-won advice on methods for planning and executing a future-forward digital transformation strategy.
In this SearchCIO conference guide, experience the 2018 MIT Sloan CIO Symposium by delving into our comprehensive coverage. Topics include building an intelligent enterprise, talent recruitment, the expanding CIO role and integration of emerging technologies like AI, machine learning, cloud and more.
To view our complete collection of video interviews filmed at this year's event, please see our video guide: "MIT CIO 2018 videos: Honing a digital leadership strategy."
1

Thriving in a digital economy

-
Digital transformation strategy and advice
Implementing a digital transformation strategy requires a clear set of objectives, IT-business alignment, recruitment of the right talent, self-disruption and building what experts call an "intelligent enterprise," among other things. In this section, the pros discuss the intricacies of leading the digital transformation charge.
2

Technology transformation

-
Utilizing emergent tech like AI, machine learning and cloud
Every digital transformation requires a future-forward vision that takes advantage of up-and-coming tools and technologies. In this section, academics and IT executives discuss the enterprise challenges, benefits, questions and wide-ranging potential that AI, machine learning, edge computing, big data and more bring to the enterprise.

Download this free guide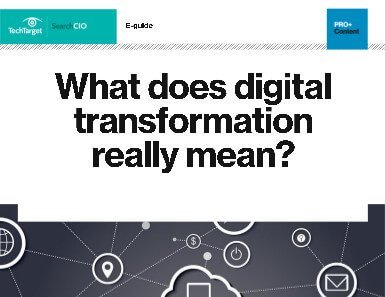 PDF: What does "digital transformation" really mean?
What exactly is digital transformation? You may hear the term often, but everyone seems to have a different definition. See how our experts define digitization, and how you can get started in this free guide.
3

Evolving CIO role

-
The CIO's ever-expanding role in a digital world
Digital transformation not only brings with it new technologies and processes, it also brings new dimensions and responsibilities to the CIO role. In this section, CIOs and IT executives detail the CIO's place in an increasingly digital, threat-laden and customer-driven world and offer timely advice for staying on top of it all.
4

Videos

-
Interviews filmed on site
During the 2018 MIT Sloan CIO Symposium, SearchCIO staff had the pleasure of conducting several one-on-one video interviews with consultants and IT executives on the MIT campus in Cambridge, Mass. Below is a sampling of the videos.
A link to our full collection of videos filmed at the 2018 MIT Sloan CIO Symposium can be found at the top of this guide.