News
Stay informed about the latest enterprise technology news and product updates.
Tapping Facebook's Terragraph to erase the digital divide in San Jose
Smart city technology promises to make city living better on many fronts — from easing traffic jams to improving air quality. But figuring out how to finance these do-good projects is a conundrum for cities, according to the 2017 Smart Cities Innovation Accelerator.

Download this free guide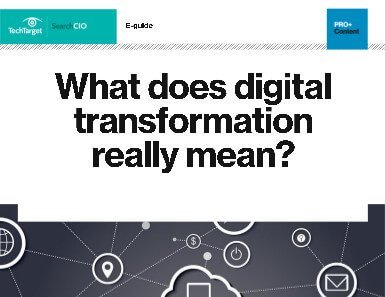 PDF: What does "digital transformation" really mean?
What exactly is digital transformation? You may hear the term often, but everyone seems to have a different definition. See how our experts define digitization, and how you can get started in this free guide.
By submitting your personal information, you agree that TechTarget and its partners may contact you regarding relevant content, products and special offers.
You also agree that your personal information may be transferred and processed in the United States, and that you have read and agree to the Terms of Use and the Privacy Policy.
In the city of San Jose located in the heart of tech-rich Silicon Valley, the message to smart city vendors is simple: The city of San Jose is open for business — under certain conditions. Local government is happy to lend its architecture and man hours to help launch a smart city pilot project, but what it won't do is help foot the bill.
"Our demonstration policy is that [demonstrations] are free," said Rob Lloyd, CIO for the city of San Jose, Calif.
Vendors pitching smart city technology are asked to make a case as to how their products would benefit the public, specify that the city won't be required to cough up any funds, and provide an explicit beginning and end for the pilot project, according to Lloyd. "Within that construct, we can do some remarkable things," he said.
A case in point is this year's pilot of Facebook's Terragraph system in downtown San Jose — part of the social networking giant's mission to provide high-speed Internet access to everyone around the globe. Terragraph is a Wi-Fi based system that uses antennas or nodes installed on light poles and buildings within a city. The nodes connect to internet-ready devices and to each other using the 60 gigahertz frequency, which is an unlicensed and an often untapped band on the airwaves.
In his state of the city address last month, Sam Liccardo, the mayor of San Jose, said the high-speed service is part of a vision to transform the city "into a platform for the testing and demonstration of the most innovative technologies with civic impact."
Erasing the digital divide
One of the biggest civic impacts Facebook's Terragraph system could have is helping to close the digital divide between the city's haves and have nots. More than 12% of households in San Jose have no internet access, according to a statistic from the city manager's office.
The city is already partnering with the East Side Union High School District to erase the divide. With $2.7 million in school bonds over five years, the school district will pay the city to create "the first-ever school-district-wide network," according to a report in The Mercury News.
The public funds will be used to install and maintain the district's existing network as well as extend the city's public Wi-Fi network to students' neighborhoods. The partnership has Lloyd and the city thinking: Could the downtown Terragraph project be expanded as well?
Neither project will cost the city money and, yet, "they provide a great learning experience, a clear public benefit, and two wonderful partners where we can say we're using each other's efforts to keep on doing bigger and better things," Lloyd said.