News
Stay informed about the latest enterprise technology news and product updates.
Process re-engineering underpins digital business at UPS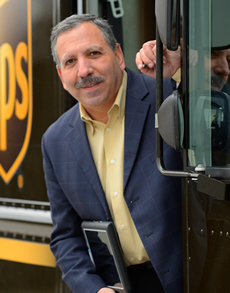 United Parcel Service Inc.'s transformation from analog to digital business is well-known in the logistics industry. At the recent Big Data Innovation Summit in Boston, Jack Levis, director of business process management at the Atlanta, Ga. delivery company, walked attendees through the years-long transformation from manual to digital processes for every step — from route generation to real-time driving instructions to truck-loading.
The digital processes are enhanced by analytics. Handheld computers carried by UPS drivers are smarter because of the built-in GPS chip; and analytics also play an increasingly important role in decision making for things like preventive maintenance.
"I don't know if it's big data; I don't know if it's analytics or if it's just process re-engineering," Levis said. "The key is, data needs to turn into insight and insight into better decisions. If you have insight that doesn't turn into a better decision, that's trivial," Levis told the group.
UPS continues to build out its digital platform with additional functionality. Levis explained that new digital tools were built exclusively for employees until it dawned on his team that UPS customers might also enjoy using them. "If I can flip a bit to change where a package goes, why don't we let our customers flip that exact same bit," Levis said.
The idea turned into My Choice, which notifies customers of an upcoming package delivery and gives them a chance to manage their options if, say, they'll be out of town that day. "We took what we built for ourselves, and we opened up those tools to our customers," Levis said.
MyChoice debuted in 2011, but turning process tools over to customers is fast becoming a best practice for the digital business.
Let us know what you think of the story; email Nicole Laskowski, senior news writer, or find her on Twitter @TT_Nicole.