News
Stay informed about the latest enterprise technology news and product updates.
Making room for the Millennial generation
Karen Kocher keeps an eye on Millennials. And at her employer, healthcare insurance company Cigna, there are a lot of them, comprising 50% of the population. Because many in this youngest generation of the workforce don't currently make enough money to afford things like a home, a car, a nice vacation or two a year, the chief learning officer said, they'll look to other sources of income.
The universe of freelance jobs dubbed the gig economy is allowing many to make extra cash and often pursue their passions: a marketing associate, for example, teaching writing on Tutor.com — or a graphic designer selling pottery on artisan forum Etsy.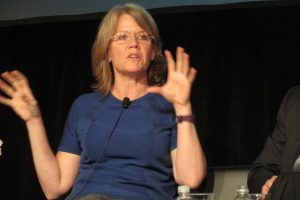 According to a February study by the Society for Human Resource Management, 25% of people from the Millennial generation supplemented their income with a freelance job; only 6% of baby boomers did.
And for other companies with lots of Millennials, that could be a problem.
"How long will they be part of the workforce if they ultimately want to pursue this passion that currently is more of a side job but ultimately may be their full-time job?" Kocher said the recent MIT Sloan CIO Symposium in Cambridge, Mass. She spoke on a panel discussing skills needed for the digital age.
Generation Hexed?
But is it finances or something else driving Millennials — now the largest living generation, according to Pew Research Center — to abandon their employers for the gig economy? Moderator George Westerman, a research scientist at the MIT Initiative on the Digital Economy, asked panelists whether they thought there was any truth to some of the stereotypical labels. (Westerman didn't provide them, but for context, opportunistic, lazy and entitled are a few.)
Steve Phillips, CIO at business technology distributor Avnet Inc., said there might be a few cases in which the stereotypes — "they're a little picky and choosy, et cetera" — are merited. But for the most part, the interns and recent grads he's talked to are "just as hard-working as any generation."
Phoenix-based Avnet seeks out potential young hires through partnerships with nearby Arizona State University and other schools.
Gerald Chertavian said his Boston nonprofit, Year Up, sees a different type of young people: "Millennial-age students without Millennial attitudes."
Year Up trains low-income youths and helps find them internships and jobs.
"They know what poverty looks like and feels like," Chertavian said. And when they do land jobs, they're grateful. "Our folks have been through challenges — and the fact is, they're hungrier, harder and grittier, and employers want that today."
Kids today
But perhaps some of the attributes assigned to more-privileged people from the Millennial generation aren't so bad, Chertavian said. Working with them could be "a chance for us to be learning as opposed to saying, 'You should be adapting to the way in which we grew up.'"
Kocher said the anti-Millennial rhetoric is just the latest version of age-old "these kids today" rants.
"I remember being younger, my grandmother would say to my mother the exact same thing that everybody is now saying about Millennials," she said. "I think it may just be the youngest generation in the workforce, whoever that may be, gets tagged with a lot of these attributes that are just so different from what we're accustomed to."